If you're looking to recruit in Europe, why not start your search in Slovenia?
BACKGROUND
Before there was Slovenia, there was Yugoslavia. In fact, Slovenia has been around for less than 30 years. It was in 1918 that the Slovenes joined the Serbs and Croats in forming a new multinational state, which was named Yugoslavia in 1929.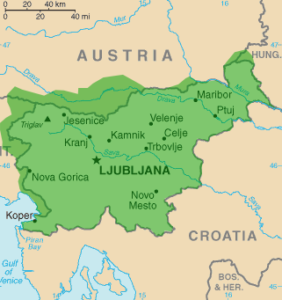 Despite parting ways in 1991, the countries remain closely connected in commerce as well as in geography. Slovenia shares borders with Italy, Croatia, Austria and Hungary, making it a particularly strategic location for business in Central Europe. Slovenia controls some of the major transit routes, connecting the Middle East to the rest of Europe.
However, business is far from being the only reason people flock to Slovenia. Half the country is covered by forests and it is known for its outstanding natural beauty, especially the mountains. From rock-climbing to hiking, tourists and locals alike take in the sites all year round in one of the most environmentally friendly and health conscious countries in the world. We haven't even mentioned Christmas time yet, when the capital, Ljubljana, is transformed into a Winter Wonderland and other parts of Slovenia bring fairytales to life.
A magical place with very little to worry about in the way of natural disasters (earthquakes and flooding occasionally affect the country in the summer and autumn months due to the high number of rivers but that's all), Slovenia is home to 2 102 126 people. Most will agree that the Slovenes represent a well-educated workforce with a sensible disposition. They are described as people who dislike quarrels, which makes them tolerant, hospitable and open-minded.
Though it might sound irrelevant, 5 per cent of the population is made up of beekeepers and the country officially has the most beekeepers per 1 000 population in the EU. When you consider the teamwork and exceptional organization within a beehive, you start to see how a love of bees can translate into an efficient working strategy.
So we decided to investigate the potential in Slovenia in the way of candidates for upcoming recruitment campaigns.
CURRENT STATE OF THE JOB MARKET
If you've heard news about Slovenia recently, then it was probably the promotion of Alenka Ermenc, who became the first woman to receive the title of major General in the army. That's just one example of the forward-thinking we can expect from the country.
In the past, Slovenia has been first to achieve other milestones too. In 2004, it became the first country to transition from borrower status to donor partner at the World Bank. In 2012, it joined the OECD (Organization for Economic Co-operation and Development). In parallel to these developments, the GDP has been rising for the past few years, and unemployment has been dropping, to an all-time low of 5.5% (about 20 000 people). This trend is expected to continue in 2019.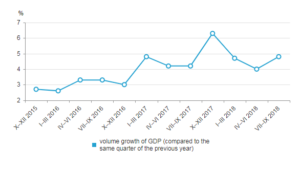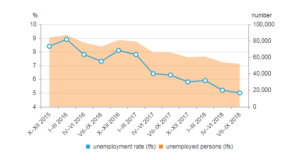 To keep the economy booming, companies have a large workforce to utilize, with 41.7% of the population between the ages of 25 and 54. There are more men than women, which could be more advantageous for the manufacturing or construction industry. Some of the most developed industries include pharmaceutical and automobile manufacturing, tourism and metal processing. Services make up 65% of the labour market.
As for new workers, statistics from the Republic of Slovenia Statistics Office indicate that there are more and more teachers finishing up their degrees. The other popular courses are in the arts, social science and economics, which makes sense considering the location. Furthermore, fewer Slovenes are enrolling in higher education. Whether or not the enrollments are linked to the introduction of study credits (which will weigh courses under the European Credit Transfer Scheme) is not sure.
UNDERSTANDING THE SLOVENE
If you intend to recruit in Slovenia, you'll need to know a bit about the Slovenes. One description I liked was that they have "German efficiency and Italian gusto for life". For a more specific list of characteristics, I found the following to come up often when doing my research:
Punctual. Workers show up on time in Slovenia. For meetings and interviews, you are expected to arrive at the designated time if you want to be taken seriously. For teamwork and important projects, it's nice to know the employees can rely on each other.
Hardworking. In addition to their punctuality, Slovenes work hard during their office hours. The longest hours recently registered were 125 hours a week (in construction)! However, the usual working hours are between 36 and 40 hours a week. As an employer, you must respect the local norms and not ask workers to do more than the legal amount.
Athletic. It's not all work and no play in Slovenia. The locals love to mountain climb and hike. They are pretty health conscious too (just check out their top 10 New Year's resolutions). They enjoy building things (like their own homes) and partaking in other crafty activities. They take great pride in looking after their homes (through renovations and gardening), which is, in a way, a part of their identity. Creative and resourceful in their free-time as well as in business.
Adaptable. Another trait many of them share is adaptability. This can be both a good thing and a bad thing because you run the risk of getting told what you want to hear.
Egalitarian and formal. In Slovenia, it's important to dress the part and to remain formal. First names are reserved for family and close friends, not the office. So as not be offend your workers, it's a good idea to respect the formalities. Furthermore, tolerance and open-mindedness mean the Slovenes don't like to be made to feel inferior. Be careful of too much hierarchy. Treat employees as equals in the office.
Humility. Modesty and humility are admired in business. However, this can be a disadvantage for candidates who are not used to highlighting their accomplishments. As a recruiter, you'll need to make your questions quite direct to get to know the candidate.
RESTRICTIONS
The good news for companies looking to relocate to Slovenia or open a new branch there, is that it does not cost more for a foreign company to set up shop than a local one. However, there are some restrictions and legal matters you need to know first.
To start with, the visa requirements include both a residency visa and a work visa. As an employer, you are also responsible for checking these papers when hiring candidates. It is possible to have an EU blue Card, which covers both, in some cases. Something else foreigners need to do when they arrive in Slovenia is register at the local police station. Anyone staying longer than three days and not staying in a tourist facility is required to register.
Even if Slovenes often speak and understand English, it recommended you brush up on your Slovenian. Not speaking the same language as your employees can always cause issues, even secrecy among the staff that management can't infiltrate.
Even if there are new reforms in the field of education, certain positions still require very specific certificates or paperwork recognizing their degrees. For positions in medicine (doctor, pharmacist, etc.) and education (teacher, etc.) for example, foreign hires will need to apply for recognition with the Ministry of Labour, Family and Social Affairs.
JOBBOARD FINDER'S TOP PICKS FOR SlOVENIA
According to statistics, less than 50% of the Slovenian companies use social media to promote the company and employer brand. When it comes to recruiting, the Slovenes remain relatively conservative. They rely primarily on job boards, newspapers (like Delo, Večer, Dnevnik, Primorske, Dolenjski glas, etc.)  and TV adverts. As the millennials grow up and environmental issues continue to plague us, the paper based platforms will become obsolete. For that reason, the Jobboard Finder has selected the best job boards for recruitment campaigns in Slovenia:
Check out the job board profiles on the Jobboard Finder, the largest database of job boards. You can also check out some of our other How to Recruit articles for Central Europe:
Good luck ;)
Author:
Ali Neill
As the job board tester and blog editor for the Jobboard Finder, Ali works on job boards from all around the world and keeps a close eye on the recruitment trends thanks to a number of sources, including the website's social media pages.