This is this week's main event: Google is now a job board. Even though it is only an aggregator available in the USA at the moment, we don't doubt that it will expend very quickly with the powerhouse that Google is. It is all the more surprising that it took that much time for Google to invest on the job market, because people were already typing on the search engine "jobs in…" But now, thanks to a Cloud API and to the collaboration of many job boards, Google is ready to take advantage of its popularity and dominance to conquer another market. We will see how it supposedly works and why they decided to add this feature, which will definitely have a huge impact on work and job boards market.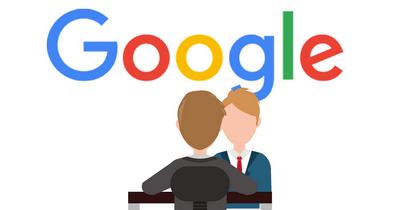 What it consists in
This Tuesday 20th, Google for Jobs was officially launched. As we said earlier, they have added to the search engine a new job aggregator feature. With this feature, Google obviously wants to become the reference in job search that with them will be "simpler and more efficient". They have indicated that they will aggregate the job offers of more than 20 job boards like Glassdoor, CareerBuilder, Monster or LinkedIn and even Facebook. The last two are the ones they are trying to compete with, according to La Tribune. You can type anything on Google like "Jobs around me" or "Retail jobs" and all the job offers will appear as if you were looking for something else on Google.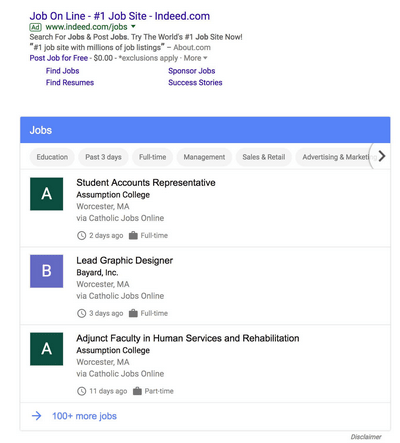 Their system will be able to redirect the candidates to the job board which first posted the offer. According to Google's team, it will help candidates save precious time, especially with the email alerts job seekers can receive. And this is pretty innovative, as these email alerts are based on the candidates' set criteria, like publication date or their journey time to the company. As mentioned in the introduction, Google for Jobs is only available in the USA, but according to the positive results of this test, Google's team indicated that many other countries will have access to this feature very soon.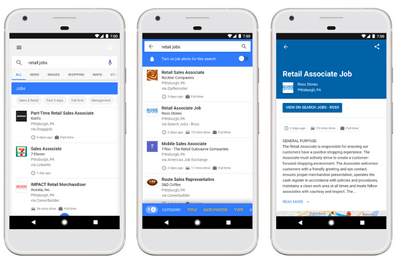 You can watch Google's official video presenting the new feature right here!
Why did they add this Google for Jobs feature?
Google uses a lot Artificial Intelligence, and the company has always wanted to better use all the data they already possess, in order to bring "smarter" features to their offer. After comparing with the feature "Restaurants around me", they thought that data location or similar searches could definitely be used for job search. Google is pretty clear, they have started studying and using search algorithms in order to find only the best job. This is completely disrupting the recruiting market, according to an article of Josh Bersin: "Their experimental work with early customers has been fairly amazing: one client found that searches for "genetic engineering research" jobs barely surfaced a single job before using the Google technology; after using the Google search the perfect job popped up in the first page. And Johnson & Johnson has seen an 18% lift in applies per search on its career site since integrating."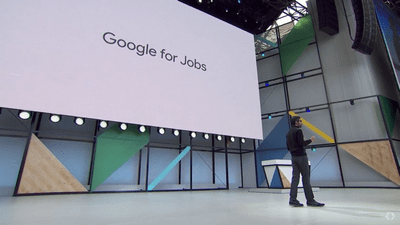 Since the beginning of the year, Google has decided to invest a lot in labor market (with Google Hire as well, a beta CV search engine for companies), especially because of Microsoft's acquisition of LinkedIn in 2016 and Facebook's new tab: Facebook Jobs. Even if they seem to be investing way too late in job search market, they will always have a huge advantage: being the world's biggest search engine, used worldwide by almost everybody.
Maybe one day, Google for Jobs will have its profile on Jobboard Finder!