Today on the Jobboard Finder blog, we thought we would feature a hugely useful website for jobseekers and recruiters alike: Xing. While Xing isn't a job board as such, it is a way of facilitating contact between hiring personnel and job hunters, and does post some job adverts as well as information about recruiting companies. Find out more about Xing below!

Background
Xing is a business social network which operates as a competitor to LinkedIn and Viadeo. The site operates on a 'small world network' basis. That means that it allows you to form connections with your contacts, and view their connections (your 'second degree' contacts).
It was founded in 2003 in Hamburg, Germany, and was known under the name of Open Business Club until 2006 when it was rebranded as Xing.
Its primary market is German speakers, however it is available worldwide and used by people in 200 countries, according to the site. The site pages and functions are currently available in 12 different languages, including simplified Chinese, Dutch, English and German.
How to use Xing for best results
In order to use Xing, users must create an account. The basic account is universal and users need not specify whether they are recruiting or job hunting. The site is easy to use and creating an account is quick and simple, with the site guiding you through the steps you need to take.
Indeed, you can use the site even if you are not actively job hunting and in fact we would encourage you to keep your business information up to date, because it is good practice and will be very helpful if you were to find yourself suddenly out of a job. It also allows you to present a positive professional image online, should any companies look you up.
Basic membership and access to the website is free, just like any other social network. However several key functions for recruitment and job hunting alike are limited to premium members. Premium membership allows you to do things such as searching for people with specific qualifications, or messaging individuals who you aren't already connected with. For recruiters, this is thus an interesting option.
Once jobseekers have completed some information on their profiles, they will be able to access personalised job offers that match their requirements, which is very useful and can streamline their job hunting process immensely.
You can also access groups for specialities and your interests, as well as debate forums for a huge range of topics.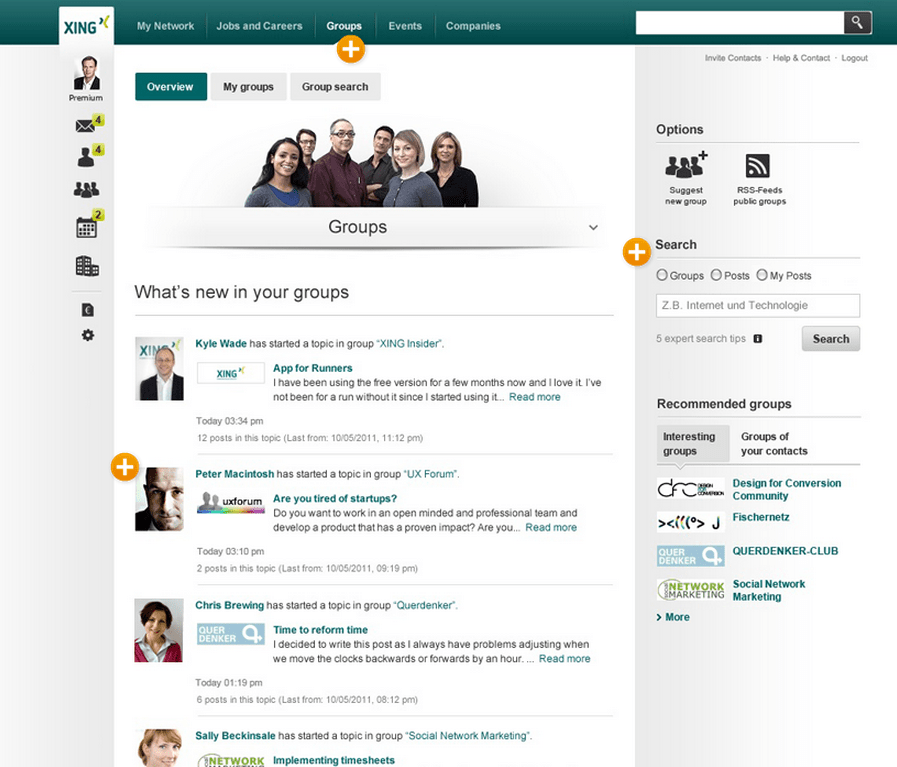 Recent developments
Xing is a growing business: an ever-increasing amount of recruiting is being conducted through professional social networks such as this website nowadays.
Xing has also had its own professional WhatsApp channel since August 2017. This provides members who sign up to it the option to receive current job offers that apply to the criteria chosen around the clock.
In October 2017, XING celebrated 13 million members in German-speaking countries.
Another exciting development for Xing took place in November 2017: the creation of their new tool Jobbox, which simplifies the organisation of job offers for candidates. Xing Jobbox allows for the categorisation of job offers from job boards across the web centrally in one location, permitting candidates to easily draw comparisons and save their most interesting job opportunities. According to Xing's blog, they also "automatically present our users with matching employer reviews from kununu.com and suggest suitable XING contacts for the job and company".
Internal company culture
Employees report Xing as a great working environment, with one stating that "positive energy prevails here". Apparently, every year the offices host a Christmas party for children of employees, doing a range of activities and allowing the children to get involved and see where their parents work.
This encouraging company culture is significant because workers for Xing will generally want to pass on positive office culture opportunities to new jobseekers, maximising the benefit that users get out of the website.
—
If you don't already have a profile, why not give Xing a go today? You can access premium membership through Jobboard Finder by contacting us and requesting a quote.
For both employers and job seekers, Jobboard Finder is the first decision-making tool for recruitment campaigns and job searches. By gathering tools and services that recruiters can use to search and compare employment websites from all over the world to find the best job search sites, it really is the best solution for recruitment needs. Today recruiters can also purchase job advertisements for the media they have selected and manage their postings directly from our unique platform. Then they can rate and review the job boards they have used in the past for our community of professionals to see.
Keep up to date with our news articles and receive them directly in your mailbox by subscribing to our newsletter. If there is a particular topic that you would like to see featured on our blog please let us know.