When you belong to a good company, you sometimes think of it as a second family. The relationships you have with colleagues and bosses are important ones in your life. In the same way you look for love on a dating app, you look for jobs on a job site. So, it's no surprise that these two inventions parallel each other in the way they have evolved. In fact, the first job boards (Monster and CareerBuilder) were created in 1994 and the first dating site (Match) appeared in 1995.
As the two services continue to adapt to our changing times, job sites can learn from new ideas in online dating, and visa versa. They face similar challenges:
How can you engage your users and keep them coming back?
What characteristics do you want to feature to filter users and offers?
What makes the pairing meaningful?
How is your site more efficient than another?
So, without further ado, here are some ways these two sites are evolving and learning from each other.
CareerBuilder and Match: the dinosaurs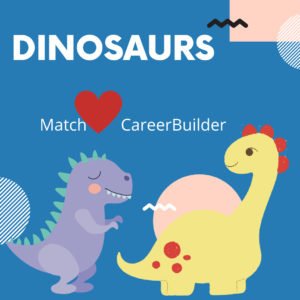 Before looking at the new sites, let's see how the old ones have held out over time. What's interesting is that these two sites have very similar homepages. The focus is on starting your search:
Match: lets you choose between two options: I'm looking for a man OR I'm looking for a woman
CareerBuilder: lets you choose between two options: search jobs OR upload resume
As you scroll down, you see more information about different services:
Match: lists key figures, highlights the important services and features the app
CareerBuilder:  suggests companies and search words, highlights the important services and features the app
And finally, the sites offer their users some lengthier content:
Match: shares articles and events all focused on love and dating
CareerBuilder: features some blog articles
However, the similarities stop at the homepage. Creating a profile, for instance, takes far more time on Match than CareerBuilder. Furthermore, you cannot see any profiles without a profile on Match. For employers, you also need an account to see CVs but money makes the process less cumbersome.
Freelancing job boards: the two-way street job board
One of the biggest changes in the 21st century for job boards has been the introduction of freelance job boards.  The gig economy took off suddenly (and continues to boom since the worldwide pandemic) and this has changed the playing field for recruiters and jobseekers alike.
On a freelancer job board, we see the people looking for work promoting themselves, sometimes instead of projects being the feature. On others, you can bid on a gig to get the work (but you still need to promote yourself). By putting the two parties on a similar level, the job search is more and more like the dating one (even though some sites have played with giving certain powers  to one party over another in the dating world as well). Now that we aren't looking at only long-term positions with a defined hierarchy, we can really talk about partnerships (also a word we hear a lot in relationships these days).
There are literally hundreds of examples of how to create these partnerships through all the different freelance and remote work sites. Here are just a few that the Jobboard Finder has identified and tested. As the pandemic continues, more and more sites are adding freelancing type options.
Dating apps: the lessons to learn
To help job sites find a way to update and innovate, here are some exciting new dating sites and how their ideas could change the job search / recruit search. Obviously, there are far more sites to choose from but these are among the top ones of the market. So, in no particular order, here are the sites:
Hinge: They pride themselves in getting rid of clutter, creeps and games. You have 24 hours to talk to your matches. Furthermore, the app wants its users to have meaningful relationships and not just hookups. Takeaway: Job sites also want to create lasting relationships and help recruiters pick candidates based on the company fit. Whether you choose to feature recruiters or jobseekers (or both), remember to make the information professional and personal so that the two parties can get to know each other even before an interview.
eHarmony: Founded by a clinical psychologist and marriage counsellor, eHarmony matches you up with people based on compatibility. This means there is a long personality test for its users. Takeaway: For companies with a detailed personality test or skills test in their recruitment process, job boards could cater to those needs by adding the tests directly to the site.
Bumble: The big hook on the Bumble site is that only women can engage in a conversation with men. By doing this, Bumble hopes to stop creeps from harassing women through unwanted messages. Takeaway: Most job boards offer both recruiters and jobseekers the opportunity to contact each other (either through a CV database or through a list of jobs). So why not create a site where only recruiters can contact candidates or visa versa?
Tinder: Everyone knows the famous swipe, introduced to the world through Tinder. The profiles are short, simple and to the point. Users make snap decisions in the hope of being paired with other snap-decision-making people. Takeaway: This could be a great idea for odd-jobs. If you require a couple of waiters for a restaurant or some extra hands for a manual job (something in renovations for instance), this could be a really easy and fun way to find candidates.
Happn: With Happn, anything can happen. You can be walking down the street and meet your soulmate; at least, that's what we hope. Here, you can see who else is looking for love around you and connect. For this reason, the map feature is an important part of the concept. Takeaways: Focusing on your candidates' location isn't new, but it remains rare. In fact, we wrote about Praca za Rogiem, which aims to put companies and jobseekers in touch in a very local way. It feels like this idea hasn't been explored enough, even if you can find maps to situate jobs on a number of job sites. Make it your main feature, guys!
How About We: This dating site is all about the experience. You don't look for just one person. Instead, you look for the date. You then pair up with the person who suggested the activity and see where the night (or day) takes you. Takeaway: wouldn't it be awesome if candidates could describe their ideal job and/or work environment and wait for a company to find them? Or if a recruiter could do the same and let a site pair them up with the perfect candidate? This could be a great idea for gig work especially, letting people continue to find new and exciting workplaces and ways of working.
Hitch: Do you like matchmaking? This site is all about the friends who want to set up other friends. It's actually a site, which wants those who don't need someone to find an interesting suitor for those they know without anyone. Takeaway: Some companies already have bonuses for employee referrals for positions but no site is dedicated to the task. And why not? There are people who are quite happy with their current job but they enjoy looking at the job market (for fun or to help others). Personally, I think I'd be addicted!
For more dating apps, check out graziadaily, which had a list of 55 of the top contenders. Each one has a different approach to dating and even more ideas for the world of jobs.
---
We hope you enjoyed our article! If you have any ideas about how to innovate job boards, let us know in a comment or e-mail. We love hearing from our readers. :)
Author:
Ali Neill
As the job board tester and blog editor for the Jobboard Finder, Ali works on job boards from all around the world and keeps a close eye on the recruitment trends thanks to a number of sources, including the website's social media pages.