This year, students all over the world have been looking for internships and finding that either there aren't any or they're very different to the usual internship. Now, everything has to adapt to the virtual world. Some companies have done a really great job at making online internships informative and fun. The big question remains: how will the covid 19 impact students looking for internships this spring and summer? Are some fields more impacted than others? Considering,  in many courses, students need to complete at least one internship, this could greatly impact their studies and the start of their career.
Internships and interns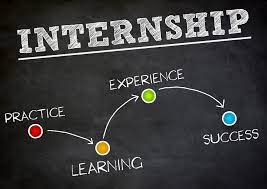 Even though most of us know what an internship is, it feels like there's no harm in giving a definition of the term: the position of a student or trainee who works in an organization, sometimes without pay, in order to gain work experience or satisfy requirements for a qualification.
So internships are vital for students to experience the work environment without the same pressure they would feel in a job. Not all students are impacted though so let's start with those ones. There are courses, which don't necessary require this step. Here, I'm thinking of linguistics, history and literature courses. It can be difficult to find jobs which correspond to the skills acquired thanks to these courses.
Furthermore, there are also some positions which adapt better to the online internship development. Some examples include computing courses and even some writing jobs (for a blog).
The big issue of vitural internships presents itself for courses which require a more "hands on" experience and that can be challenging right now.
The current situation
Luckily, many countries have reduced their restrictions recently. As the weather gets better, shops and businesses are opening up. Curfews are also being lifted. This is good news for students looking for work and internships.
For the past few years, freelancing and gig work has also been booming so even without an internship, students can find a way to do work on their own terms and schools will slowly adapt to the new way of doing things. Even without any experience, students can put themselves on a freelancing job site and pick up some one-off jobs.
Finally, as much as 25% of students put off their college or university year to focus on something else or work to adapt to the COVID19. This means those students who would've been looking for an internship to validate the year won't be and it will free up more internships for others.
Making the best of a bad situation
There are several ways we can make the best of what's going on.
Schools: If students can't find internships, schools could let them validate the year with freelance work. Now more than ever, this is an opportunity for schools to change their expectations and give students the options of working differently.
Remote work technology: Another way schools can help students is by offering them more access to remote work technology. The big issues of teaching students how to prepare for an internship remain the same, regardless of whether they're online or not. And they don't just need technology but tips. Knowing how to present on camera or share project ideas online, create a website or a dropbox, will really help students.
In the office: There will likely be rotating rosters for employees so students will discover very quiet and empty offices. The ambiance of the open office and hot desking will remain unknown to them because there will be fewer people, more barriers (the plexiglass) and assigned seats. Hopefully the empty office will actually help students meet people in the office more easily.
Job boards: Of course, we have the usual outlets and platforms (jobsites, LinkedIn, school lists of companies which accept interns) which continue to help students find internships. Many have also added "remote work" as a filter and it could be combined with "internships". You can't stop using sites, reaching out to recruiters directly, or visiting virtual internship solutions such as theinterngroup.com, virtualinternships.com, or internship.com.
Your network: The best way to find work will be through contacts so that they can convince HR to trust new people in the office. Now more than ever, recruiters are thrilled to have a friend of a friend work for the company because they know they'll have someone on the inside to help show them the ropes.
After listing all of the ways we can try to see the situation in a possible light, it's easy to find yourself wondering: are there advantages to this confinement for internships afterall? The world is changing. If COVID19 has taught us nothing else, it's that remote is here to stay (at least partially). For that reason, it's the right time to learn how to work remotely. Furthermore, students from all over the world can now hope for equal opportunities when it comes to the best positions on t he market.
Companies have been forced to explore the viability of remote work in all of its contexts. It's crazy to think that some companies were refusing remote work just weeks before the worldwide confinement hit! Thanks to the remoteness, virtual internships are becoming more prevalent. Given the low to no pay of internships, the financial burden is further shifted away from interns. There is no longer a need to rent an apartment near the office or pay for lunch away from home. So, yes, the COVID19 has opened our eyes to new ways of improving our current working conditions and it has erased some of the limitations created by distance.
source: https://www.business-management-degree.net/best-internships-business-management-degree-majors/
https://stock.adobe.com/fr/search?k=internship
Author:
Ali Neill
As the job board tester and blog editor for the Jobboard Finder, Ali works on job boards from all around the world and keeps a close eye on the recruitment trends thanks to a number of sources, including the website's social media pages.