Austria ranked 12th in the the Ranking of Happiness 2015-2017. It is home to Arthur Schnitzler, Hundertwasser and magnificient cities such as Vienna, Graz and Salzburg. What place could be better to live and work? In the past, we brought you an article on how to recruit in Austria,and now the Jobboard Finder has decided to make a list of the best job boards in Austria. Read on to find out more!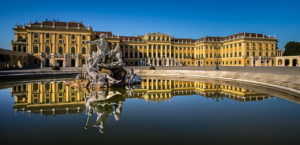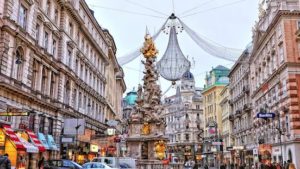 Are you looking for interns? Or young graduates? Then Studentjob is the platform you're looking for! It is part of the YoungCapital Group, which has almost 20 years of experience in HR and has partners all over the world. It is specialised in connecting young people with top employers.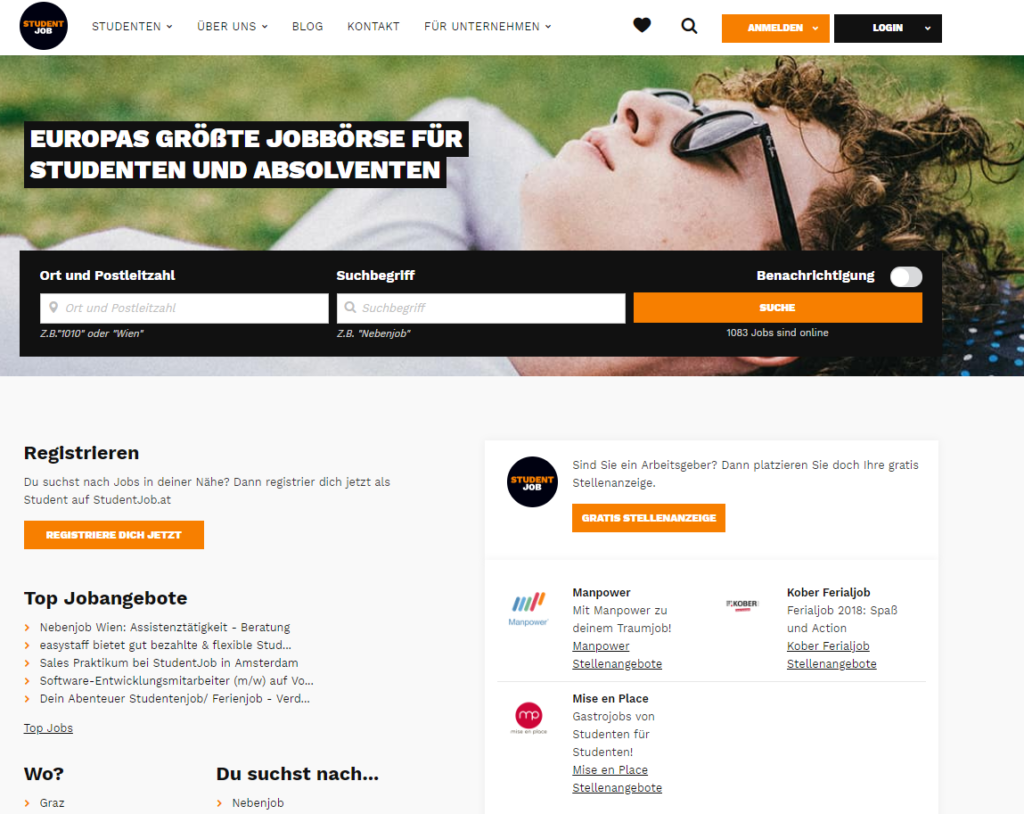 The design of the StudentJob website is fresh and aims to attract a young audience. The search results page shows key information for young candidates and the number of offers for each filter is also displayed. The main filters are the type of job, the level of education, the industry and the spoken languages. All in all, StudentJobs is great to look for student job opportunities and to find young talent in Austria.
Application process: candidates have to open and account and can then send their application.
CV Database: Yes. Free access but recruiters have to open an account first.
Language: German but it is also available in other languages for other countries.
The Stepstone homepage shows job offers by city, industry and most popular searches. The number of offers available in each industry is not shown on the homepage though. That said, the numbers appear in the search results page where users can also add more filters. Compared to other job boards, Stepstone offers the possibility of filtering the search by "skills".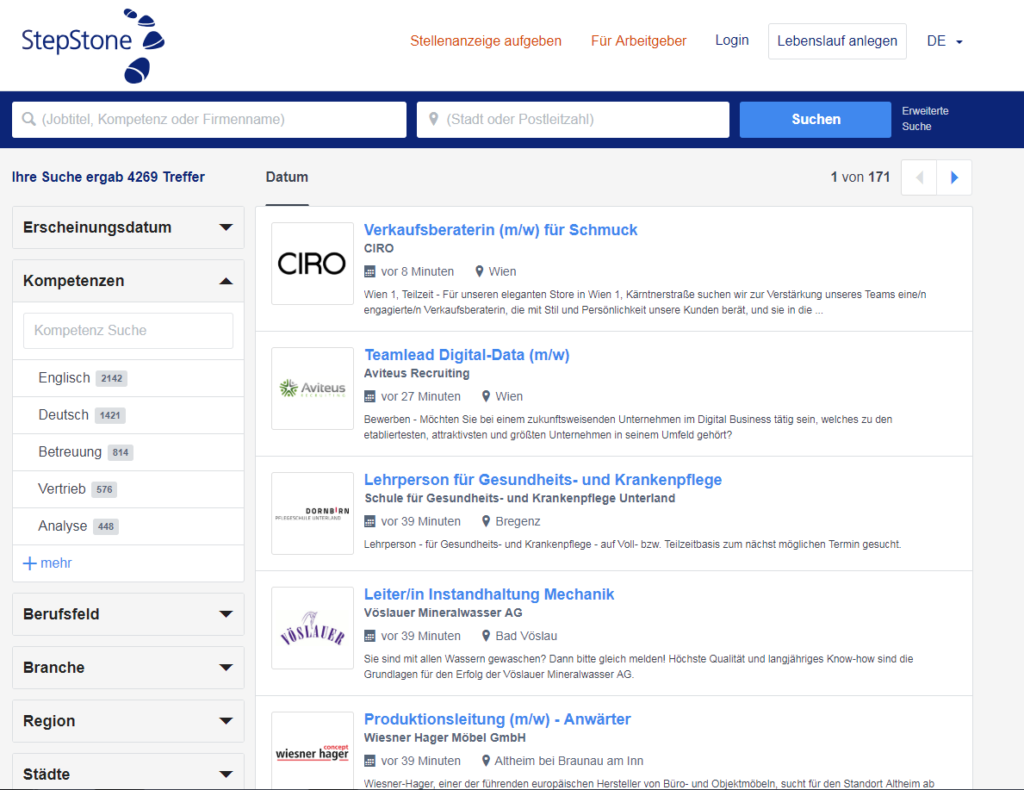 Thanks to its intuitive operational system, it is easy to browse through the platform and look for job opportunities in Austria.
The Careers Section has all types of articles with information on employment law, salaries, application and interview tips and office stories. Recruiters can create a profile for candidates to read and direct access to their job offers is included.
Application process: Candidates can e-mail employers directly, send their application through Stepstone (no account is needed) or via the employer's career site.
CV Database: Yes, 28,000 CVs.
Language: German and English.
The Karriere.at design is very original and modern with GIFs and animated images. On the homepage, users can find direct links to corporate videos and direct links to job offers.
Company profiles are filled with content (photos, location, contact details…) as well as a lot of valuable information for candidates. The most noteworthy sections are the "Awards" and "Employee Benefits" ones. There is a "Business" section that provides recruiters with tips and articles about corporate branding and client reviews.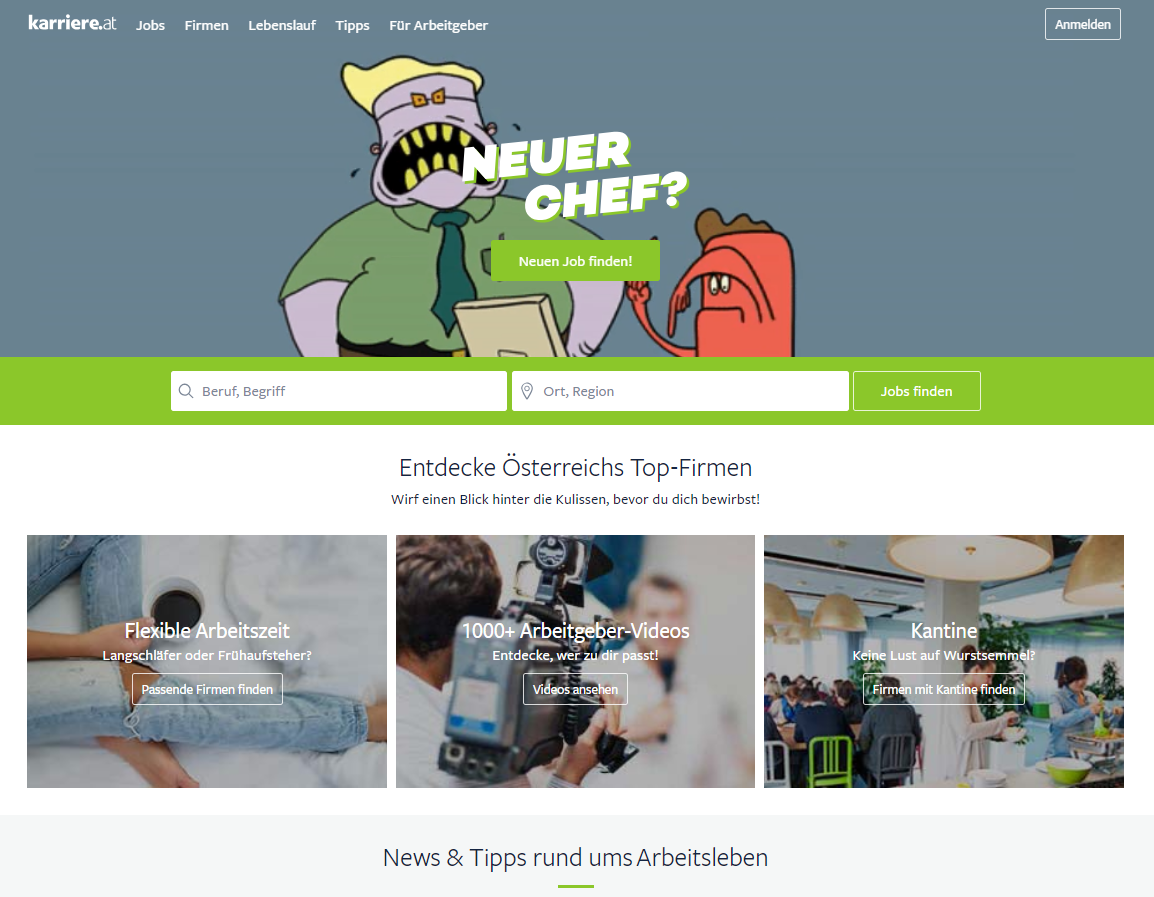 Looking for a job is straightforward with Karriere.at. There is a broad range of filters to help users narrow down their search and find the right job opportunity. The blog is very well organised. It offers access to career tips, CV writing, Interview tips and a salary calculator.
Application process: Candidates can fill in some fields directly (their name, surname and email), attach their CV and write a message (there is a sample message to guide candidates).
CV Database: Yes.
Language: German.
With 33 million monthly visits, Willhaben is the 7th most visited website in Austria. It is a classifieds platform with more than 13,000 job offers in a great variety of industries. The highest number of offers are in:
Engineering, IT & Telecommunications
Trade and Production

Accounting and Finance

Purchasing, Logistics

 and

 Transport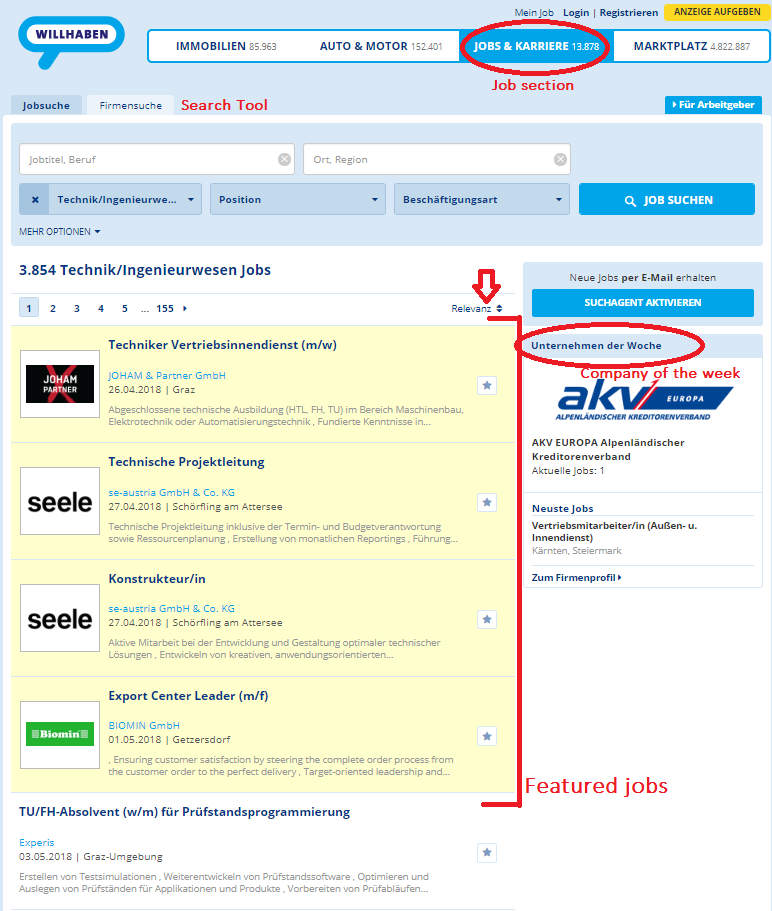 Not only does Willhaben help job seekers find the best employer, but Willhaben itself was given the award for best employer  in Austria by the Great Place to Work-Institute in 2016. Furthermore, Candidates can find out more about their future employers in the company directory  and there is also a "Company of the week" link displayed on the results page.
Even though there is a vast number of offers, users can sort the search results by the date of publication or have them appear in alphabetical order (of the company name). However, featured jobs always remain highlighted and at the top of the results.
Application process: Very easy as candidates do not have to open an account on Willhaben. They only have to fill in some basic information fields (sex, name, surname and email), add a message for the recruiter, attach their CV and done! (a copy of the application is sent to the candidate's inbox).
CV Database: No.
Language: German.
We hope you have found this article "Best Job boards in Austria" useful! Please let us know if you'd like us to cover any specific topics in the Jobboard Finder blog