On the Jobboardfinder blog this week, we'll be giving you a quick breakdown of the top ten job boards for recruiters and job seekers in the Great White North (Canada). For international Job Seekers and Canadians alike, it's a good time to work in Canada. Thanks to a strong economy and low unemployment, wages in the country have risen by 24% since 2007. However, with such a big country, how should one begin one's search? Forget the rest, we've done the hard work and picked the best!
For Recruiters, Canada's geographic scale makes things even more complicated. Because Canada has a widely dispersed workforce spread out over various industries from region to region, a job board that works very well in the East might not work as well three time zones away in Vancouver. While there are some national generalist job boards that are excellent for reaching the masses, to find the top talent in specific markets and industries recruiters are going to have to look to specialist and regionalist job boards as well. This is compounded by the fact that Canada is at its lowest unemployment rate since 1976 meaning that competition for talent is fierce while job seekers have more options and greater bargaining power. See our list bellow to take the guess work out of recruitment advertising in Canada.
Best National Job Boards
1.Indeed
For both recruiters looking for Canadian talent and job seekers looking in Canada, Indeed.ca is the place to start. Boasting over 6.4 million visitors monthly and posting 10 thousand jobs per day, Indeed.ca has by far the most monthly visitors and job announcements giving job seekers and recruiters more choice than anywhere else.  Indeed.ca is different from other job boards in that they use a pay-per-performance model which gives recruiters greater control over their spending and results. Recruiters can post for free or they can pay to sponsor their ad so that it appears highlighted and in the top section of search results. The recruiter then only pays when their advert is clicked.  Because Indeed posts such a high volume of ads per day, ads that are not sponsored will quickly lose visibility as they fall further and further down the list of search results. For this reason, Job Board Finder recommends a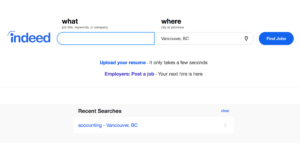 minimum pay per click budget of $10 per day you expect to keep the ad online. Recruiters can post ads and set their budget online with ease. Recruiters can alsopay for access to Indeed's CV database.
Job seekers not only benefit from the quantity of job offers and choices but from an array of search options to help them quickly and easily find the positions that correspond to their career goals. Seekers can also sign up for a free notification service that sends candidates matching job offers as they are posted. Finally, like GlassDoor, Indeed has introduced a section for employees to leave employer reviews.
Languages: French and English
Paid: Free or set your own per-per-click budget to sponsor your advert
CV Database: Yes
Workopolis is one of the leading job boards in Canada. Last April, the Japanese Recruit Holdings Group (owners of the number #1 job board in the world, Indeed) acquired the platform. Hysayuki Idekoba, the CEO of Indeed, said: "Workopolis is a trusted brand and leading Canadian job site for both job seekers and employers". The deal was closed at the end of last month and the aim is to expand outside the US and to provide a better experience for job seekers in Canada.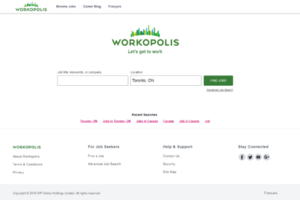 For now, the website offers more functionality for seekers than recruiters. The CV Database has been removed, as has the job posting function and they plan to make more operational changes in the platform. With this new partnership, jobs posted on indeed will automatically appear on Workopolis.
Workopolis was launched in 2000 and is a benchmark job board for recruiters and job seekers in Canada. It has more than 2,8 million visits every month and offers access to more than 300,000 job ads including ads from other websites. Recruiters will be happy to know that the Canadian site received 6.4 million views in April.
Job seekers can filter their search using the usual filters of province, job type and job source (direct employer/recruitment agency). Recent job searches are automatically saved and users can easily access them again. The blog section is great and is filled with podcasts, videos and many articles (both in French and English). Application process: Many options. Through the employer's careers site, via social media (Linkedin) and email
Languages: French and English
Price: Free with pay-per-performance via indeed
CV Database: no
Job Bank is the Canadian Government's job site. Users can look for government funded jobs, apprenticeships, federal government jobs, training courses and other job opportunities in a wide range of fields in both the private and public sectors. The filter "Employment Groups" helps specific groups such as seniors, students, disabled people, indigenous peoples and visible minorities find the most suitable offers.
The website has 3 million monthly visits and thou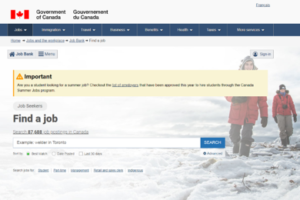 sands of verified job offers.  It is very user-friendly and is filled with valuable content. Because it's the government's official website, there is plenty of information on salaries, immigration policies, skills, life in Canada, taxes and regulations, employment insurance, grants.
Recruiters can easily post adverts and have them distributed on other websites. Job Bank helps businesses by offering highly-beneficial data on market trends, tips for hiring and training, statistics, etc. However, employers need a Canada revenue agency number to post. Application process: candidates send their CVs directly to the employer by email
Languages: French and English
Paid: Free
CV Database: No
Monster.ca is one of the leading generalist career websites in not only Canada but internationally. "From the web, to mobile, to social, Monster helps companies find people with customised solutions using the world's most advanced technology to match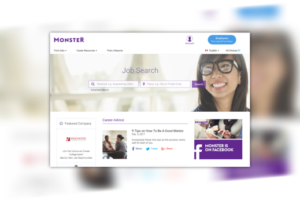 the right person to the right job". With over 2 million unique monthly visitors and thousands of job offers, Monster.ca is one of the largest generalist job boards serving all of Canada. In addition, standard adverts posted on monster are distributed to up to 1000 partner job boards giving recruiters access to a variety of talent in every Canadian market. Monster.ca also attracts one of the largest international audiences with up to 44% of monthly visitors coming from outside of Canada.
Monster provides posters with 5 recommended CV's included in the price of a standard adverts as well as email distribution via newsletters. Ad space is purchased quickly and easily online and ads are posted within minutes of filling out the form.
For job seekers, the website is well designed and easy to use with a simple but effective advanced search tool. Seekers also benefit from automatic notifications of relevant career opportunities with leading companies.
Languages: English and French
Paid: Yes, starting at $605 CAD for 1 30-day job post with discounts based on volume
CV Database: Yes
Glassdoor is a job board that became famous internationally by allowing employees andprevious employees to rate employees and provide information about their experience with the company. It is a site that gets a lot of traffic from both recruiters and seekers alike. According to similar web Glassdoor.ca gets 4.4 million monthly views meaning that recruiters' ads are likely to get a lot of exposure. On the other side of the coin, seekers looking for jobs can browse through over 30,000 positions in Toronto alone. And thanks to GlassDoor's company reviews, candidates can avoid wasting time applying to and interviewing with companies they would rather not work for.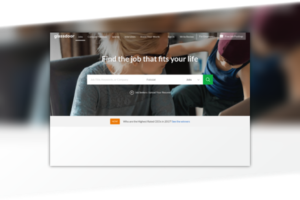 Recruiters can benefit from a free 7-day trial, after which posting a job costs significantly less than the competition with a single job slot starting at $199. Another great feature for job posters is the ability to change the job advert as they please. Thanks to great features like these Glassdoor claim to cost on average 30 percent less than traditional job boards.
Languages: French and English
Paid: Yes, starting at $199 CAD
CV Database: No
The only reason Careerbuilder.ca comes in last on our list is due to low traffic at just over 300 thousand visitors per month. This is proportional to therelatively low number of job adverts at just under 8000 for the month of May 2018. Perhaps it is simply in the process of gaining recognition in an already saturated market for job boards. CareerBuilder is an international company with 20 years of experience. Their websites are well laid out and very intuitive to use for both recruiters and job seekers. Recruiters can bene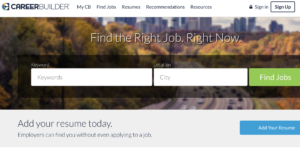 fit from a variety of services from quick and easy online job posting, a resume data base, applicant tracking systems, job distribution technology and even background checking and employee screening.
For job seekers, simply type in a key word and a city and use the criteria on the side bar to further define you search as needed. Once you've found your dream job simply enter you name and email and upload your resume and cover letter.
For recruiters looking to relocate Canadians and for Canadians looking abroad Careerbuilder.ca offers a section for international jobs.
Languages: English and French
Paid: Yes, starting at $489 CAD with discounts up to 28% for 5 job spots
CV Database: Yes, starting at $500 per month
Best Regional and Specialist Job Boards
Bellow we have included one job board for each of Canada's three principal population centres and job markets: #1 Toronto, Ontario #2 Montreal, Quebec #3 Vancouver, British Columbia.
If you need to hire in Quebec, Jobboom is the place to post your ads with over over 550,000 monthly visits. Job seekershave slightly less choice however as Jobboom had only just over 8000 job adverts as of May 2018. Technically Jobboom advertises jobs across Canada, however about 90% of their traffic and job adverts come from Quebec. The site is easy to use and their team offers quick and in-depth advice on their products. For recruiters, Jobboom is a little more expensive compared to some of the national generalists however you get good value for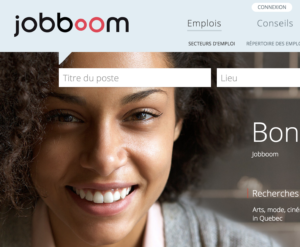 your money. One 30-day job slot costs $1000 CAD and gives you 7 days of banner ads on the main page, CV search, plus automatic email notifications to matching candidates. However, adverts are based on the city whereas other generalists will show your ad in searches all over the province. Apply is easy, you don't even need an account. Simply click apply and upload your resume. The website is available in English and French but most adverts are in French.
Languages: English and French
Paid: Starting at $1000 CAD for a 30 day advert
CV database: Yes
For hiring in and around Canada's largest job market, Torontojobs.ca is an affordable job board place to start. However, it might be better for job seekers than recruiters. Toronto jobs has almost 100,000 job ads but only about 5000 visitors per month meaning that seekers have lots of choice and little competition but recruiters might not be reaching the cream of the crop.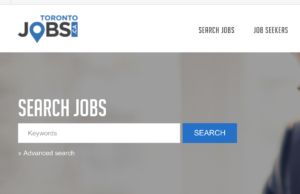 Languages: English only
Paid: Yes, prices start at $99 CAD for 1 posting, $249 CAD for 3, and $395 CAD for 5
CV database: No
For companies with a Canada Revenue Agency number, this government job board is free and attracts a significant amount of traffic with over 300,000 thousand unique visitors monthly. For job seekers, the website has over 17000 job ads across a variety of industries with most job offers coming from the public sector. For international companies looking to recruit talent from BC but who do not have a Canada Revenue Agency number, Jobsbc.ca is the next best option. As a government website, workbc.ca provides a wealth of information on labour laws, education resources, and market information and statistics. To appl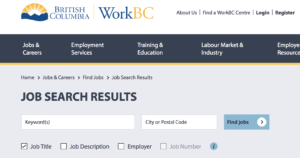 y simply email companies directly.
Languages: A variety thanks to a google translate tool
CV database: No
Paid: Free
The name of the website might not sound very niche but Jobs.ca is the homepage for a network of niche job boards for everything from human resources jobs, to aeronautical, to pharmaceutical jobs. This is by far the best website for recruiters to start posting if they are looking for a niche job board to target specific talent. Their customer service is highly reactive, posting adverts is easy to do online and affordable. Before posting, recruiters are presented with information such as the job boards target audience, their monthly visitors, and the demographic breakdown as well the percentage of visitors from tablet, mobile, and desktop. Another great benefit is that adverts are posted internationally rather than by city or province liked most job boards. Job seekers will save valuable time thanks to search features such as a complete list of companies, and a breakdown of postings by job title.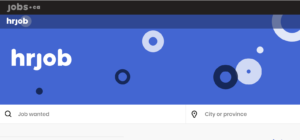 Languages: English and French
CV database: No
Paid: Yes, $325 CAD per advert
We hope you have found this article "Top 10 Job Boards in Canada for Recruiters and Job Seekers" useful! Please let us know if you'd like us to cover any specific topics in the Jobboard Finder blog  
Article Review
Reviewer
Review Date
Reviewed Item
Author Rating