Today we will be focusing on the best job boards to use if you are looking to recruit in South America; specifically, in Peru, Colombia and Ecuador. While these countries have long been overlooked in favour of their more economically prosperous neighbours Argentina, Chile and Brazil, their time in the spotlight may be just around the corner.
Peru is one of the world's fastest-growing economies, with a GDP growth rate of 6.3% in 2012. Equally Colombia has experienced an economic boom in recent decades and Ecuador too has bounced back from its 1999 financial crisis, suggesting the future is bright for these Latin American countries.
It is worth remembering too that Spanish is the second-most spoken native language in the world, so don't be too hasty to write off these countries despite their relative lack of English speakers compared to European nations. It is definitely worth expanding your recruitment searches this way if possible. With all three of these nations boasting not only enormous reserves of natural resources ranging from petroleum and cotton to bananas and coffee, but also a young, active and increasingly educated workforce, these South American nations are the ones to keep an eye on for your future recruitment needs.
This is a popular job board acting throughout the continent. You can efficiently filter your search by date published, as well as department and area, allowing jobseekers to narrow down their options effectively. The site also offers the possibility to promote your job offer on the home page by featuring it in its top offers. With 650,000 page-views on average per month, this is definitely a beneficial feature to boost your job offer's visibility.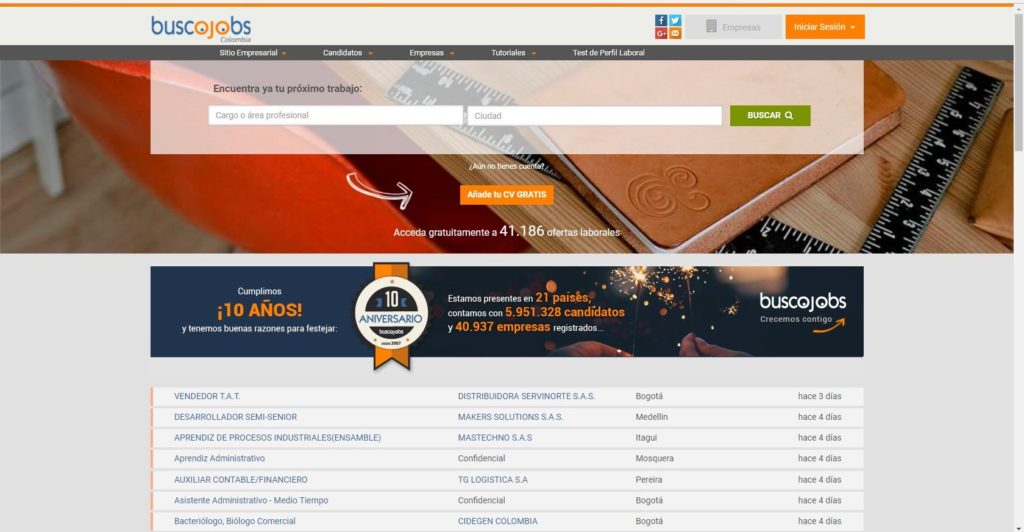 The site is attractive and relatively simple to use, allowing you to search by key words to locate a wide range of vacancies. Over 1500 recruiters are currently choosing this platform to reach out to jobseekers, and the site displays their current recruiters, amongst which are McDonald's and DirecTV. In order to actually access and apply to the job offers as a jobseeker you need to have created an account. Still, as a well-known and well-organised site, this is a good choice for recruiting in Peru.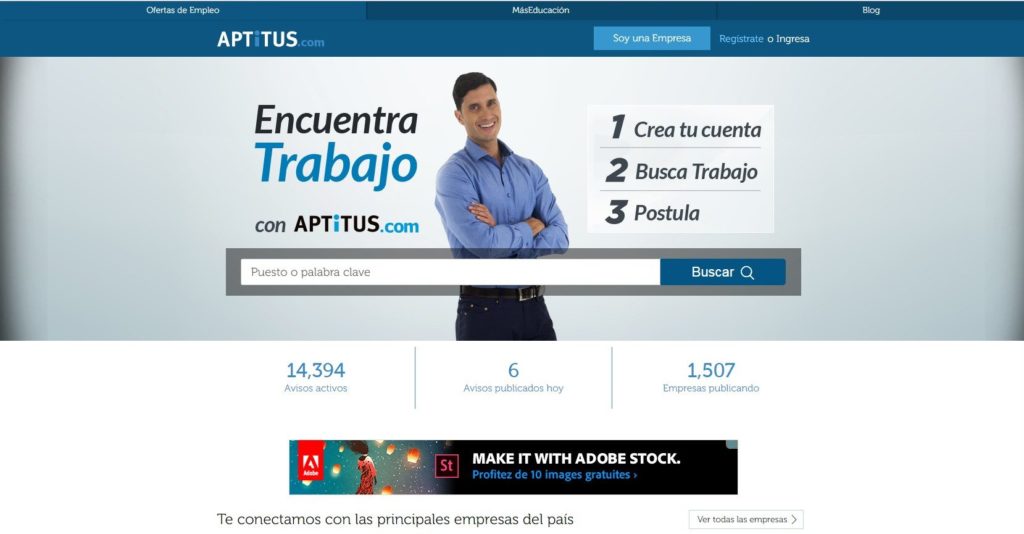 It is one of the largest job boards in Peru and one of the most visited too, with an average per month of 2.5 million visits over the last 6 months. Not only this but the Bumeran group has job boards in Ecuador and Colombia too, as well as nearly every other country in South America. The interface is comprehensive, attractive and clear, and the site is easy to use and quick. The job offers are updated regularly and come from a wide variety of job sectors, with most jobs coming from the sales and purchasing, and building industries. Bumeran also has a partner site, multitrabajos.com, which offers an easy-to-access CV database alongside the regular job board offer-posting and search functions.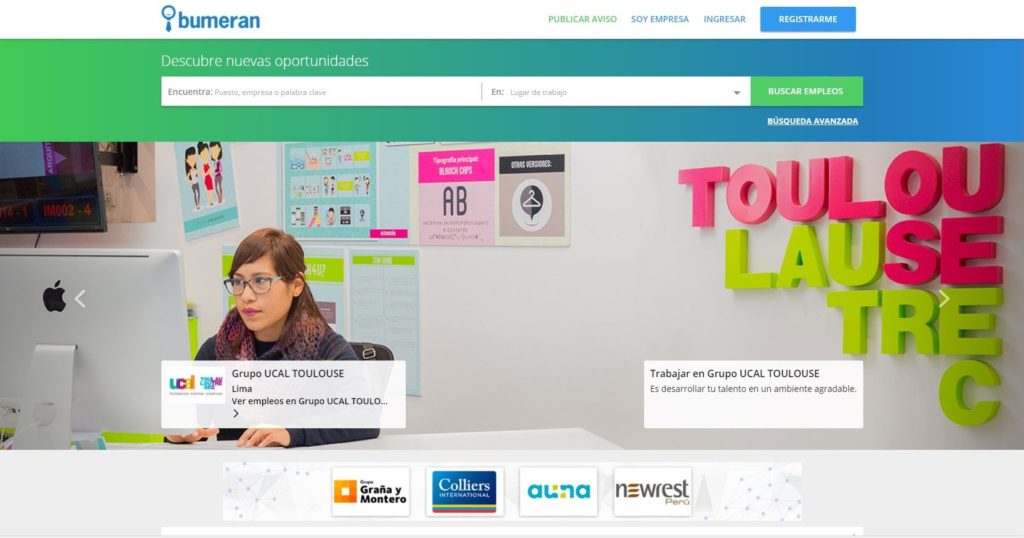 In second place is Indeed. A global giant and the number one job site worldwide, this job board is unsurprisingly also popular in Peru, although Colombia and Ecuador lack their own national site. Job posting is free and the audience is enormous, with it being the first place many people turn to when they are job seeking. This makes it a very attractive option to publish a job advert if you are looking to attract a wide base of applicants.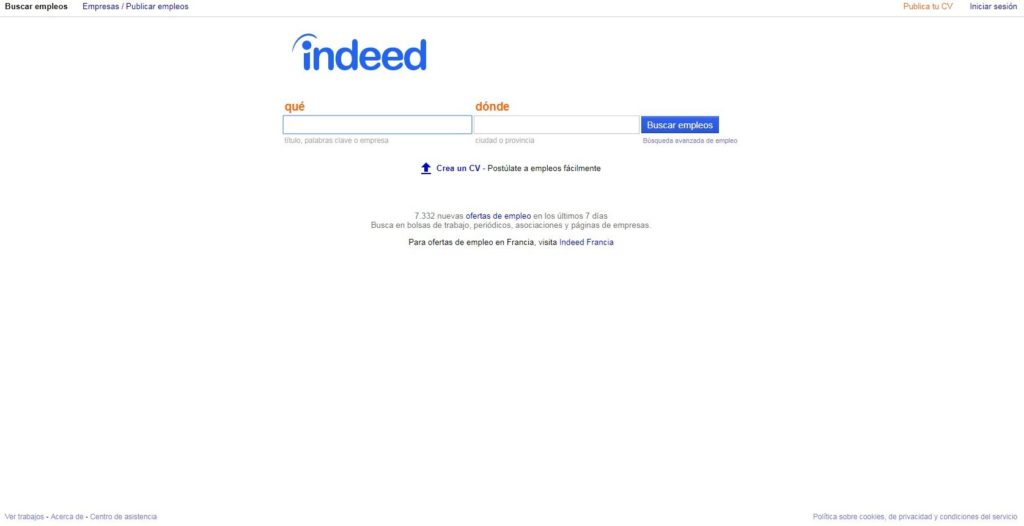 And finally, in first place we have Computrabajos. For recruitment in South America you need look no further than this site. It is the #1 generalist job board in each of our three countries, with the Colombian version of the site amassing almost 100,000 job adverts. New ads are added every day and gain a huge amount of exposure due to the site's popularity. There is also a feature enabling searches for vocational courses, which could be extremely helpful for someone looking for a career change.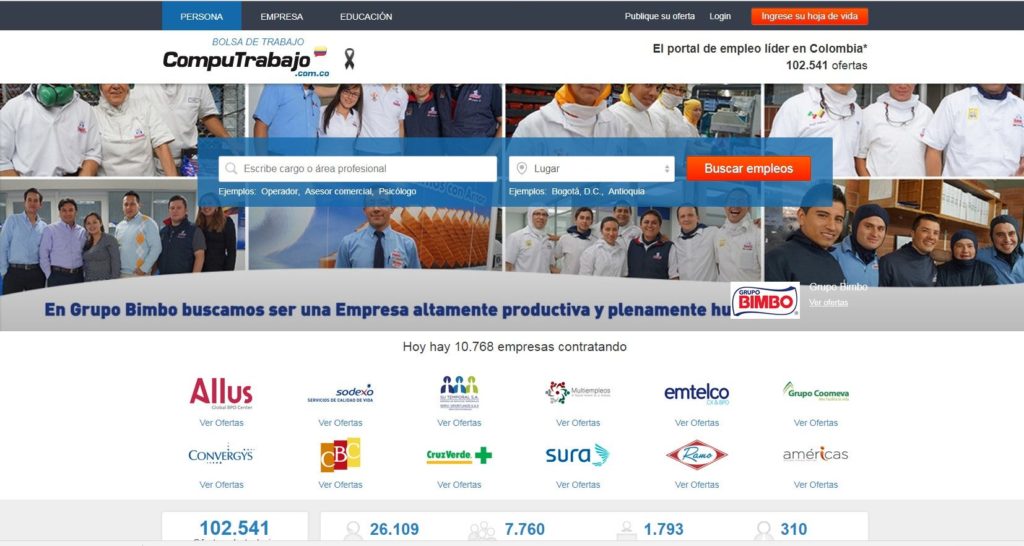 For both employers and job seekers, Jobboard Finder is the first decision-making tool for recruitment campaigns and job searches. By gathering tools and services that recruiters can use to search and compare employment websites from all over the world to find the best job search sites, it really is the best solution for recruitment needs. Today recruiters can also purchase job advertisements for the media they have selected and manage their postings directly from our unique platform. Then they can rate and review the job boards they have used in the past for our community of professionals to see.
Keep up to date with our news articles and receive them directly in your mailbox by subscribing to our newsletter. If there is a particular topic that you would like to see featured on our blog, please let us know.
Article Review
Reviewer
Review Date
Reviewed Item
Author Rating