Specialized Job Search Sites
Even though many multilingual jobs can be found on generalist job boards, many recruiters prefer to post their job listings on specialized job boards before they resort to posting the job on major job boards. There are many reasons for this: generally, the job sites specialised in languages are more likely to pull in qualified candidates with appropriate language skills, international experience and often they are more eager to relocate than the average.
"Most niche sites see 5-20 applications per job; most general sites see 11- 30 applications per jobs", according to the JobBoardDoctor. While having more applications for a job could seem a worthy goal for any job board, here quality is preferred to quantity. Among our partner job boards, we have selected a few job boards specializing in multilingual recruitment.
Top Language Jobs, which is a part of the Career Builder Group, operates the largest European network of multilingual jobs websites.
It attracts around 25 000 visitors per day, which is huge for a niche website and brands itself as "Europe's No.1 specialist recruitment job portal".
Typical job posts range from customer service representatives to interpreter and include sales people as well as a lot of localization related positions. Offers are sorted by languages spoken, the industry and the location.
According to SimilarWeb, most of Top Language Jobs visitors come from UK (36% in February 2016). However, nearly all the top languages are represented as you can be see from the following break down :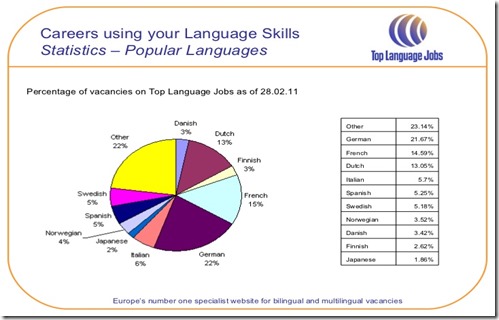 Europe Language Jobs operates in over 48 countries and offer jobs that require up to 33 languages. Europe Language Jobs distinguishes itself by targeting recent graduates specifically and young professionals who are willing to work abroad.
It was founded as a response to a gap in the market according to their Marketing Manager Carlos Valcarcel." While there are plenty of generalist and specialist job boards in every country and quite a few international job boards, no job site targets the multilingual European market ".
Here is the break down of the Europe Language Jobs candidates by country of origin: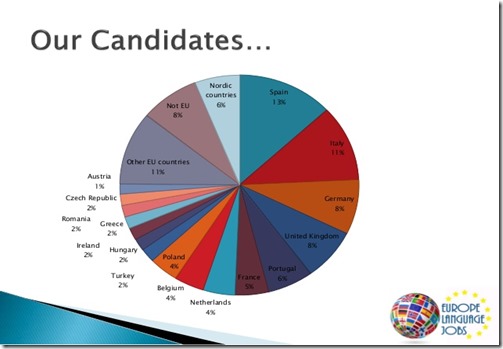 Together Abroad Career Portal is a multilingual job board based in the Netherlands aimed at providing jobs in all languages, in a variety of fields and locations across the Netherlands.
They distinguish themselves by being more than only a job board: they provide job search support services and training to skilled workers who would like to enter the job market or find new employment in the Netherlands. On the recruiter side, they provide support and customized solutions to clients seeking new and international talents for their talent pool.
This website has impressive statistics : according to SimilarWeb there are approximately 65.000 visitors to that website per month. More than half of those come from within Netherlands (54 %).
---
In an economy which is becoming more and more global, many companies see export as the key to future growth. This is why language jobs are becoming increasingly important. We hope this short overview can give you an insight as to which job board to use for posting your language job ads on Jobboard Finder.
Article Review
Reviewer
Review Date
Reviewed Item
Author Rating