As mentioned in one of our previous article, recruiting has become marketing : it is not just about finding the right fit for your position anymore. Recruitment is also about encouraging job seekers to apply for a job advertised by your company.
The internet is a top resource for many of today's job hunters, so it is crucial to keep up to date with the current trends in recruitment industry and also to stay relevant to those you are trying to attract.
Also, candidates are more and more browsing for jobs online and on mobiles. Of course this has meant that recruiters now need to start planning keyword optimized recruitment content and application forms in order to connect with quality talent.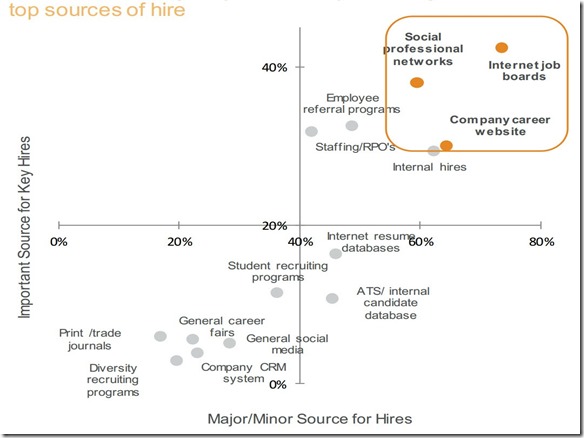 Because of that Google Trends should be recruiter's best friend. To benefit from the information Google Trends provides, recruiters should know how to well use its features and how to benefit from that for their content creation process.
Google Trend allows you to see what stories have been searched for the most over the last 24 hours. This list can be changed to a specific country or a certain industry, for example recruitment and then it will bring up the corresponding list of top stories.
Google Trends has also many useful features when it comes to writing up job adverts. :
the recruiter can write a word or a phrase in the explore section and then analyze the data returned.
It allows also to determine the interest of a specific keyword and to measure that keyword against another four words to see which is the most popular, so only the most optimized words will be incorporated into an advert.
Let's look at an example of how this could work by comparing the phrases "engineering jobs" and "engineer jobs" on Google Trends .We can see that the number of searches for one phrase far outstrips the other. This is a proof of how a recruiter could benefit from using the right keywords for job adverts.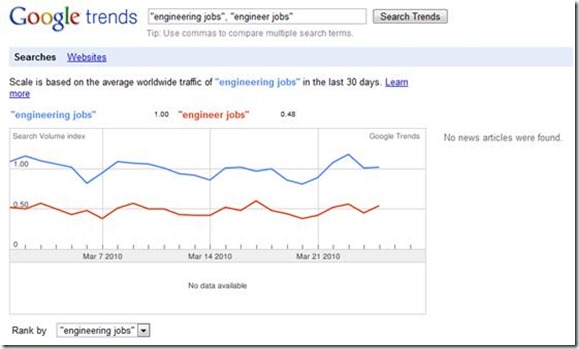 Google Trends has also the Top Charts tab, which you might use to find topics that are popular this month in your field. These topics could be an inspiration for new material for recruiter's blog and website. As potential recruits explore the news, they may be drawn to your company thanks to your interest in current events and trends.
Another section "Interest over time" can be used to see which keywords are more popular during what month and what seasons. This feature can be used by a recruiter by looking at when people have been most interested in a keyword and plan around this. For example, if people are searching for 'temporary jobs' more in the summer than the winter, then you will know to create content about temporary jobs in the summer when it's most likely to be searched for
And you do use Google trends before posting your job listing?