We lately interviewed Kaare Danielsen, CEO of Jobindex, one of our 930 job board partners at Jobboard Finder.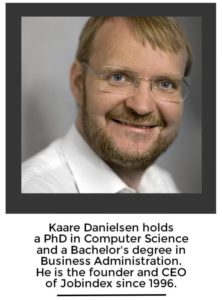 About Jobindex
Founded in 1996, Jobindex was the first job aggregator in the world, before Junglee, FlipDog, Indeed and SimplyHired. In 2000, Jobindex joined forces with AltaVista and was known as AltaVista Jobs in 11 countries. When AltaVista disappeared, they decided to focus on Scandinavia.
Known as Jobbsafari in Sweden and Norway, Jobindex now owns over 90% of all positions advertised online in Denmark. With 60% of the Danish online job advert market, Jobindex is the largest job site in Denmark.
Jobindex owns StepStone Denmark, it-jobbank and Computerworld Denmark with news about the IT industry. StepStone Denmark is more focused on management positions, while it-jobbank is a niche job site for IT positions.
What makes your job board different from your national competitors?
Jobindex was the first job aggregator in the world which is our main difference. Because of our success, the other job sites have changed their business models and have become job aggregators as well. But Jobindex is still the largest job site in Denmark. We also have a lot of other features like tests, Jobindex TV and articles about the job market.
Jobindex has several partnerships with Danish websites such as Eniro, Aktienyt, Krifa and ASE. What are these partnerships about?
Our partnerships are here to help us drive more traffic and attract passive candidates. Jobindex partnered with Berlingske, the largest newspaper for jobs in Copenhagen. StepStone Denmark has a partnership with Børsen, the largest business newspaper in Denmark, and it-jobbank of course has a very close cooperation with Computerworld.
Jobindex expanded its network to a number of other countries. Can you tell us more about your other job boards?
We hope to copy the success of Jobindex to Sweden and Norway. We can see that the aggregator business model has been very successful in Denmark, and we think that we can be successful in Sweden and Norway as well. So far we are #3 in Sweden and Norway in terms of traffic. We are running television campaigns in Sweden, and the traffic is growing rapidly as a result.
A few years after the acquisitions of Computerworld, IDG Denmark, Stepstone.dk and it-jobbank, can you draw us a report?
The Jobindex Group has a total of 250 employees and has annual revenue of around 30 million euros. The Jobindex job board has itself about 150 employees and makes most of the revenue. The Jobindex Group is listed on Nasdaq First North with a market value of more than 100 million euros.
How is the online recruitment market doing today?
The market as a total is slowly picking up and has grown about 15% compared to last year. We can also notice that LinkedIn is growing faster than that, but Jobindex has grown 25% compared to last year, so we are still gaining market shares.
How do you see the future of your company?
We want to get into the recruiting market and write job adverts for the customers. Our goal is to become a recruiting company, not just a job board. We hope that this will help to protect us against LinkedIn and other competitors.
What are the next steps and projects for Jobindex?
We are going to focus on integrating our different companies and improving the cooperation between them. We want to get everybody to work together and benefit from the synergies between the different companies that we have bought. We also have some exciting IT projects that we will love to talk about once we are ready to launch them.