Content marketing is on the rise and it is becoming the best way to attract customers. More than 78% of consumers prefer getting information about the company through articles. Successful content marketing campaigns will help build brand awareness, enhance traffic to your landing pages, and increase online presence. The big question is: how do you recruit content writers?
Before you can answer that question, you need to know what makes a quality writer. Having excellent grammar, and spelling, as well as good sentence and article structure, are the basic requirements. Knowing current SEO practices, research know-how, and delivering high-quality content in a conversational tone are an instrumental asset to search for when recruiting content writers.
Recruiting writers
Publishing quality content is a transfer of the brand message from the company to potential customers. The content audience will get valuable information, and the brand will get new readers and leads that can convert into new customers. Professional content writers could increase ROI and SEO rankings.
Where to recruit content writers
Some of the most popular platforms with great listings of content writers are Hubstaff Talent, Fiverr, Upwork, Freelancer, and  Study Clerk. All of these platforms have a system for grading freelancers. When you do your research, take the time to read all the reviews and comments available.
What to look for when hiring a writer
Impeccable grammar and native level of language are the bare minimum. The content provided must be without typos, written in a conversational tone with SEO best practices in mind. While some SEO work belongs to the webmaster. The website has to be optimized for mobile devices, and page loading time has been a factor in SEO for a while. The quality of UX is also rewarded.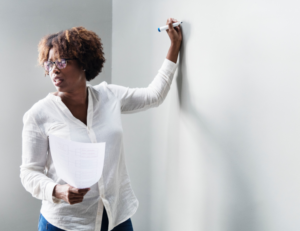 On the writer side of things its important to understand how users search to find the ideal keywords. Find out have they heard or used tools like Soovle, Jaaxy, Ahrefs Keywords Explorer or Google Search Console when researching keywords. In 2019 Amazon search is becoming increasingly important because the study shows that 56% of consumers go directly to Amazon for shopping. Writers can use Amazon Autocomplete keyword research tool as a valuable asset. A good writer will know that he needs to plant keywords in the first 150 words, in the middle of the article, and at the end. Every article should have at least two internal and a couple of links to authority sites. The structure of the article should have Headline and sub-headings with the H1, H2,H3 structure. Headings should also include keywords or phrases. Include images, videos, infographic, and make sure article has a conversational tone.
If you are recruiting freelance writers, check their credential, past projects, and portfolios.
Know what kind of content you need and find a match in the talent pool. If you're looking for a writer for digital marketing topics, it would be great to find people with some basic industry knowledge and a specialized freelance profile. Having excellent writing skills go without saying.
---
We would like to thank Harry Southworth for this contribution.
Author:
Ali Neill
As the job board tester and blog editor for the Jobboard Finder, Ali works on job boards from all around the world and keeps a close eye on the recruitment trends thanks to a number of sources, including the website's social media pages.