The burden of physical disabilities interfers with people's normal functioning and affects their success on a professional level. Having an impairment can deprive an individual of aspirations and ambitions to assert themselves, because it can make work harder to complete and lower self-estime. But in reality, there is a solution to living with physical disabilities and a way for employers to adapt the workplace for handicapped employees. Today's technological advancement has brought new tools to those with disabilities, enabling them to enter the workforce alongside other people.
Breaking Through the Limitations
Modern technologies and creative solutions do pave the way for the disabled to realize their potential in almost every working sphere. Employing a physically disabled person is no longer a challenge for an organization, it's rather an honor to be a part of the worldwide movement towards erasing the boundaries for the disabled. Today, employers have the necessary resources and means to adjust the workplace to a handicapped worker. Therefore, making the workplace disabled-friendly is only a matter of the values and priorities that a company holds.
The tech-driven industry offers businesses some effective life-saving techniques and ideas, which give their existing or potential handicapped employee a chance to have a life beyond their desolate cubicle of meds, hospitals, and wheelchairs. Taking a look at these ground-breaking tips will help you modernize your organization, making it up to date with the current benevolent practices of the business industry.
One example could be services, which turn oral conversations into written text for the deaf, like Tadeo. If you would like to improve conditions for the dyslexic, what about using different fonts, which are easier for them to read. And if you want to focus on the blind, try teaching your team to describe images, rather than just showing them.
Raising Awareness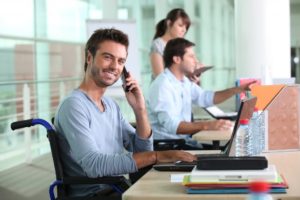 The general knowledge pertaining to the problem of physical disablement is widely disseminated today. Thus, for many, the feeling of compassion and empathy to the handicapped is nurtured in their early years. Nevertheless, when it comes to corporate life in a company employing disabled workers, the awareness of this social and medical phenomenon gains a slightly different nature, which may entail a rather intimidating impact on the disabled. For this reason, within your organization, it's essential to cultivate the proper culture of sharing an office with a handicapped person. Everyone needs to play a role in adapting the workplace.
You can organize training and meetings, where the employees will receive the necessary information about how to treat the disabled to prevent both the embarrassment of employees with special needs and the inconveniences that others may experience. You may also think about arranging a seminar jointly with a non-profit organization, to enhance the togetherness of your employees and blur the line between these two dramatically different categories of your staff. It is not because someone has a handicap that they should feel different to other workers.
Assistive Technology
In order to make your physically challenged employees feel comfortable and safe at work, you need to provide them with the essentials that will create a full-fledged working environment. The changes needed depend on the type of disability the worker has. If, for example, your employee suffers from a physical impairment, you should equip the workplace with basic assets they might need throughout their working day. Or, for a worker with a vision disability, it might be helpful to get them a color-coded keyboard to ease their typing issues or documents written in braille. Providing them with vital amenities and facilities will not only cater to their basic needs but also boost their performance.
You can also consider a number of innovative apps that will greatly facilitate the working process of an impaired individual. Yes, people with speech and language disorders can now communicate freely and seamlessly thanks to the Talkitt app, which renders unintelligible pronunciation into understandable speech. This could be useful for a staff member with a lisp or stutter. Another useful app, Open Sesame, is a must-have for people with dexterity impairment. This application traces a person's movements, allowing them to take control of a device by operating it with these very movements.
Maintaining Their Well-Being
To ensure the comfort and welfare of your disabled employees, you need to keep the atmosphere of their working space beneficial and productive. You may want to optimize the design of the office, making it more inviting and cozy. Employees will be more enthusiastic and inspired to work with expressive pictures hanging on the walls and beautiful plants on their table. This may be true for able bodied employees too.
They could also appreciate having some useful online services at hand, like the DoorDash food delivery or the EssayShark writing service, for anyone with a learning disability. As additional options, you can consider other facilities such as a game room with a PlayStation and table football.
Your handicapped employees will gladly accept the idea of going on a corporate trip, which will have a favourable effect on their overall health as well as provide an opportunity for team building.
Drawing the Line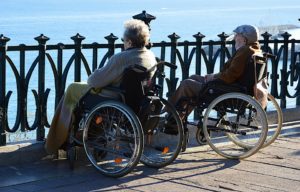 As the world is adopting a brand-new way of treating the problem of disabilities, we can observe an exponential growth in disability equality. Discriminating against the handicapped and restricting their right to work has become a front line problem. Our modern society is hallmarked by an increased tolerance to the disabled, offering them help to make their handicap as seamless as possible.
Welcoming physically challenged people in your workforce by accommodating to their basic needs demonstrates the exceptional reputability of your company and humane philosophy of running a business. So what are you waiting for you? Post a job offer on a handicap-friendly job board today!
---
We would like to thank John McGill for this article. John was born and raised in Farmingdale, New York. He was a project manager before shifting to the content writing field, in which he created new blog posts, content for landing pages and reviews of classical novels. He lives in New York City and is actively looking for new refreshing out-of-the-box content ideas and tips.
Author:
Ali Neill
As the job board tester and blog editor for the Jobboard Finder, Ali works on job boards from all around the world and keeps a close eye on the recruitment trends thanks to a number of sources, including the website's social media pages.