This week, we'll be focusing on the top 5 job boards specialized in jobs for disabled people. It is true that on most generalist job boards, you can find offers for disabled workers. Having specialist job boards for disabled workers can even be considered as discriminating. However, sometimes it can be easier to find a job on these websites, that are run by associations not only for disabled persons, but also for senior workers. They usually offer other services to help the disabled getting hired. Offers for disabled workers can also be found on official government websites. You will find in this article the 5 best job boards for disabled workers. Please note that they are all national job boards.
1. disabledperson (United States)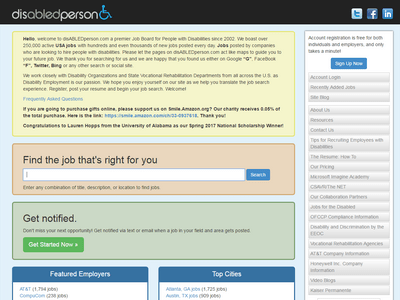 Disabledperson is the biggest job board for disabled workers in the United States. It gathers more than 160 000 job offers in almost all American states. The design is not all that modern, but it is still an efficient job board in the United States. Many big American companies like UPS, AT&T and even the CIA post on this job board. The category offering the most offers on this website is the management sector (there are currently 14 000 jobs). The job board also offers recruiters tips for recruiting employees with disabilities, as well as advice for jobseekers on how to write a resumes.
You can check out their profile on Jobboard Finder right here!
2. Disability Job Exchange (United States)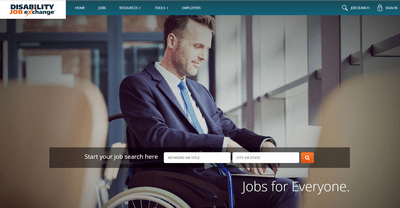 As a part of the America's Job Exchange job board, Disability Job Exchange's main mission is to provide "jobs for everyone". With more than 163 000 offer on the website, the job board is very active in the USA. The design of the website is very modern making it easy to navigate. The pricing is also very attractive for recruiters and, as it belongs to a group, your advert will be posted on many websites. They also help recruiters and jobseekers with ressources and tools, such as career advice, salary information, resume writing, etc.
Look at their profile on the Jobboard Finder!
3. Diversity Jobs (United Kingdom)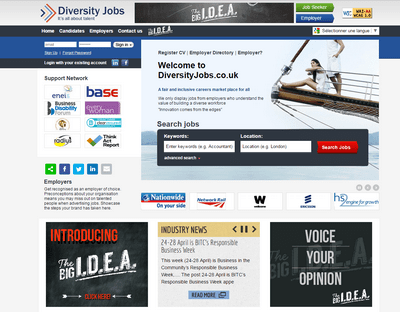 Diversity Jobs is a generalist job board covering the whole of the United Kingdom as well as Ireland, Australia, Canada, Dubai, France, Germany, Italy, Poland, Spain, Switzerland and the USA. This job board isn't just for disabled people. However, they offer many vacancies for people with disabilities. They only display jobs "from employers who understand the value of building a diverse workforce". On the homepage, you can see featured jobs and the top sectors. There are currently 7 160 jobs on the website. You can also find a candidate blog and a lot of useful information for both jobseekers and recruiters.
Check out their profile on the Jobboard Finder!
4. Hanploi.com (France)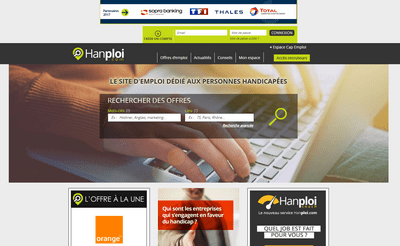 Hanploi.com is one of the biggest French job boards dedicated to handicapped people. It was created in 2005 by a corporate network hoping to improve the professional integration of disabled workers. The job board also benefits from a lot of support from French local companies and associations like AGEFIPH, that help disabled people find work. Many huge companies like Total, IBM or SFR post jobs on this specialist job board. The design of the site is modern and you enjoy navigating on it. There are currently around 7 000 job offers, and the website also offers advice for both job seekers and recruiters.
You can find their profile on the Jobboard Finder right here.
5. Handicap.fr (France)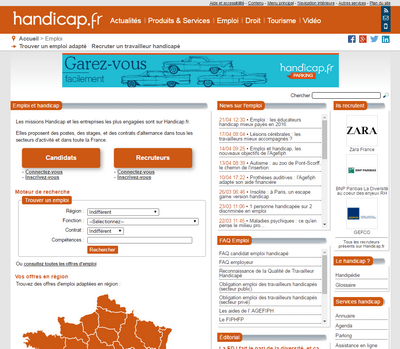 Another French specialist job board for people with disabilities is Handicap.fr. It currently offers 867 jobs. The job board was the first to publish posts specifically for disabled workers and has more than twenty-five years of experience. They also offer services for handicapped people, news on the labour market as well as many useful tips to help disabled people when they want to travel or if they need legal advice. The website is really simple to use and very efficient in France.
Check out its profile on th Jobboard Finder!
Companies can also invest in services, to ensure their handicapped workers can participate in activities, without feeling like outsiders. For instance, in France, Tadeo offers assistance to deaf workers, who can follow interviews and conferences by simply calling the service and having a vocal writer transcribe the audio into text. Amazing!
---
For both employers and job seekers, Jobboard Finder is the first decision-making tool for recruitment campaigns and job searches. By gathering tools and services that recruiters can use to search and compare employment websites from all over the world to find the best job search sites, it really is the best solution for recruitment needs. Today recruiters can also purchase job advertisements for the media they have selected and manage their postings directly from our unique platform. Then they can rate and review the job boards they have used in the past for our community of professionals to see.
Keep up to date with our news articles and have them come right to your inbox with our newsletter. If there is a particular topic that you would like to see featured on our blog, please let us know.
Article Review
Reviewer
Review Date
Reviewed Item
Author Rating