With the summer just around the corner, many ambitious students start looking for summer internships and job opportunities. The reasons vary with some wanting to gain experience, enhance their CV and earn some extra money. While others wish to practice a foreign language and work abroad. On the other hand, recruiters search for fresh ideas and a new outlook for their business. With all of this in mind, Jobboard Finder has made a list of where to find and post internships, read on to find out more!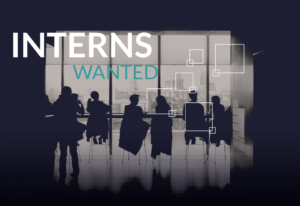 This platform is very popular among students and young graduates in Belgium and offers access to vast content and valuable advice. It currently has 5000 internships and is also good for student and graduate jobs (10 000 and 900 offers respectively).
Users can look for private lessons, student rooms, ask students for surveys, first jobs, internships. In addition, the Student.be blog has very helpful articles explaining (in different languages) what tasks and actions are involved in each position or department. There is also career advise, tips for Erasmus, first jobs and interviews and so on.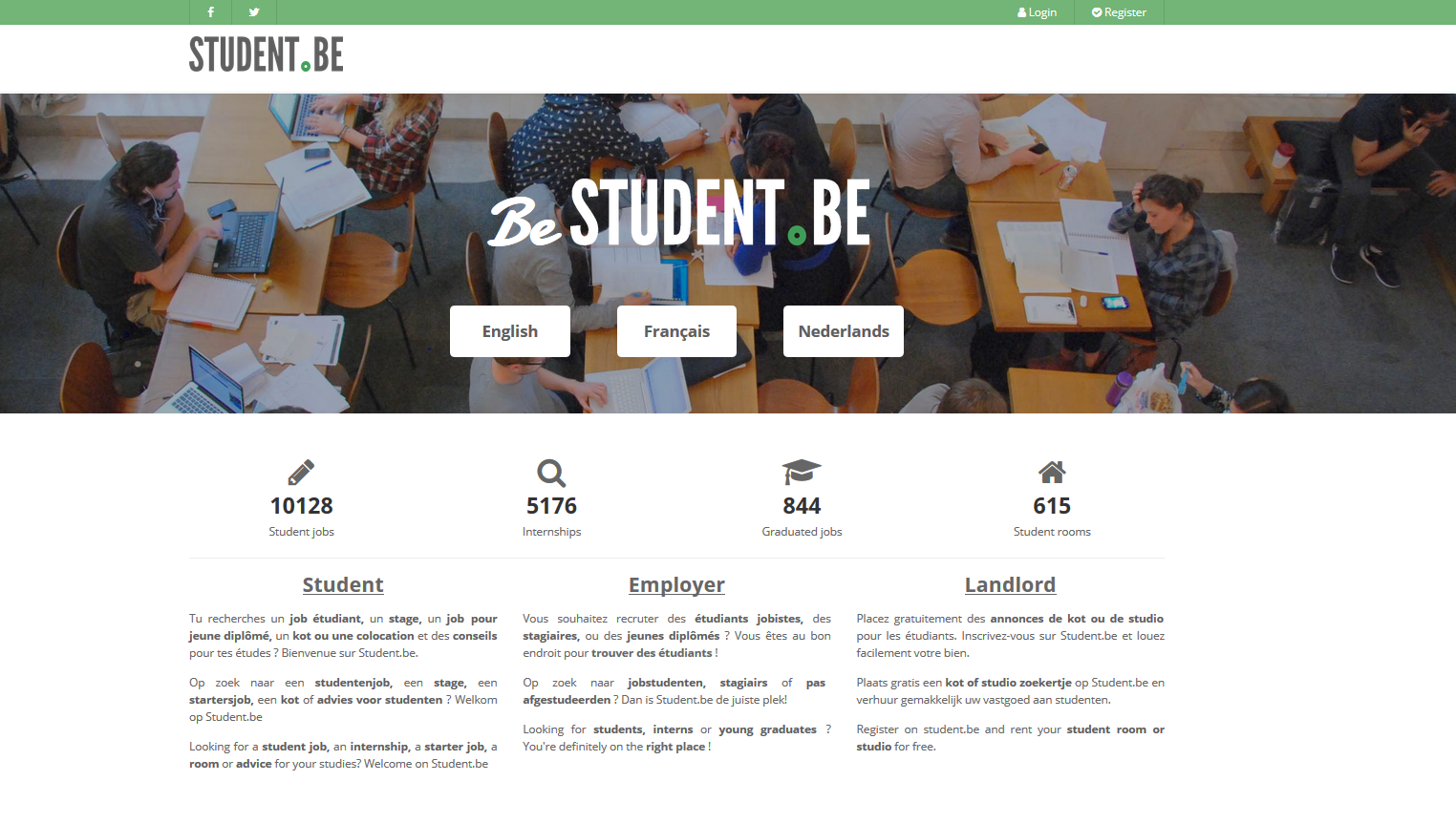 Candidates can create job alerts to receive notifications by email when a new publication matches their needs. Looking for internships and job offers is easy thanks to filters such as "paid or unpaid" and "level of study". In addition, employers can create a company profile where they can describe their mission, values, add a company video and logo, the profiles they're looking for and the job description
Application process: registration via Student.be or Facebook is required
Languages: English, French and Dutch.
L'Étudiant is a French monthly magazine with almost 50 years of experience providing young people with especialised information about training, education and careers. Some of the  topics they cover include: Career advise, tips for exams, orientation tests, information on universities and business schools, education , course guidance, tips for CVs, cover letters and interviews…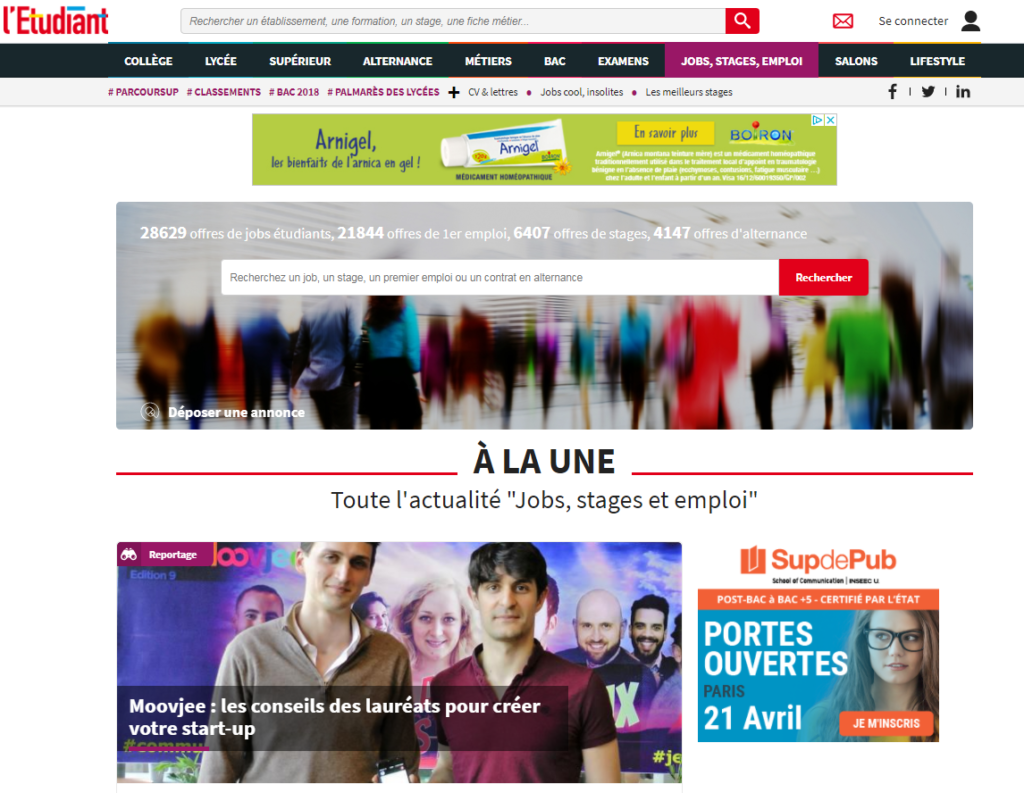 It has a search engine with access to 30,000 job offers, of which 6,000 are internships. It is very popular among students and graduates in France and counts 8 million visits every month.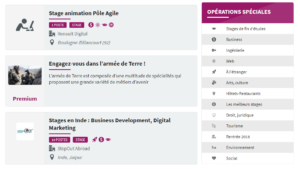 Even though the volume of content might be a bit overwhelming at first, browsing through the website is very straightforward. Each offer displayed on the search results page has different stickers (Business/ Graduate/ Tourism/ Web/ Social/ Arts&Culture/ Abroad…). These provide basic information and help narrow down the options.
Application process: can be done by email, through the employer's career site or by opening an account on L'étudiant
Languages: French
If you're looking to spend a few months working in Berlin and practice your German, you should check out Praktikum.info. There are more than 5000 internships, mostly in Marketing , Management, IT&Development and Human Resources. What makes the job search so easy and quick is that each filter displays the exact number of offers for the chosen filter.
The majority of job offers are for internships in Germany but there are also several companies advertising jobs in China, Andorra, France and the UK. Recruiters can create detailed company profiles.  They can add photos, videos, company details, awards won, the benefits they offer and contact details. Some noteworthy recruiters are Vodafone, pwc, Exutec and Enterprise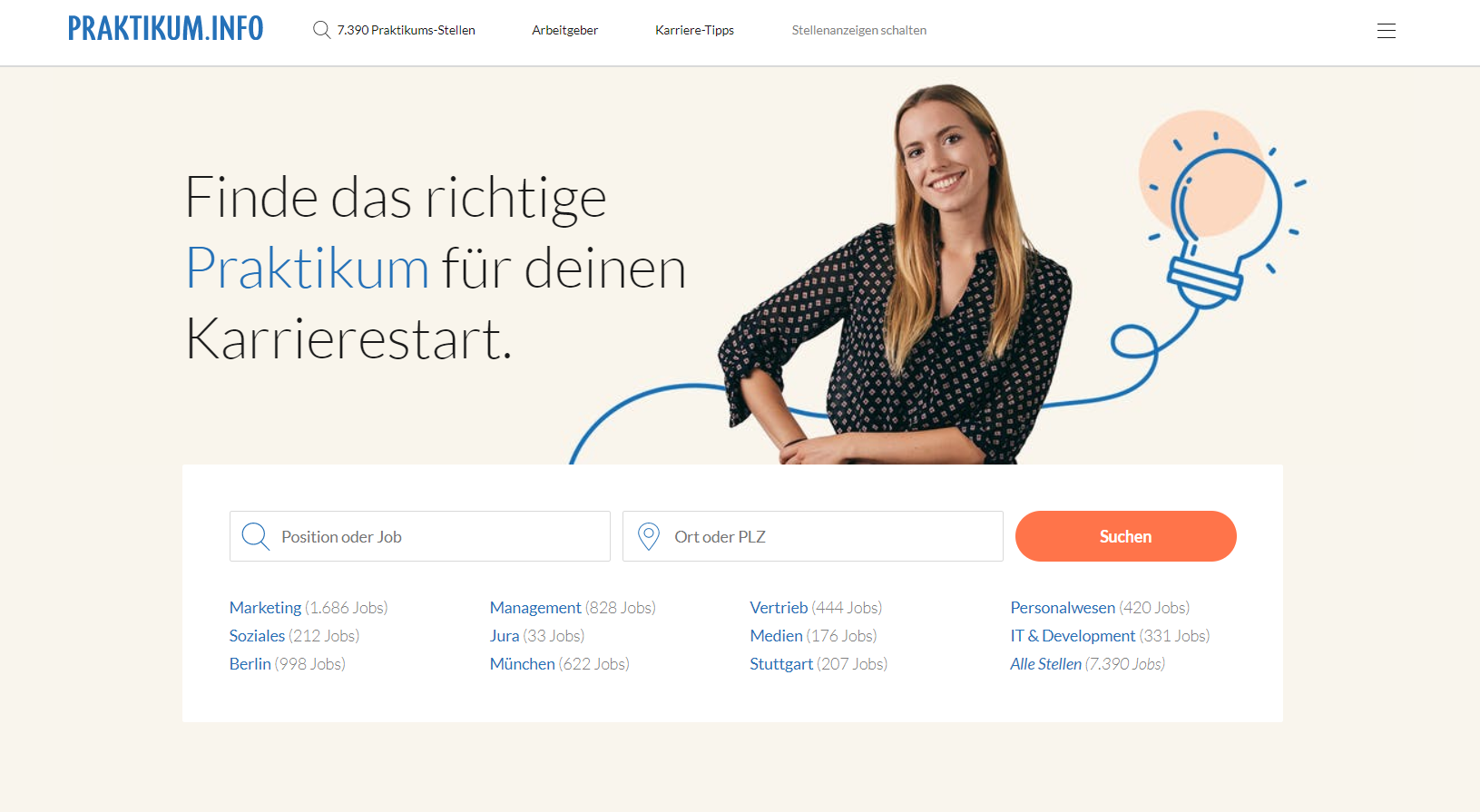 The website is simple and well structured. The blog provides career and legal advise, information on salaries, templates for CVs and cover letters as well as tips for interviews and interns.
Application process: Candidates are either redirected to the employer's career site or they can send their CV/Application by email
Languages: German
This job board has recently joined the Jobboard Finder community. It is a great platform both for employers and candidates in India. It currently displays almost 9000 internships in a wide variety of sectors from Engineering and Science,  Ambassador Programs and Research Fellowships to Design and Media. Searches can also be filtered by city. Recruiters are guaranteed to find talent with Internshala as it has more than 6,000,000 visits every month.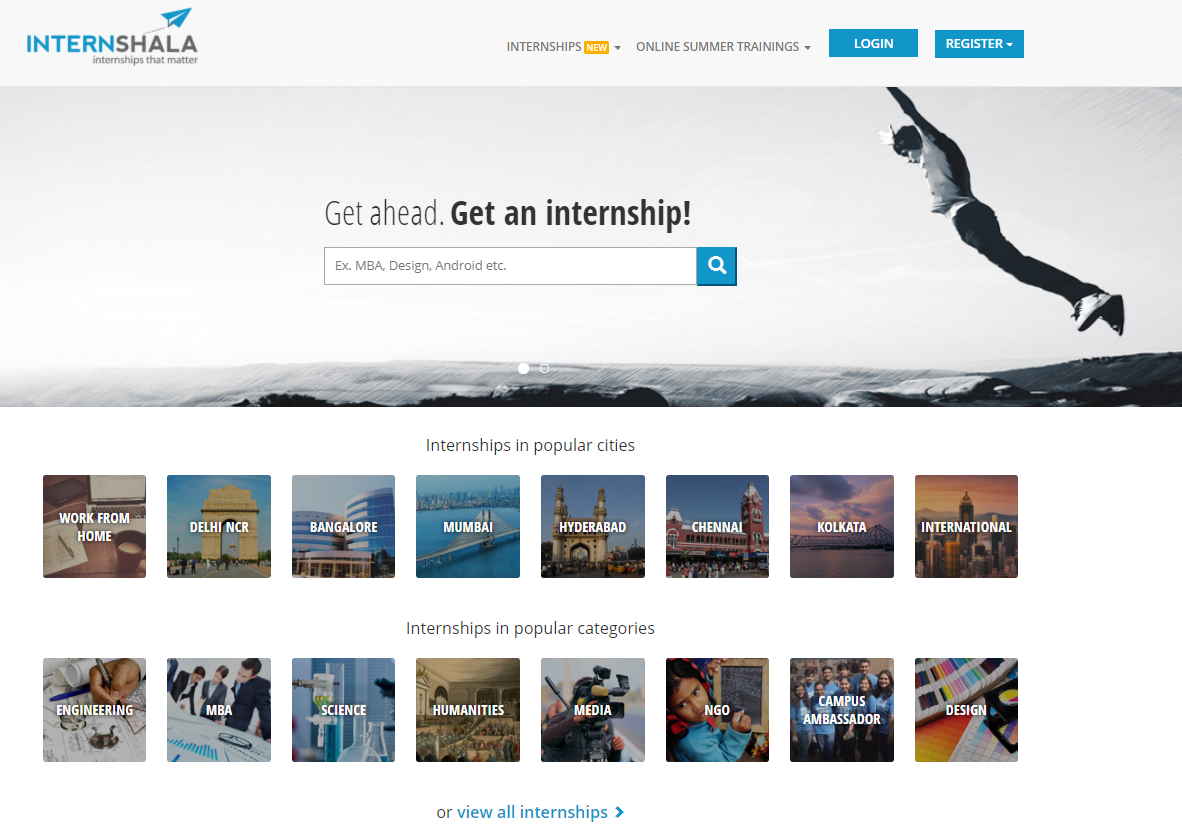 Looking for internships is easy thanks to the modern design and the intuitive operational system of the website. The search results page displays key information such as the start date, salary, the application deadline and the duration of each internship.
With the summer approaching, InternShala now offers incredible online training courses. They last between 4 and 6 weeks and the prices are very reasonable (25 to 80 Euros). Some of the courses are for web and app development, Communication and Business skills, Digital Marketing, Programming…
Application process: registration via Student.be or Google is required
Languages: English
Where to find and post internships
With more than 1,5 million visits every month, this job board is the best platform to look for talent or jobs in the French part of Switzerland (Romandy). There is also a small number of offers in other cities in Switzerland.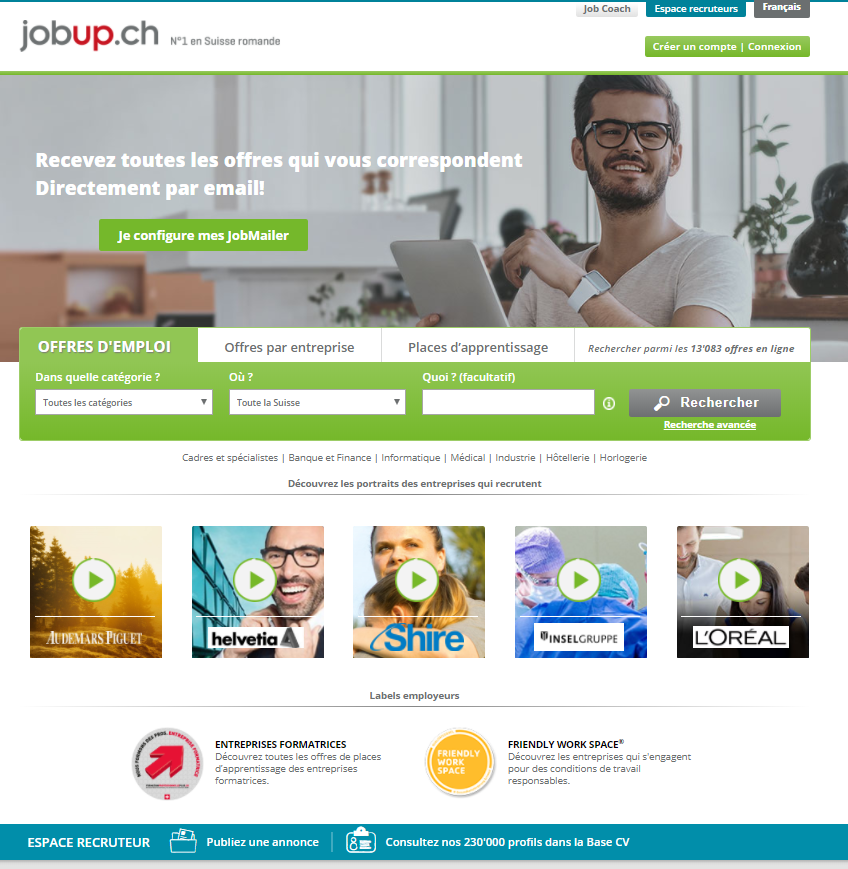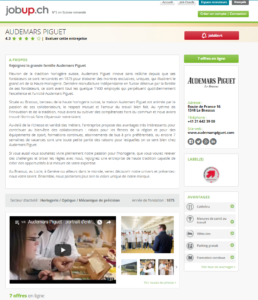 Companies can create a corporate profile where they display their mission, values, objectives, number of employees, photos and video (with direct access from the homepage). Organisations offering apprenticeships can post their adverts for free and receive additional visibility thanks to a special label.
There are also reviews and a section dedicated to companies with a Friendly Workplace Certificate with direct access to their job offers.  All of these features provide valuable information and help candidates learn more about their future employer
Application process: you either open an account on Jobup.ch or you apply via the recruiter's career site.
Languages: French, English and German
For both employers and job seekers, Jobboard Finder is the first decision-making tool for recruitment campaigns and job searches. By gathering tools and services that recruiters can use to search and compare employment websites from all over the world to find the best job search sites, it really is the best solution for recruitment needs. Today recruiters can also purchase job advertisements for the media they have selected and manage their postings directly from our unique platform. Then they can rate and review the job boards they have used in the past for our community of professionals to see.
We hope you have found this article "Where to find and post internships" useful! Please let us know if you'd like us to cover any specific topics in the Jobboard Finder blog