For the fourth year in a row, the organizers of SinoJobs Career Days are expecting more than 2,000 visitors altogether at the events in Düsseldorf and Munich. Over 30,000 Chinese students, graduates and professionals who live in Germany and plan to return to China will be addressed.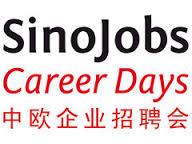 Visitors at the event will meet with large German companies like Daimler AG, ZF Friedrichshafen AG, the Linde Group and BMW, but also with medium-sized companies such as GROB-Werke, FEV und Handtmann. In total, about 60 exhibiting companies with branches in China are represented, and are looking for graduates and young professionals.
Talented Chinese individuals who have studied in Germany or Europe, have basic work experience as well as knowledge of the German language contrast favourably with graduates from Chinese universities. There are interesting development opportunities for these candidates in European companies with a quick assumption of responsibility.
This recruitment fair also receives a great deal of support from the political arena. Düsseldorf's mayor Thomas Geisel, and Josef Schmid, second lieutenant mayor of the state capital Munich and divisional head of the department for Employment and Economy have taken over sponsorship of the fair. Ilse Aigner, Bavarian state minister for Economy and Media, Energy and Technology, and Dagmar Schmidt, member of the German Bundestag and chairwoman of the German-Chinese parliamentarian group of the German Bundestag will each be giving a welcome address.
SinoJobs Career Days will be taking place from 10 am to 5 pm on November 5, 2014 in Düsseldorf and on November 7, 2014 in Munich. Apart from the exhibitors, a full-day lecture program will be offered.
SinoJobs Career Days are held every year in Germany, and have attracted thousands of Chinese visitors in past years.  More than 200 German and European companies have participated as exhibitors so far.  SinoJobs Career Days are part of the Europe-China focused job portal Sinojobs.
More details and registration at www.sinojobs-careerdays.com