This week we had the pleasure of interviewing Niall Kelly, co-founder and director of both SalesJobs.ie and ComputerJobs.ie. These Ireland-based niche job boards were launched in 2003 and 2007 respectively, and have seen huge success since these dates, owing to their cost-efficiency and effectiveness, as well as their excellent level of customer service. While the traffic for both of these sites comes unsurprisingly principally from Ireland, the site also receives visitors from many other countries worldwide, including India, Brazil, Greece and Pakistan to name a few. We asked Niall to tell us a little bit more about Ireland's top sites for jobs in the sales and IT sectors.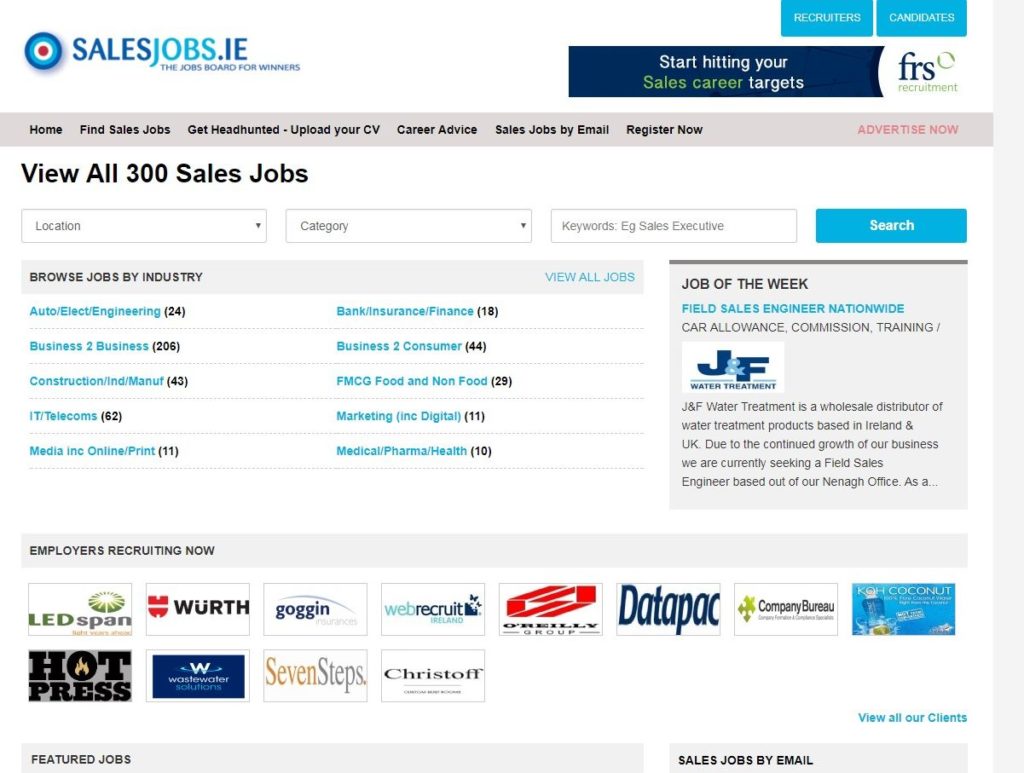 Can you tell us more about your job board and its current positioning in the international job board market?
As a niche job board, we only cover Ireland and just sales jobs (And IT jobs with www.ComputerJobs.ie).  We do get clients who are looking to recruit Irish IT Engineers to USA, UK, Europe and as far as Australia and NZ also but the bulk of our clients are Irish IT Recruiters with a small amount of UK recruiters with Irish clients.
What are the specific features that make your job board different from your competitors?
As we are Niche job board, job seekers know they won't have to trawl through tonnes of non-relevant Sales or IT roles to get what they are looking for. Our pricing is also very attractive with our main competitors charging up to 4 times what we charge, for example €195 compared to €800!
What can you say about the current traffic on your website? Which countries are visiting more often?
The site receives mostly Irish based job seekers at about 30,000 per month for each site. We recognise these are small numbers but we are all about the quality of the CV's, rather than the volume.  We do get quite a lot of overseas traffic for www.computerjobs.ie but they are deleted as soon as they register as our recruiters simply don't have the time to try to process work visas.
How do you plan to develop your job board within the next few years? Any new projects?
As we use the Strategies job board platform, we are dependent on any upgrades and modifications that they implement over the coming years. We do offer quite a few extra services that our competitors don't.  As a small company, we are agile enough to be able to give a very personal and focused level of customer service.  Click here for salesjobs client feedback and here for computerjobs feedback. These are testimonials we are very proud of, as they prove that we can compete with the larger and more influential job boards of the world.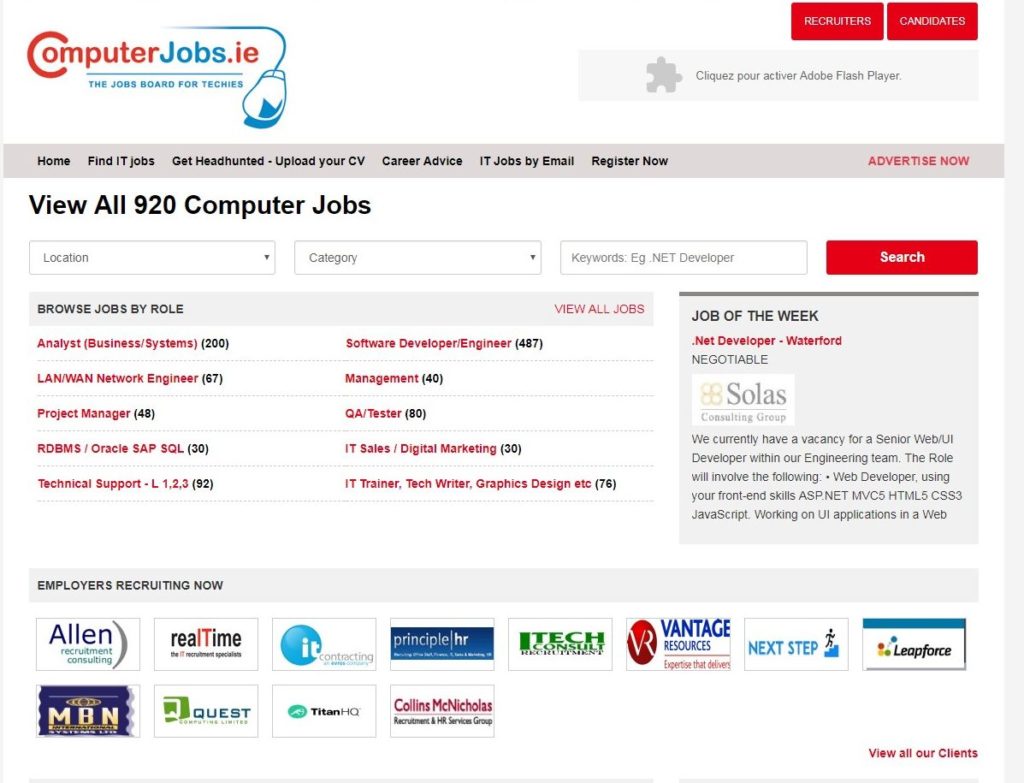 What are the main challenges you will be facing in the coming years?
I consider the main challenge to be trying to convince larger blue-chip companies that our niche job sites do deliver quality candidates and for a fraction of the cost of the larger generalist job boards. We should be used in conjunction with the generalist job boards but we find that the HR function within large companies have big budgets for recruiters so that they simply register with one or two big boards and then farm out the roles to the recruiters also.  They can then say they do try and cut their recruitment budget but the recruiters really do make their life easier by providing 3 qualified candidates for them to pass onto the relevant hiring manager. They tend to view using niche job boards as too much effort, but we are working hard to change this perception.
What do you think about Jobboard Finder and why is it an advantage for you to be registered on our website?
As the only site of its kind, it's a perfect website for the small job boards such as ourselves to get noticed by smart recruiters and HR people in general.
We wish Niall and SalesJobs and ComputerJobs all the best for the future, and look forward to seeing their ongoing success!
—
For both employers and job seekers, Jobboard Finder is the first decision-making tool for recruitment campaigns and job searches. By gathering tools and services that recruiters can use to search and compare employment websites from all over the world to find the best job search sites, it really is the best solution for recruitment needs. Today recruiters can also purchase job advertisements for the media they have selected and manage their postings directly from our unique platform. Then they can rate and review the job boards they have used in the past for our community of professionals to see.
Keep up to date with our news articles and receive them directly in your mailbox by subscribing to our newsletter. If there is a particular topic that you would like to see featured on our blog, please let us know.
Article Review
Reviewer
Review Date
Reviewed Item
Author Rating