We had to pleasure of interviewing the worldwide specialist job board Medical.Careers.Global. Founded in 2013 in the United Kingdom, the specialist in medical and healthcare job board is the first and only job board offering job opportunities in all world countries. This job board is as well a social network for professionals within the sector. We would like to thank again Nick, the Executive Director of Global Career Network, who did us the honour to reply to our questions.
Can you tell us more about your job board and its current positioning in the international job board market?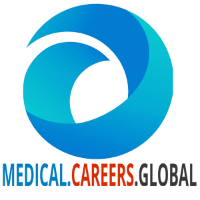 Global Medical Careers is the first international career portal specifically focused on professionals within the healthcare and medical sector. Developed in consultation with leading industry experts, Medical.Careers.Global offers both advertisers and jobseekers a new avenue for recruitment; locally, nationally and internationally.
Aimed at medical and healthcare professionals who possess transferable skills across borders, Global Medical Careers provides our audience with the ability to search for jobs and career opportunities in over one hundred countries using keyword searches that match specific skills and professions.
What are the specific features that make your job board different from your competitors?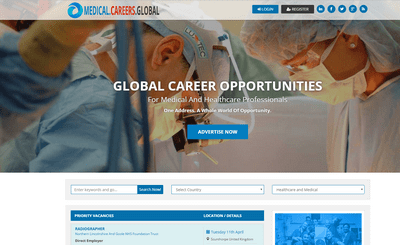 Global Medical Careers provides a niche, highly targeted platform for the medical and healthcare employment sector. The platform combines the traditional job board with fully integrated social networking, maximising reach and implementing best practices for social recruiting across the world's leading platforms; LinkedIn, Twitter and Facebook, creating a professional recruitment portal for today's, and tomorrow's, highly connected world.
What can you say about the current traffic on your website? What countries are visiting more often?
The geographic reach of Global Medical Careers is truly global. Offering career opportunities in over 100 countries, we attract job seekers from every corner of the globe, providing a candidate attraction and recruitment platform that works locally, nationally and internationally.
With the high level of global mobility within the medical and healthcare sector, the site allows employers to reach further than ever before and attract applications from a large talent pool, including their own expatriate workforce.

Almost 40% of our visitors are located in the USA and the United Kingdom, with the remaining visitors comprising nearly all other locations throughout the world.
Our PRISM system, or Proprietary Recruitment via Integrated Social Media, provides access to a global, yet targeted audience, ensuring the vacancies on our site are seen by the widest, most relevant audience on a global basis.
How do you plan to develop your job board within the next few years? Any new projects?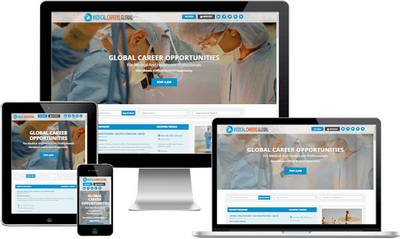 Global Medical Careers' development team ensures that medical.careers.global is at the forefront of internet technologies and continually invests in new technology to optimize and provide new features for our visitors.
Operated by Global Career Networks, medical.careers.global is an integral part of the careers.global family, which includes other specialty job boards servicing high demand professions and industry sectors.
What are the main challenges you will be facing in the coming years?
Operating a global job board presents many interesting challenges compared to operating a more localized business model. Our primary challenge is raising awareness on a worldwide basis, however this is becoming easier as we continue to establish key government and private sector clients.

What do you think about JobboardFinder and why is it an advantage for you to be registered on our website?
We believe JobboardFinder will assist our company to access the global job board market by highlighting the services we provide that would be of great benefit to all employers in the medical and healthcare sector.
Check out Global Medical Careers' profile on Jobboard Finder right here!