We had the honor to interview Marta Infante, the International Development Manager at Fashion Network. She told us more about the job board Fashion Jobs, which is one of the biggest specialist job board intended for professionals in fashion, luxury and beauty, cosmetics, worldwide. We have decided to interview this job board because we wanted to highlight a sector that keeps on recruiting, and also because we wanted to promote a job board that is modern, efficient and always updated. So we would like to thank again Marta for her time and her very interesting answers. We hope that you will enjoy reading the interview!
Can you tell us more about your job board and its current positioning in the international job board market?
Established in 2001, FashionJobs.com is the leading recruitment website for fashion, luxury and beauty professionals. The website has over 3 million visitors per month and is active in over 70 markets.
FashionJobs.com corresponds to a need for a specialized job search platform for fashion professionals and it has been able to effectively deliver over 15,000 monthly job postings worldwide. The site has longstanding partnerships with all the major fashion, luxury and beauty brands as well as small emerging labels and top recruitment agencies.
What are the specific features that make your job board different from your competitors?
One of the main features that makes the difference regarding other job boards is that FashionJobs.com is specialized in the fashion, luxury and beauty industries. On another hand, its international presence allows companies to post job offers in several countries using a unique dashboard and in a very simple way.
Fashion professionals worldwide are more than welcome to use our job board!
What can you say about the current traffic on your website? What countries are visiting more often?
Our main markets are France, Italy, UK, Spain, Germany, USA, Mexico, India and Portugal. We are working to expand our services in countries such as Russia, China, Japan, Brazil, Colombia, Peru, Argentina and Netherlands, among others, and we are getting very good results. Our goal is to strengthen our presence in those countries and to continue developing our services in other markets.
How do you plan to develop your job board within the next few years? Any new projects?
Recently, we launched a new version of the site, with a new brand image and logo and optimized for all devices. We would like to launch an app to make it even easier to apply and post job offers, we are working on that! Also, we continue establishing strategic partnerships with trade shows and fashion related events around the world.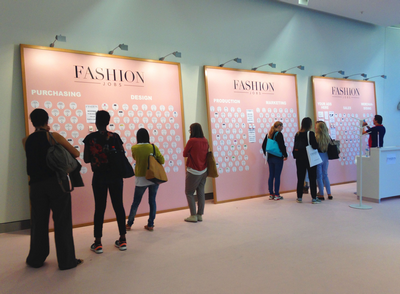 What are the main challenges you will be facing in the coming years?
Becoming the leaders in markets where we are in a first development stage is one of our main objective for the next years!
What is your point of view about JobboardFinder and why is it an advantage for you to be registered on our website?
Jobboard Finder provides reliable information about job boards worldwide to recruiters, but also to candidates, since they are able to find and compare job boards according to their target, needs and country. Being listed on Jobboard Finder boosts our online visibility and it helps us to know what users think about us, since they can leave their reviews and comments.
Can you tell us more about you Marta?
My name is Marta Infante and I am the International Development Manager at FashionJobs.com. I work alongside with the international team to make sure that FashionJobs.com becomes the leading recruitment website worldwide, adapting and developing new strategies for each market. What I love the most of my job is to work in an international environment, to contribute to the professionalization of the fashion industry worldwide and to help fashion professionals finding a job, highly appreciated nowadays.
Check out FashionJobs.com profile on Jobboard Finder right here!