Dedicated and skilled volunteers are key for the correct functioning of Non-Profit Organisations. One of the many challenges charities face is not having a sufficient amount of volunteers which can often bring projects to a standstill. So where to find motivated people commited to your cause with limited or any funds? Read more to find out!
Online recruitment has proved to be cost-effective for companies so why shouldn't charities take advantage of it? Not only this, online job boards is perfect for organisations who want to approach the younger generations and reach a wider audience. People with time to spare  and ready to engage in voluntary action. 
Here you will find a selection of the best job boards out there specialised in the Charity Sector and that will help you find the best candidates for your Organisation.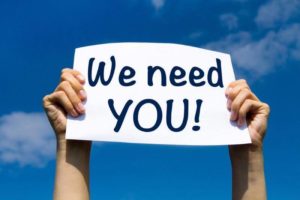 1. VolunteerMatch
VolunteerMatch a volunteering organisation reaching organisations and volunteers not only in the US but also in 131 other countries.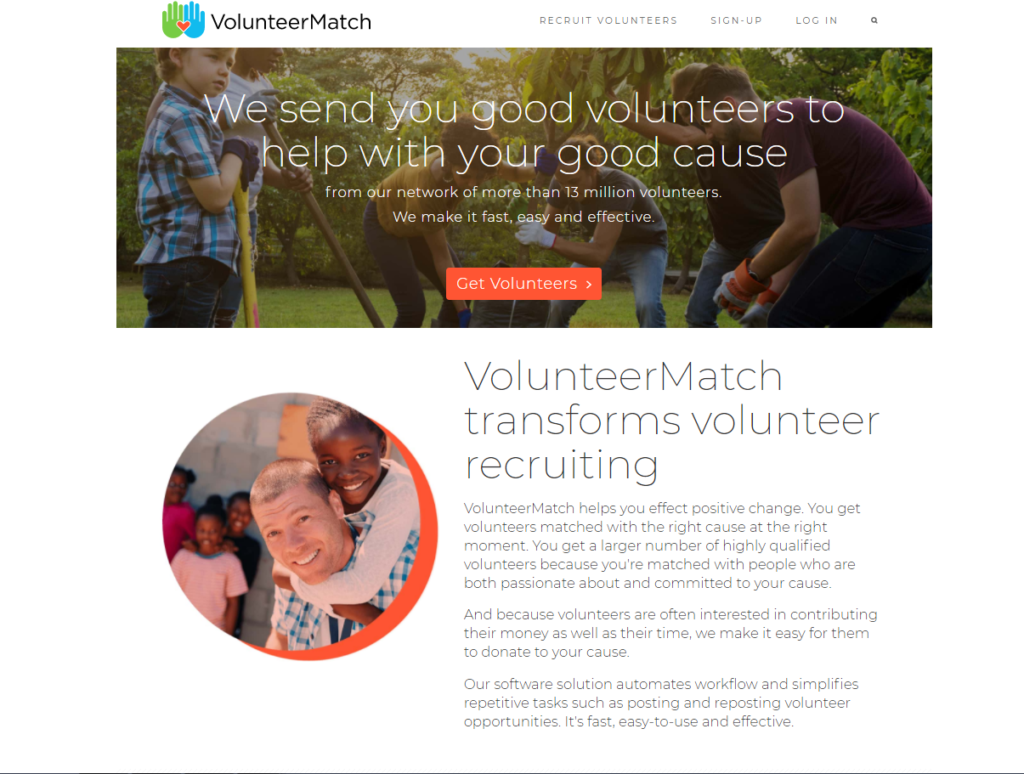 It counts almost 120,000 registered NGOs. There is a free version but becoming a paid membership also offers many advantages for Charities such as the possibility of adding a "Donations" option. The posting of opportunities  is made easy thanks to the simple operating system. They also offer tips to help recruiters and organisations attract more volunteers. A noteworthy organisation using VolunteerMatch is the Make-a-Wish Foundation
Link: https://www.volunteermatch.org/
2. Idealist
Idealist has the largest number of volunteering offers (150,000) available all across the globe from Ghana, the United States and Peru to India. All the important information is clearly displayed as well as the publication date. The application process is quick and easy. Candidates can access the contact details and apply directly . The site has worldwide reach and counts 1,5 million monthly visits.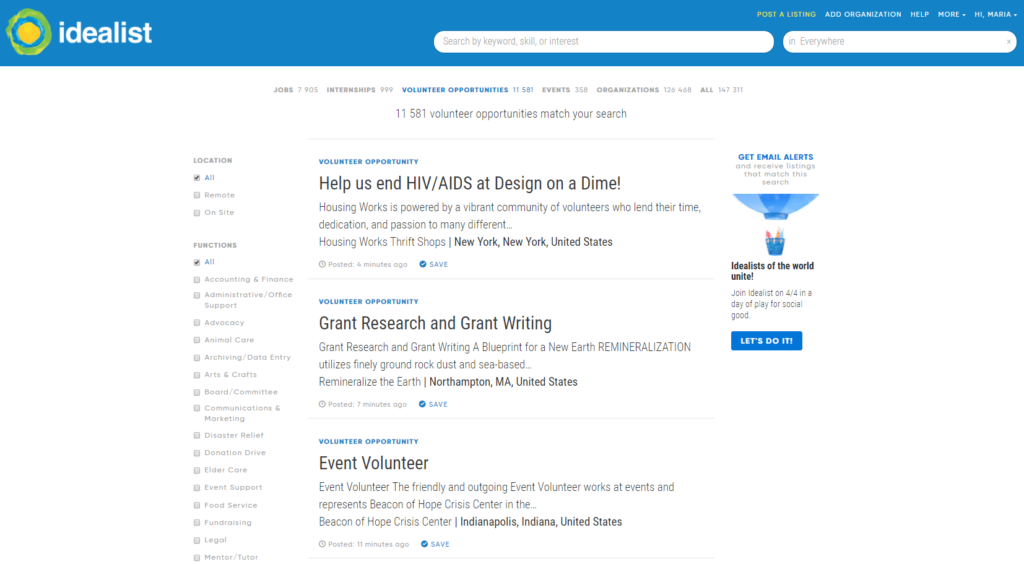 Although seeing 12,000 volunteering offers might seem overwhelming at first, the search tool is very complete and allows users to filter the results by 56 areas of focus and type of organisation.
Link: https://www.idealist.org/en/?radius=40000&type=ALL
3. CharityJob
This job board offers access to 3,000 volunteering opportunities mainly in the UK but there is also a small range of offers abroad. Candidates have full access to job descriptions and can directly apply through the website. CharityJob has more than 20 years of experience in the third sector helping organisations and it counts almost 3 million monthly page views, which ensures wide coverage.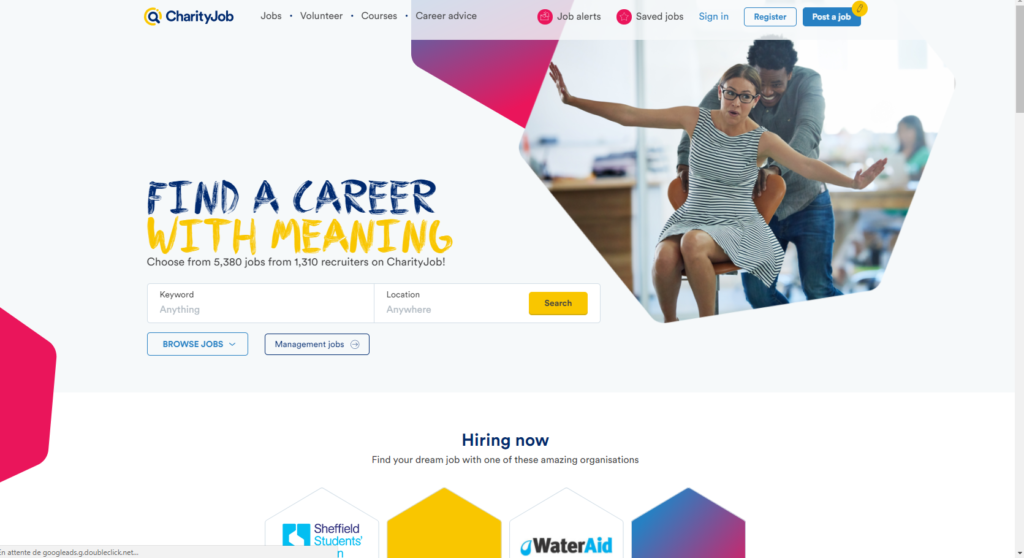 More than 20,000 organisations have benefited from using CharityJob such as WWF, Action Against Hunger and Water Aid
Link: https://www.charityjob.co.uk/recruiters/why-choose-us/why-charityjob
4. Points of Light
This job board works mainly in North America, but also operates with other organisation in Central and South America, Europe and Asia. The design of the website is very modern and has a lot of content to offer. Many tools are made available to help organisations recruit volunteers with assessment, advice and tips for volunteers and organisations, charity events, volunteer testimonials as well as 4 blogs.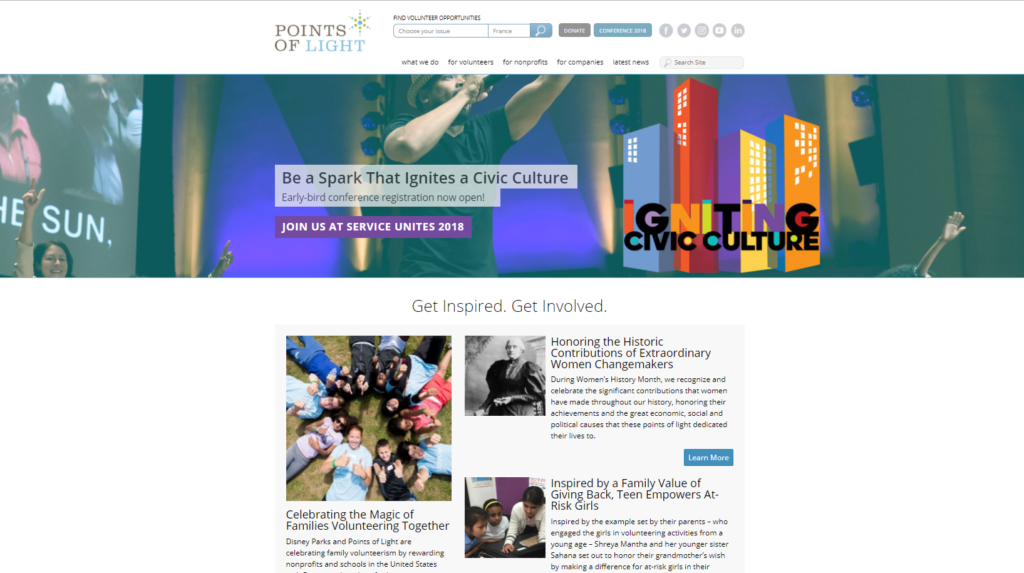 Points of Light is a partner of Verified Volunteers, a platform providing background checks in order to ensure a safe selection of candidates.
Link: http://www.pointsoflight.org/
For both employers and job seekers, Jobboard Finder is the first decision-making tool for recruitment campaigns and job searches. By gathering tools and services that recruiters can use to search and compare employment websites from all over the world to find the best job search sites, it really is the best solution for recruitment needs. Today recruiters can also purchase job advertisements for the media they have selected and manage their postings directly from our unique platform. Then they can rate and review the job boards they have used in the past for our community of professionals to see.
Keep up to date with our news articles and receive them directly in your mailbox by subscribing to our newsletter. If there is a particular topic that you would like to see featured on our blog please let us know.
Article Review
Reviewer
Review Date
Reviewed Item
Author Rating