At this present time, who hasn't heard of the job board Indeed? Created in 2004, the world's biggest and most popular job search engine has become the leader in terms of job posting and traffic. They keep on beating records of affluence and it is now the go-to place for many jobseekers and recruiters from all different activity sectors. Available in more than 60 countries and 28 languages, Indeed attracts around 200 million visitors every month. In this article, we will show you why it is one of the best job boards for both jobseekers and recruiters. And to help recruiters, we have a tutorial on how to post a job advert on Indeed. This article is an update of the previous one. We also have a summary of the advice Indeed gives companies in order to write the best job advert.
Why jobseekers should choose Indeed
Indeed has always put jobseekers first and guarantees they will find a job quickly by displaying the best opportunities. They also strive to reduce bias in the recruitment process. It is one of the world's biggest job search engine, and yet it remains so simple to use. It hosts so many job offers that if you type a job on Google, you are often redirected to Indeed offers automatically. With its minimalistic interface, Indeed guarantees efficiency. Sometimes it offers less advice and the jobs aren't always classified correctly, but you can find any type of job, in any sector, from temporary work to fulltime positions. Furthermore, Indeed strives to be on the cutting edge of innovation. With Indeed Apply, you can post a CV directly from your mobile (60% of job searches are made on a mobile phone, and Indeed is available on all types of platforms).
Why companies and recruiters should choose Indeed
Indeed helps companies to find the best candidates in a short amount of time, to access the best talents from all sectors, from "non-traditional backgrounds". The job posting is free, at first, and then you pay per click. You can also boost your publication so that it appears at the top of the research (modify your budget or cancel sponsored job offers at any moment). Indeed can help each and every company with their recruitment campaign, be it costs or applications, in order to improve the results and to make the campaign more efficient. You'll be saving time and money.
Indeed is not only a job advert publication tool, it also offers a free CV database (you pay to contact the candidate) in Argentina, Australia, Belgium, Brazil, Canada, Colombia, Spain, France, India, Ireland, Italy, Mexico, Netherlands, New Zealand, Singapore, South Africa, United Arab Emirates, United Kingdom, United States.
"Indeed is the first external pool of candidates for thousands of companies".
Tutorial: Only ten steps to have your free advert published
Step 1:
It is so simple to post an advert that anyone can do it. Even a child could post on Indeed. You just have to go on Indeed employers and click on Post Job!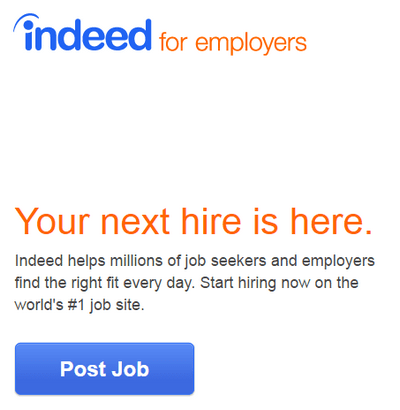 Step 2:
If you have not published on Indeed before, you have to create an account. Don't worry, it is free (as we said before). The site reminds its users to accept the terms of service, the cookie policy and of course the privacy policy.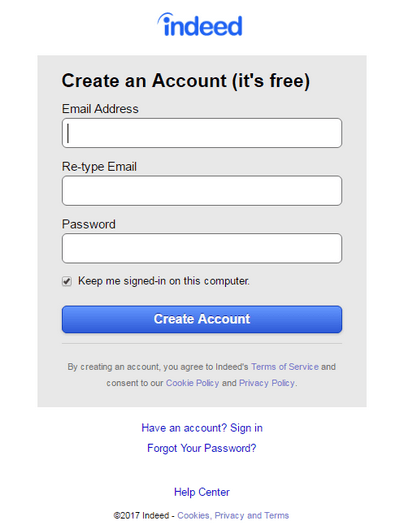 Step 3:
In this step, you give information about you as a recruiter and about your company, for your soon to be "employer page". You have to give your company name, size, your name, your phone number and how you heard about Indeed. If you have trouble at any stage through the process, you can ask the team for help.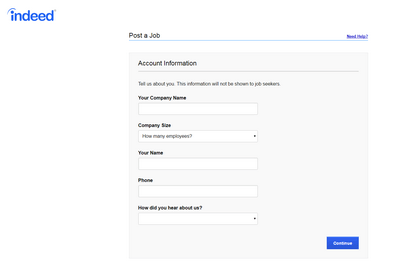 Step 4:
It is from this step onwards that the actual publication starts. Don't worry, this step is just as easy as the others. The process is tracked for you thanks to an orange bar above the required fields. Here, you have to determine the job title of your offer, the name of the company (to be changed or not) and the location. You can of course go backwards in the advert if you need to change something.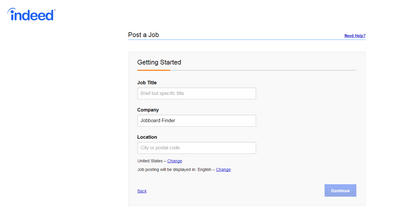 Step 5:
This step is called "job details". All of the fields in this section are optional. You can tick the type of job (which usually refers to the type of hours, for instance "part-time") and the salary for the job. Many companies do not give this information because it can either attract or repel a potential candidate.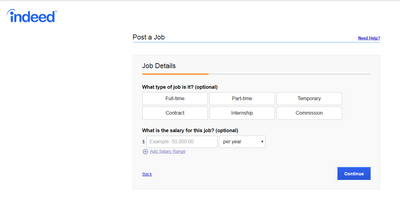 Step 6:
The "application settings" step. At this stage, you decide how you will receive the applications (by email or in person), you put the address (an e-mail a address or a mailing one) and then you decide if you want to recieve resumes or not.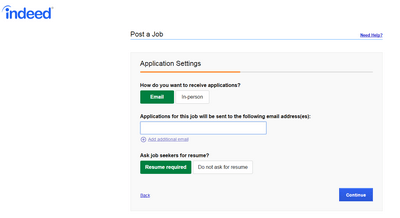 Step 7:
Now it's time to complete the job description by adding more details. Usually, you've written this before, and you only have to copy and paste. Do not forget to check it again before clicking on 'continue'.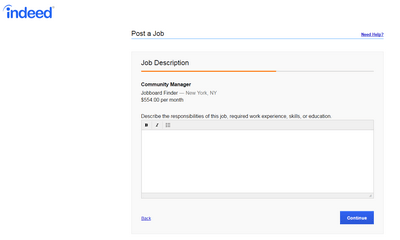 Step 8:
Indeed recommends you questions you should ask the candidate according to your job description and all other details you gave before. You can choose whether asking them or not. This will definitely help you select the more relevant applications.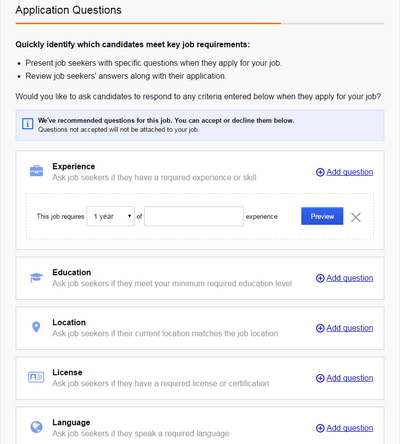 Step 9:
Last but not least, this is the step that allows you to preview your job advert. You can edit information for free, before publishing your advert. Check if everything is written properly before pressing the 'confirm' button.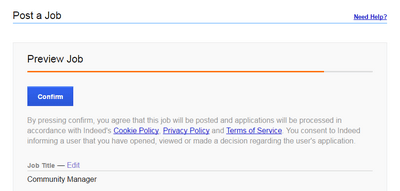 Step 10:
There you have it! Your job offer is published. Usually, process takes next to no time, which is why Indeed is one of the most used job boards in the world. It is always simple. You can now sponsor the offer, advertise it on your website for better visibility. The job offer won't be free anymore, and you'll have to pay every time someone clicks on it. The same rule applies if you want to cancel it or to modify it.
Cost
The price of sponsored adverts varies from one country to another. You often have to pay first around $5 to sponsor your advert. When you sponsor an advert, this will lead you to the pay-per-click system. You will have to choose the price you are willing to pay between $0.25 and $1.50. Choose your budget and Indeed will directly advise you the best thing to do to make your advert more visible on their website. (Here, in the example, the prices are in Euro). 

Use Indeed first to publish a job offer and not for creating your own CV database
Do not discriminate
Offer a fair and reliable salary
Create a simple and open application process
Respect confidentiality causes and do not impart any personal data from the candidate
Don't include hurtful content
Do not give a title that does not match your job offer
Offer a real position
Do not try to avoid the rules
Tell the truth
Check out Indeed's profile on Jobboard Finder right here!
For both employers and job seekers, Jobboard Finder is the first decision-making tool for recruitment campaigns and job searches. By gathering tools and services that recruiters can use to search and compare employment websites from all over the world to find the best job search sites, it really is the best solution for recruitment needs. Today recruiters can also purchase job advertisements for the media they have selected and manage their postings directly from our unique platform. Then they can rate and review the job boards they have used in the past for our community of professionals to see. Our team working here can deal with all your job postings on Indeed worldwide!
Keep up to date with our news articles and receive them directly in your mailbox by subscribing to our newsletter. If there is a particular topic that you would like to see featured on our blog please let us know.
Article Review
Reviewer
Review Date
Reviewed Item
Author Rating