Welcome back to the blog, Jobboard Finder blog readers! Today we are featuring the best job boards in Estonia and Latvia. These two countries share a border and one with Russia, not to mention their coastline on the Baltic sea, in Northern Europe. There are some great job hunting and recruiting resources in these countries, and we've laid out the best ones for you here!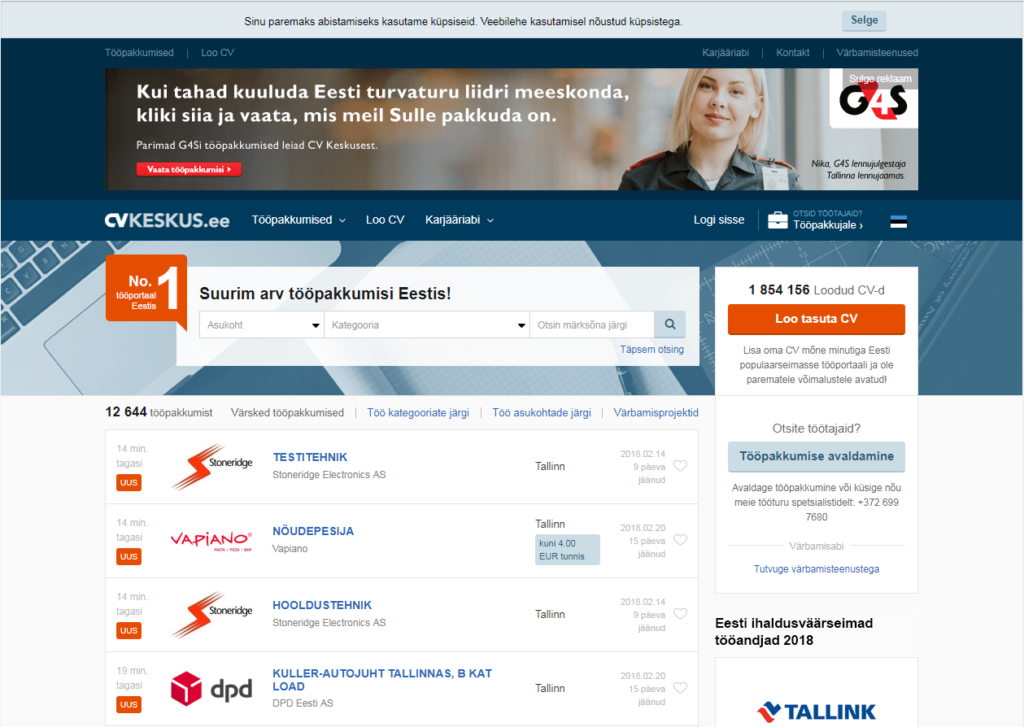 CV-Keskus is a top job board in Estonia which is easily accessible to foreigners scouting the region too. This job board is available in Estonian as well as English and Russian (which is a huge plus for international recruiters). On the site, there are more than 12,500 jobs available for jobseekers at the moment. It is also a job board suitable for any type of job profile as it is a generalist job board, and the search features are well developed. You can either do a quick search by category or location, or a more in-depth advanced search which allows you to filter by a huge range of criteria.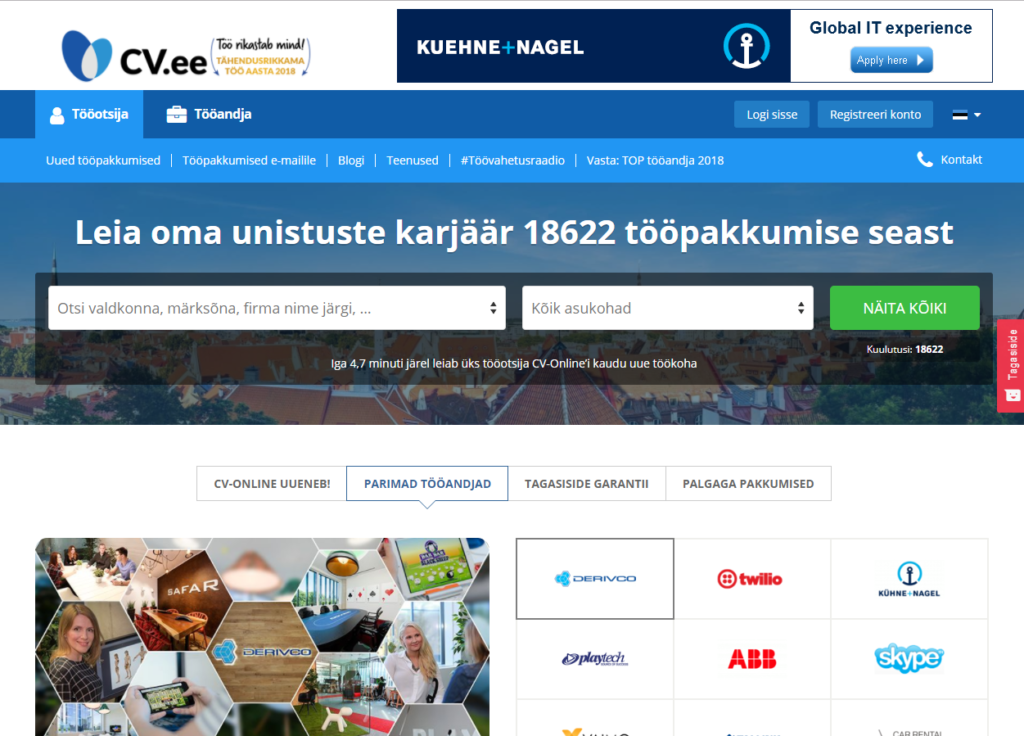 CV Online is a network of job boards in the Baltic countries and Estonia and Latvia each have their own national site. These websites are available in the country's native language as well as Russian and English. As mentioned before, this is very helpful and makes the site much more accessible! The homepage is nice and simple in terms of its layout. However, searches provide too much information which can be overwhelming. With over 18,000 jobs listed, there is sure to be a job for you on this website! Registering for jobseekers and recruiters is easy and quick, but candidates don't actually have to create an account to apply to jobs which makes the application process very quick and easy.
Start-up jobs in Estonia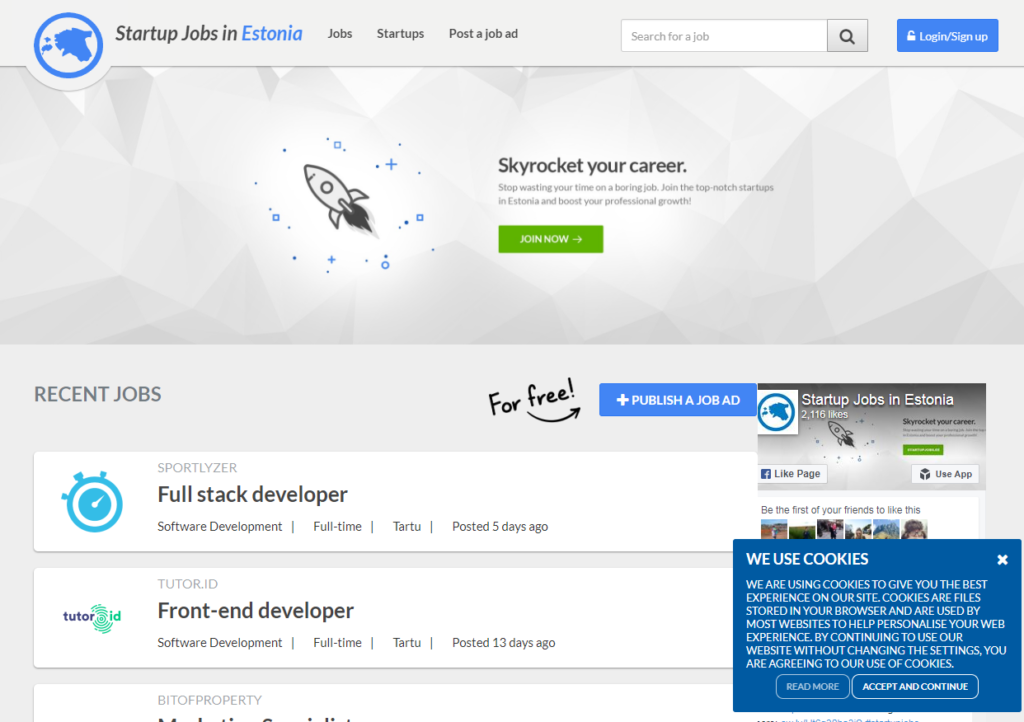 This clever niche job board is dedicated to anyone recruiting or looking for a job, especially in a start-up company in Estonia. The site claims to list jobs from the 'top-notch' job boards in Estonia. This job board is listed only in English, which is useful for foreigners but perhaps less useful for Estonian locals. Given the nature of the job board, many of the jobs are in IT, and most notably in software development. One aspect of the job board that is interesting is that jobs are dated (so you know they are recent), but the expired ones are still listed (as expired). This allows you to see the different types of jobs that might come up in the future.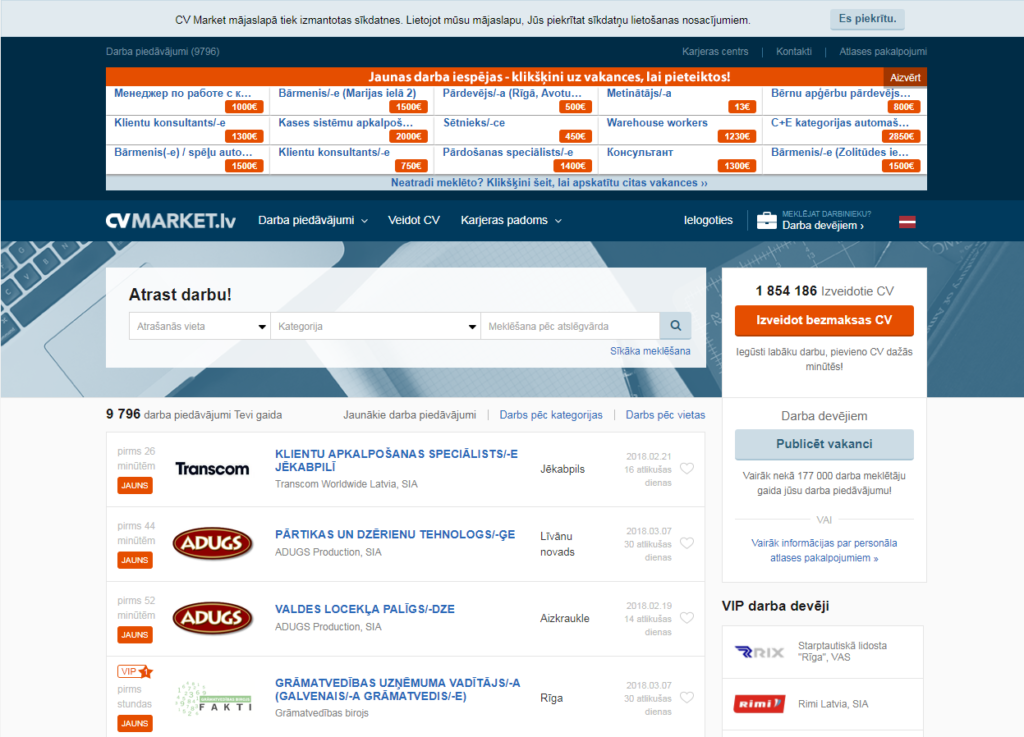 CV Market is a succesful job board in Latvia. The homepage is a little too busy visually, with banners flashing that can distract from the main content of the website. That said, it also lists a selection of recently published job adverts, which is very helpful, as well as 'VIP' standout employers. You can then click to see jobs posted by certain employers. These adverts are all up to date and cover a wide spectrum of industries as well as geographic locations within Latvia and abroad. Once again, this site is also available in a range of languages, rendering it easily accesible. Jobseekers need not create an account to apply for a job vacancy. This job board also offers some really helpful career advice and jobseeking advice to candidates, which is always a welcome resource.
Best of luck with your recruitment campaign or job hunt in Estonia or Latvia!
---
For both employers and job seekers, Jobboard Finder is the first decision-making tool for recruitment campaigns and job searches. By gathering tools that recruiters can use to search and compare employment websites from all over the world to find the best job search sites, it really is the best solution for recruiting. Today, recruiters can also purchase job advertisements for the media they have selected and manage their postings directly from our unique platform. Then they can rate and review the job boards they have used in the past for our community of professionals to see.
Keep up to date with our news articles and receive them directly in your mailbox by subscribing to our newsletter. If there is a particular topic that you would like to see featured on our blog please let us know.