The Czech Republic is an increasingly popular place to invest in recent years. Being a relatively young member of the EU (it joined in 2004), it represents an interesting international investment for recruitment.
Reports say that 2017 and 2018 trends suggest that the Czech job market will offer higher salaries, have more intense talent hunting, and create new opportunities for foreigners and the older generations. It could be an interesting place to start your next recruitment campaign! Here we have the best places for your job offers in order to generate the best possible returns on your investment in the Czech Republic.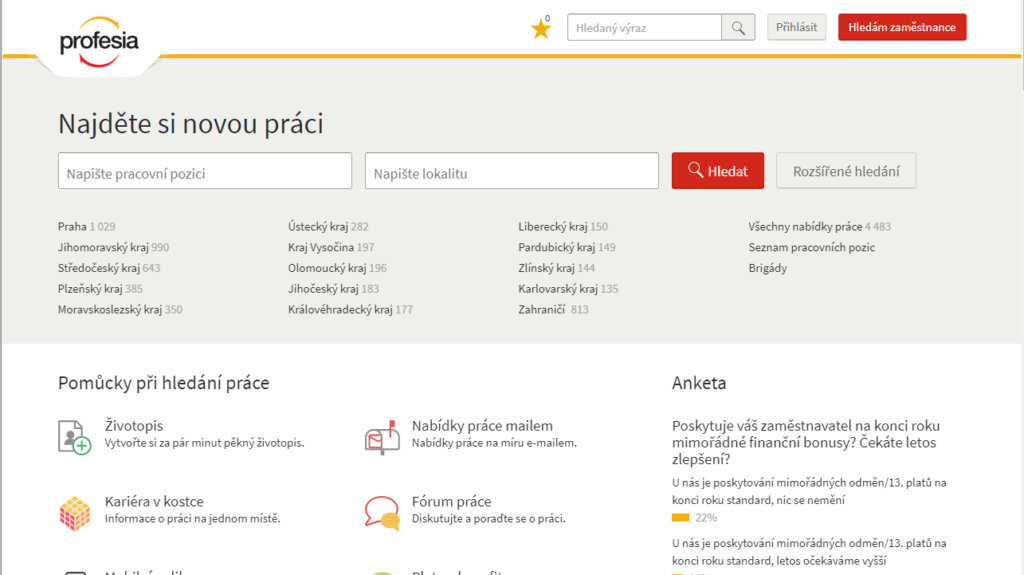 Created in 2007, Profesia.cz is one of the leading job portals in the Czech Republic. The web design is minimalistic but very clear and efficient. It has a user-friendly interface. Job offers are updated often and are of a high quality, from companies of all sizes. As a job seeker, the application process is simple, and there is no need to create an account to apply to an offer.
The site is also available in Slovak, Czech, German and English, which is a definite benefit for international jobseeking, and for employers looking to do business in the Czech Republic.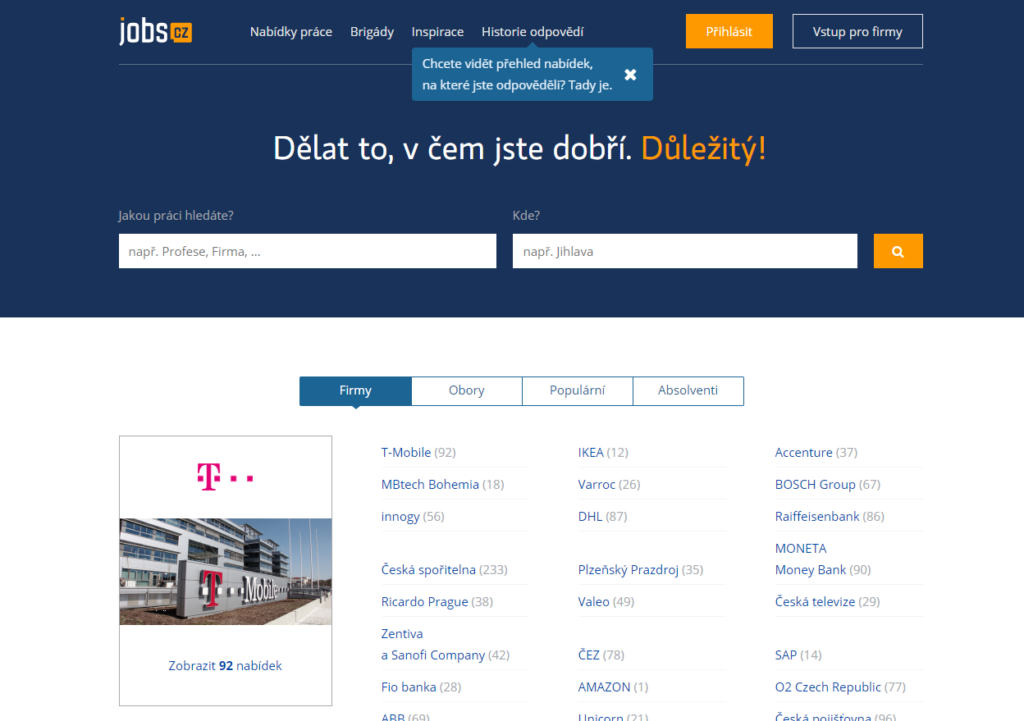 Jobs.cz is another strong player in the Czech Republic recruitment market. It belongs to the LMC group (so that includes Prace.cz), which in turn belongs to Alma Media, a huge Finnish media group. On this job board, you can see jobs listed by industry which is helpful for recruiters who want to check on the competition. Jobs.cz also contains lots of interesting information, inlcuding tips for improving your CV, average wages, required skills for certain jobs and language training courses.
The site is available in both English and Czech which is useful for jobseekers and employers alike, who are looking to do business and work in the Czech Republic.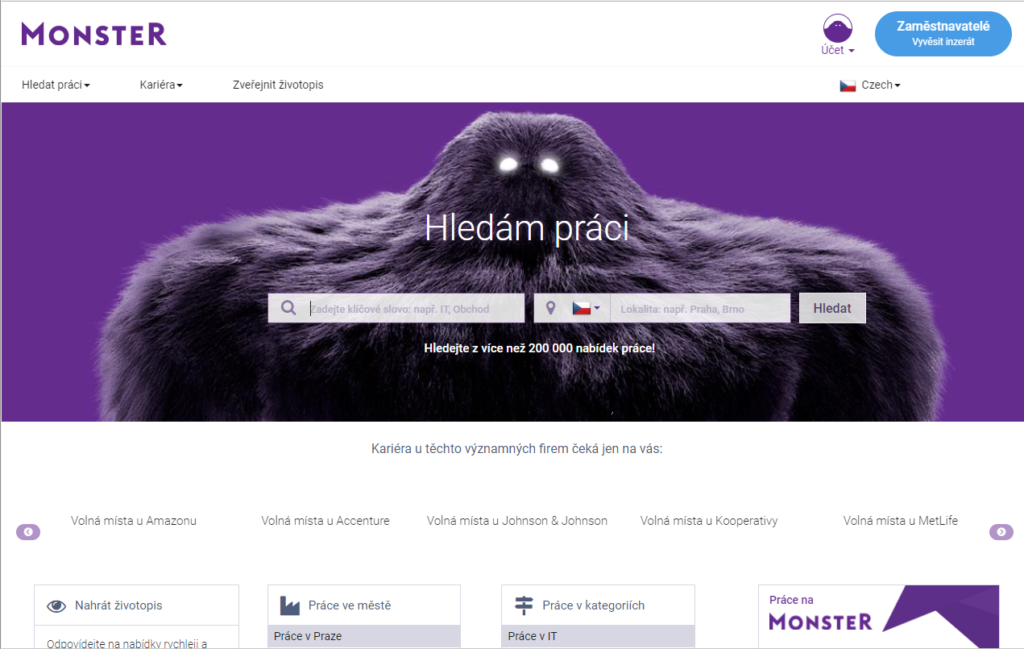 International giant Monster is no less popular in the Czech Republic. Although other aggregators are also well-known there, this is the most widely recognised. While we wouldn't advise posting solely on Monster, it is definitely a good back-up option if you are looking for a second job board to post on to support a Czech national job board. The team answers quickly, which can be very important for positions you need filled quickly. Just like in other countries, Monster is very user-friendly and easy to navigate, and always displays a wealth of job opportunities.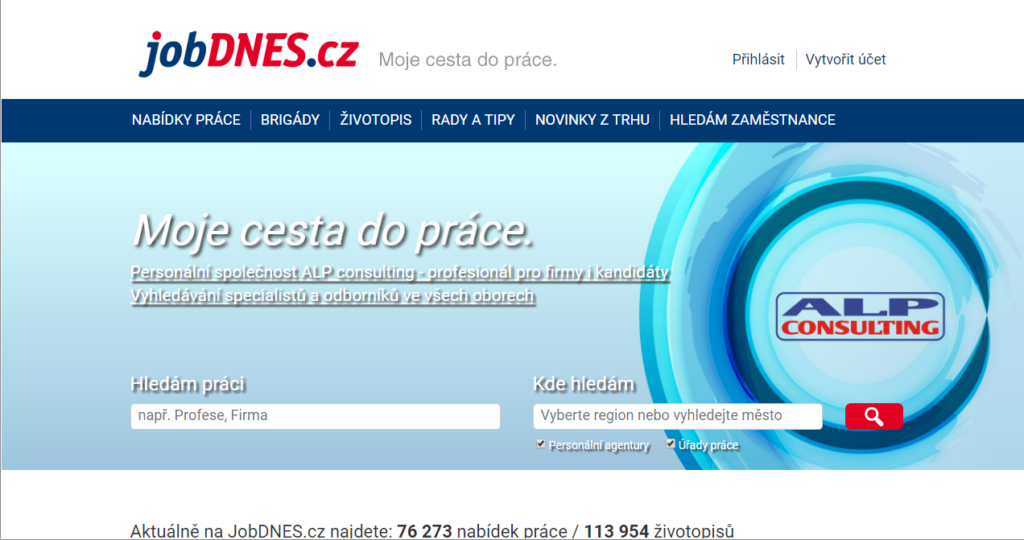 JobDNES is available only in Czech, which is limiting for international recruiters and jobseekers. Nonetheless, the homepage is attractive and straightforward, and there is a handy list of featured job adverts which highlight the current top offers.
The search feature is easy to use, allowing you to start with a general search and then narrow this down by geographic location and key words. As a jobseeker, you can also benefit from this site's job hunting help and tips section. You can't apply for a job directly on the site though: you are redirected the company career page.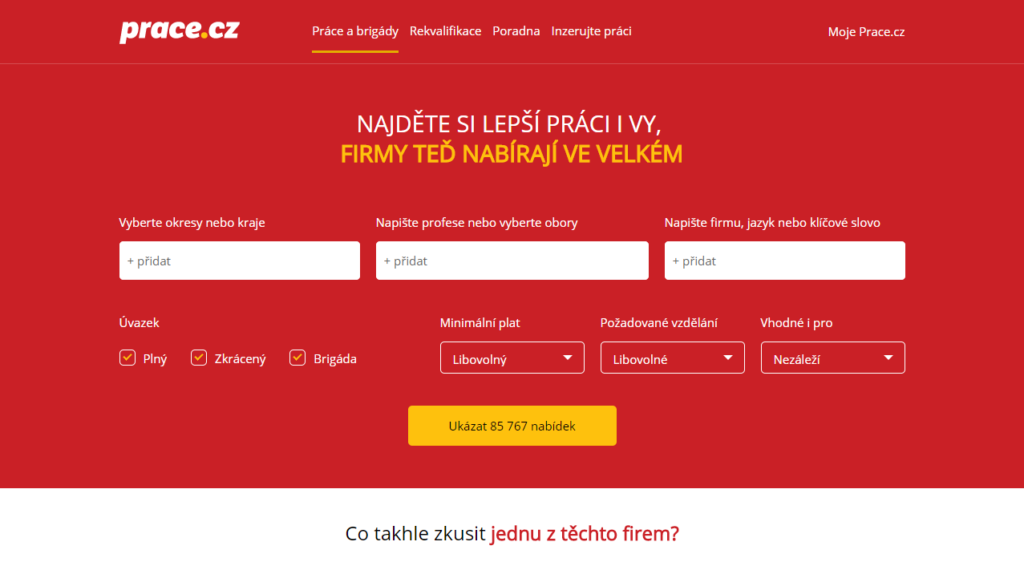 Prace.cz is another good generalist job board in the Czech Republic. The layout is very clean and attractive, whilst retaining its high functionality and user-friendliness. In fact, Prace.cz is the leading job board in the country, followed by their partner, Jobs.cz! 
There is a range of job offers, some better than others in terms of the company, and with positions at all levels of the hierarchy. Applying as a jobseeker is easy and seamless (you don't even need for an account). The site however is also only available in Czech which is okay for natives but presents more of an issue for international jobseekers and recruiters.
—
For both employers and job seekers, Jobboard Finder is the first decision-making tool for recruitment campaigns and job searches. By gathering tools and services that recruiters can use to search and compare employment websites from all over the world to find the best job search sites, it really is the best solution for recruitment needs. Today recruiters can also purchase job advertisements for the media they have selected and manage their postings directly from our unique platform. Then they can rate and review the job boards they have used in the past for our community of professionals to see.
Keep up to date with our news articles and receive them directly in your mailbox by subscribing to our newsletter. If there is a particular topic that you would like to see featured on our blog please let us know.