Founded in 2000, Workopolis is Canada's leading career site with millions of monthly visitors. A couple of months ago they announced the official launch of The Workshop, their new employer brand marketing service.
Made up of recruitment marketing experts, The Workshop team offer employers services including advertising, web development and design, copywriting, video production and photography.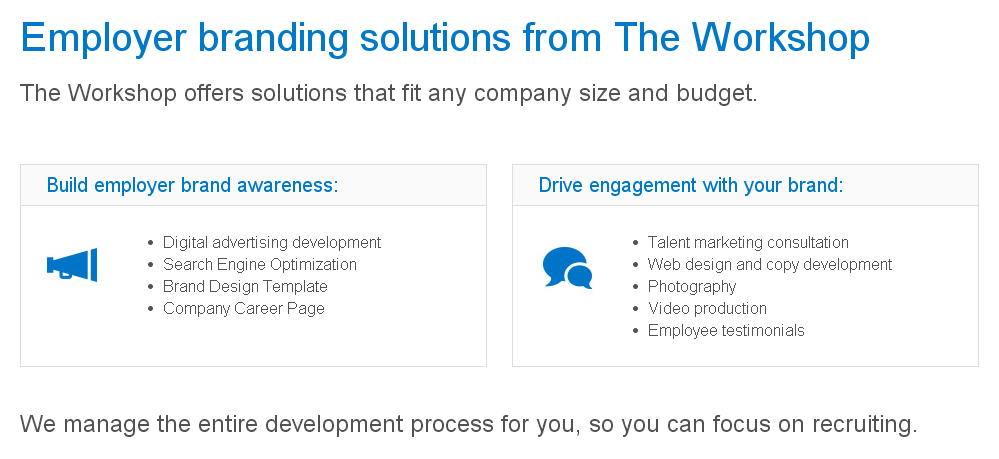 According to President of Workopolis Kelly Dixon, adding The Workshop to their portfolio of services allows them to leverage their in-depth knowledge of the Canadian labor market along with their online branding and advertising expertise. These core strengths will help connect employers with the talent they need to grow their companies.
"Our clients have fantastic stories to tell, they're great places to work, but many struggle with how to get that message out there to attract the talented candidates they need to hire. That's where The Workshop comes in. We leverage our marketing expertise and job seeker knowledge to help companies craft their unique employer brand story and put it in front of the right audience", explains Director of Creative Services Anne Valeri.
Clients who do not have in-house creative departments or access to their own internal marketing resources will be able to benefit from The Workshop services while avoiding expensive stand-along marketing agency fees.
By expanding their services with The Workshop, Workopolis hopes to retain their current clients and gain new ones. Most works they have done so far include copywriting, creative consultation and web design. For employers, one of the main advantages of using such an additional service is that they have everything regarding their recruitment in one place.
The Workshop has already partnered with over 15 clients. They are likely to get more partnerships in the future as they also benefit from the Workopolis' popularity as a job site.