You've probably heard of Tinder, the U.S. mobile application that everyone keeps talking about? If not, you can go back to your cave :)
More seriously – and just so you know – Tinder is a location-based online dating app. No big deal, you might say. Except it's become a world phenomenon. The company won the award for "Best New Startup of 2013" and has millions of new users throughout the world every day – although they won't disclose exact figures. Now you're asking, what does a dating app have to do with the online recruitment industry? Well, the main feature of Tinder has been transferred to a series of professional network apps lately (such as LikeLunch, Freeler, Kudoz) among which is Viadeo's "Let's Meet". And that main feature is the swipe function.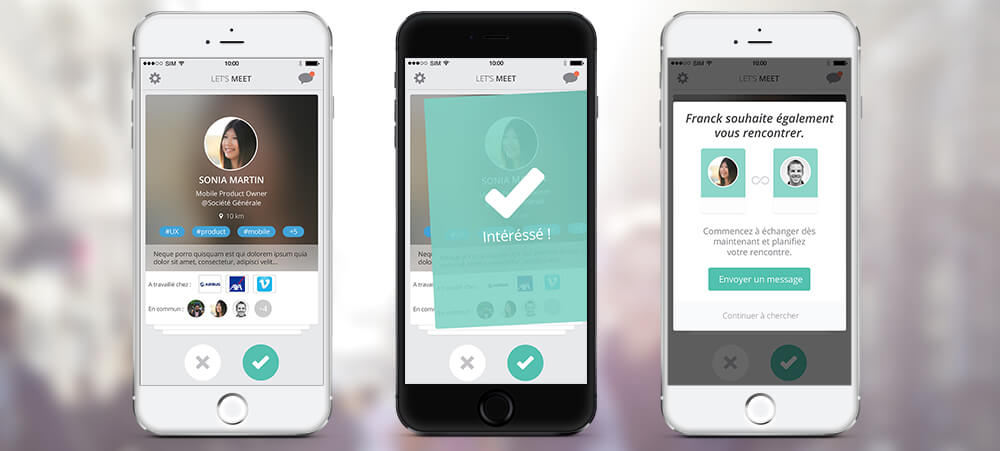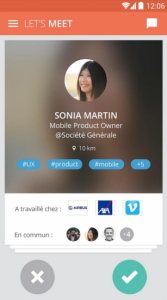 In practice, it means you can flip through a series of profiles located around you. Swipe right if you're interested, left if you're not. If the other person swipes right too, then it's a match. The two of you can start messaging each other through the app and then eventually meet in person. But if the other person doesn't, well I'm sorry to say, nothing happens.
At a convention, on a business trip or just from home or work, using the app can help professionals boost their career if used wisely. Whether you want to exchange on career opportunities, find new business partners, get advice or feedback from experts or simply network with professionals, Let's Meet makes it quick and easy to connect.
With 65 million users around the world and 10 million members in France, Viadeo is likely to be successful with its latest mobile application, at least in its home country where no other professional social network has such a database. For Viadeo members, Let's Meet is their opportunity to be in direct contact with professionals around them and meet over coffee, lunch or after work. For both active and passive job seekers as well as for leaders and managers looking for new talents, the tool is of interest. Although the matching concept can sometimes be frustrating, it is also a strong asset: when you do connect with someone the interest is mutual which is eventually beneficial on both sides.   
"In the current job market, each one of us is encouraged to be accountable for themselves a little bit more every day to succeed. Our mobile application "Let's Meet" is a great opportunity in that sense because it allows you to take control of your professional future and bring your own luck", explains Viadeo CEO Dan Serfaty.   
Unsurprisingly, dating sites and apps have more in common with job boards, professional social networks and employment apps than we are ready to admit. Online recruitment solutions tend to position as matchmakers because when it comes to finding someone in your business or in your personal life, it all goes down to mutual interest and seduction.
On a funny last note, check out the video below which is part of Viadeo's advertising campaign for Let's Meet:
Employer: "This is my vision of the future for our company. Now you decide whether you adhere to our corporate values or not"
Candidate: "OK, it sounds great but… What is this internship really going to be about?"
Employer: "Well, of course at first you're mainly going to be making coffee. Taking notes, making coffee, photocopies… But don't worry, we do have career opportunities for you. I can't promise anything but if everything goes well, we'll offer you a short term contract for a paid position within the next 2 to 3 years."
Candidate: "It really sounds great…" [swipes the employer]