Since 2016, more people are connecting to the internet via a smartphone or pad than via a computer. The mobile revolution is changing everything around us, from the way we communicated to the way we stay updated or how we shop. Cellphones are becoming a bigger and bigger part of our lives. But you already know that. So how are recruiters and job boards adapting to these changes? Job boards are launching apps, but what are the recruiters doing? I'm glad you asked! The new trend in recruitment is texting and incorportating texts into the recruitment process. Texting can be a true game changer for your recruiting campaigns. Keep reading to find out why.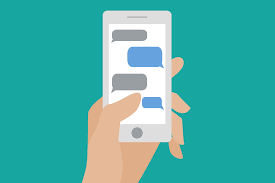 You will get more answers
By using texts rather than e-mails, you will get more answers. Actually, it is easy to miss a call or an e-mail. E-mails get lost, sometimes you have the wrong address, or it's no longer in service, or worse, your e-mail might end up in the spam box. When you contact someone by phone, your text is more likely to be delivered. In fact, e-mails have an open rate of 20% while text messages have an open rate of 98%. 97% of American adults text daily. This means your applicants will not miss out on any information you send them.
Shorten the time to answer
Nowadays, few things are as fast and easy as texting and there are so many apps (such as WhatsApp, Messenger, Viber, just to name a few). In fact, if you want to know an applicant's availabilities to schedule an interview, the best way to communicate is by texting. Indeed, it's quick and efficient like a phone call without the burden of finding a quiet place to talk orally. Moreover, there is less of a delay. As research shows, we check our phones more than 150 times per day and 90% of us always have our phone within arm's reach. This means that the moment the applicant to check his or her phone, your message will be read.
Improve candidate experience
By texting applicants information such as a reminder for an interview or the opening for a position, you will improve the candidate experience. There's something rather personal about a text message, which makes it feel like the recruiter is looking out for the candidates. The organization comes off as friendlier and more approachable, which is very valuable for the company image. And as you probably know, candidate experience really matters.
Discreet
When you are looking for the best possible candidates, you do not only have unemployed candidates. Some of them are currently working elsewhere. In that case, your applicants cannot always answer a personal phone call or check their e-mails during business hours. Furthermore, chatting with a possible new employer must be as discreet as possible. As a recruiter though, you want answers fast, and waiting for applicants to finish work isn't convenient. By sending them a text, the applicant will be a able to check your text and reply as soon as possible.
Things to keep in mind
If you decide to text message your candidates, you need to be aware of a few things. It would be a shame to loose sight of your ultimate goal: finding the best recruits!
Know your target
Depending on their age, candidates don't use their phones in the same way, and won't answer texts as quickly.  Younger generations will appreciate text messages but people over 45 might find it intrusive.
Choose your time wisely
It is not because you can send a text at whatever time that it is appropriate to do so. Some people consider the weekend to be a "work-free" period, and won't appreciate annoying texts. Some don't even like to be contacted after office hours. They might even see the text and forget about it if it comes at an inconvenient time.
Avoid mass messaging
If you send a text to your applicants, be sure to always personalize the texts you are sending. Indeed, if you mass message a group of applicants, and the role is not suitable for some of them, you will damage your credibility. Applicants might even ignore your future texts.
Be formal
Even if it is a text, it's important to be formal but brief. Texts aren't as secure as e-mails so don't go into too much detail. It is important your applicant does not feel harassed by irrelevant texts. Ultimately, texting is a good option if you want to save time. and improve the candidate experience.
---
We hope you have found this article Intersting Please let us know if you'd like us to cover any specific topics in the Jobboard Finder blog