ReKrute.com, pioneer and market leader in online recruitment in Morocco, reveals its brand new visual identity on the company's 10th birthday.
ReKrute is a multi-country generalist job board in French that targets North African countries as well as Central and West African countries. They were the first job board launched in Morocco and are still leading Morocco's e-recruitment market.
ReKrute was founded in 2006 by French citizens Philippe and Alexandra Montant. Respectively born in Morocco and resident of Morocco, both founders had the ambition to use technology to bring added value to the Moroccan market.
Seven years after the company was founded, ReKrute.com became ReKrute Group as it enlarged its services and expanded its market to Tunisia and French-speaking African countries.
Today, ReKrute offers services in HR such as e-recruitment, HR IT solutions, online tests, HR communications and e-learning.
About ReKrute's visual identity
Ten years after the company was founded, ReKrute reveals its new visual identity to the public. In order to affirm their leader position in the e-recruitment market, ReKrute changed its logo and slogan.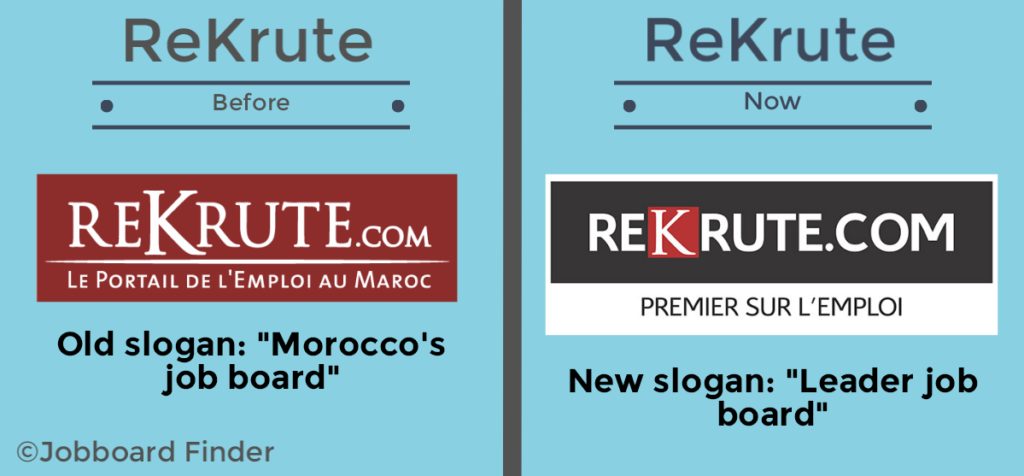 This new visual identity is in line with the company strategy and its international expansion, with Tunisia and 13 other African countries.
With 600,000 job seekers registered in their CV database, ReKrute is the only job board that also covers the managers and leaders market with 9,000 members on ExeKutive.biz.
Their 3,000 clients are hiring over 150 executives and middle managers every day using ReKrute.com which makes them the first private job provider in the kingdom.
What do you think of ReKrute's new visual identity? Share your thoughts in the comments below.