This week, we interviewed Simon Wright, Operations Director of CareersinAudit.com a job board specialised in the Audit, Risk, Compliance and Governance industries. CareersinAudit.com is one of our 930 job board partners at Jobboard Finder and among the 6 job sites specialised in Audit, Risk and Compliance registered in our encyclopedia.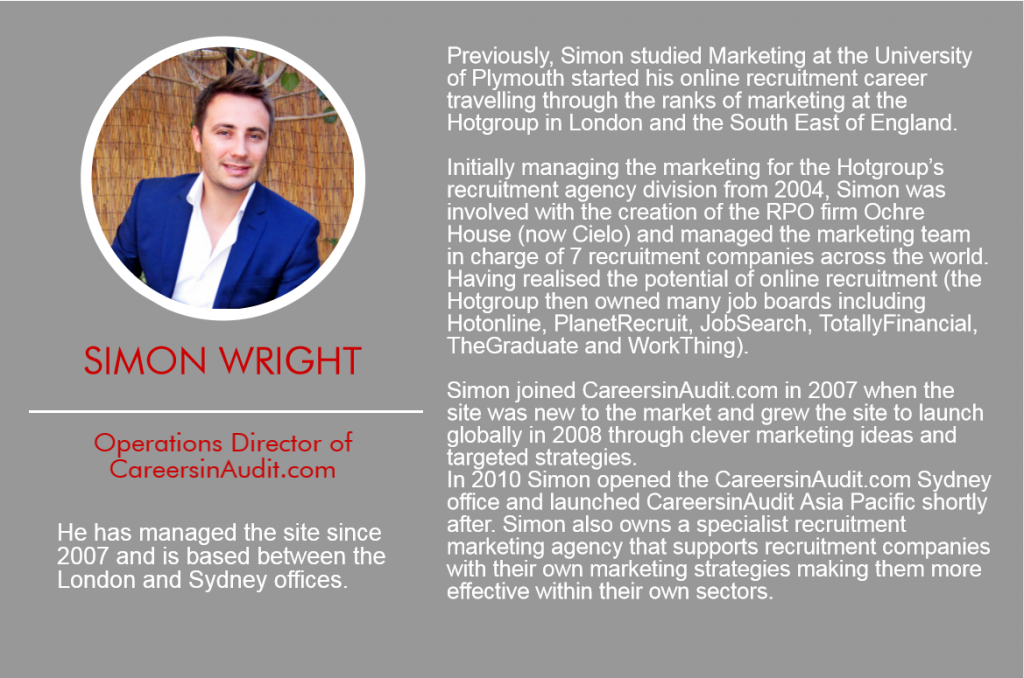 Can you tell us more about Careers in Audit and its current positioning on the job board market?
CareersinAudit.com is the world's leading job board and career resource for the Audit, Risk, Compliance and Governance industries. We focus on a narrow niche within the market covering Internal Audit, External Audit, IT Audit, Risk, Compliance, Assurance, Cyber Security, Advisory, Fraud, Financial Crime and Governance but we also cover these in every country in the world. CareersinAudit.com launched over 10 years ago and has cornered the global Audit, Risk and Compliance online recruitment market through commitment and dedication to our candidate base and by providing highly effective recruitment solutions for our recruiter clients and advertisers.
What are the specific features of your job site that make it so different from your competitors and why?
We cover just 30 job titles on the site, which allows us spend all of our resources finding the very best candidates from across the industry and we can provide each and every one (of our 175,000 registered candidates) with the tools they need to find their perfect job. Every candidate on the site has access to a range of exclusive, free resources including an array of careers advice article, location reviews and up to date primary research that helps them get the most from their job searches. For our advertisers and recruiters using the site, the free resources and research given to the candidates ensures that our candidates apply for the right roles, giving our advertisers a quality of response that they do not find on any other job boards. We are very proud to have achieved so much for our users and for the industry over the past 10 years.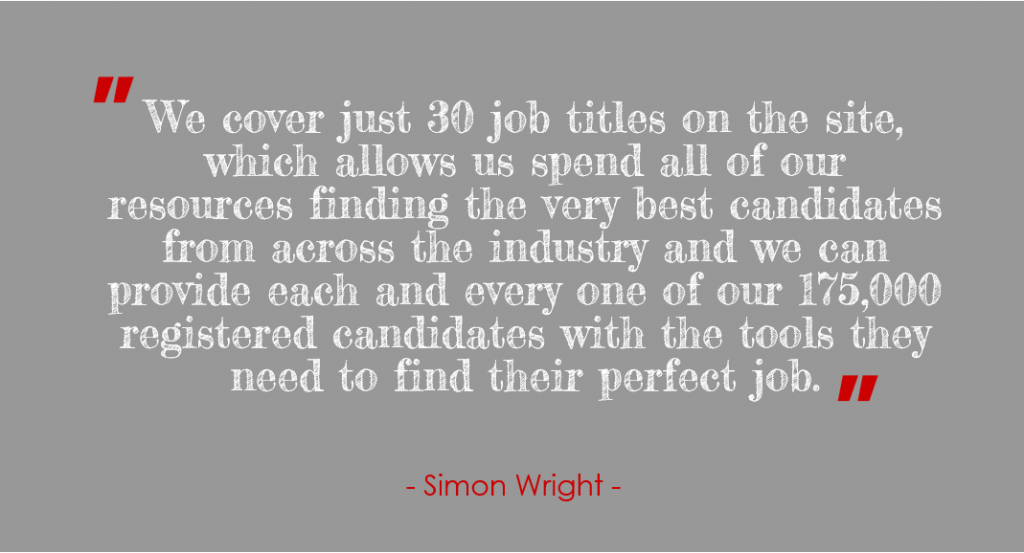 Careers in Audit has recently launched a new version focused on the Asia Pacific market, why have you made this choice given that Careers in Audit is already a global job board? Does the new version meet your expectations?
The CareersinAudit Asia Pacific site launched a couple of years ago and while the global site covered the APac region (and it still does), we felt the fast growing Asian market needed its own focused job board and associated candidate resources to be able to assist candidates and recruiters across the region on a more localised level. The APac market is quite different to our main existing markets of the UK, Europe, Middle East and Americas and launching a secondary site with specialist regional focus has benefitted our candidates and recruiters across the region greatly. The APac site has performed very well since its launch and while we continue to heavily promote the global site across the world, we have a local team on the ground in Sydney managing the APac region. This also allows us to respond immediately to any requests from candidates or recruiters in real time rather than from our London head office. The other result of the Asia Pacific site and team in Sydney is that we now have full 24 hour response for both sites and this has proved to be an extremely effective addition to our service offerings.
Careers in Audit regularly conducts researches among jobseekers and industry professionals; can you tell us more about it?
Absolutely, as mentioned we dedicate a huge amount of our time on conducting industry research and investigating trends within the sectors we cover. We conduct surveys, polls and investigative research throughout the year to delve into the industry and find out more about the wants, needs and ambitions of our candidates from around the world. We receive thousands of responses to each survey and the information is analysed and published for the industry within the major newspapers, industry press and websites across the world. Not only is CareersinAudit a job board and candidate resource but we effectively lead the way in Audit, Risk and Compliance career research and jobseeker trends with our regular publications. The latest piece of research completed last month looked into Ethics within the Audit and Accountancy industry and we discovered some very interesting findings around office relationships and whistleblowing!
We hope more of the readers of Jobboard Finder will get involved in future research and have their chance to offer their own insights into the industry.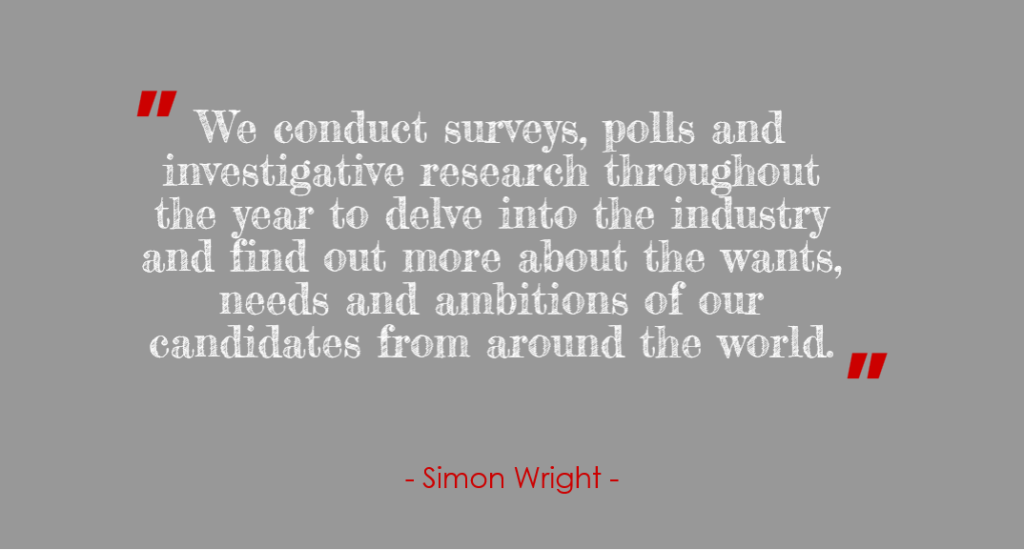 Careers in Audit often publishes auditing careers advice, can you tell us more about it? What are the most popular subjects and why?
The careers advice we publish on CareersinAudit.com and CareersinAudit Asia Pacific is written by the industry's leading journalists and commentators from the centre of the action. Our candidates request the topics that they would like covered and we will find the best writers to cover the topics effectively for all to benefit. We now have over 230 careers advice articles available free of charge on the site that we have commissioned and the knowledge contained within these is extremely useful for our candidates during various stages of their job searches (http://www.careersinaudit.com/careers/) We also run various series of articles when certain topics require more coverage. We are currently running the 'Audit Advantage' series of articles, in which we investigate the many soft skills that professionals across the industry should possess and master to become as effective as they can be at their jobs. Last year we ran the 'Resilient Auditor' series, which focused on the main areas of expertise that Audit professionals need to work on to ensure they perform to the very best of their abilities. We also have an in-house 'Audit Agony Aunt', an ex-Big4 HR Director, who answers all candidate career questions. These additional candidate services are a big pull for our entire candidate base and while searching and applying for jobs is the main activity on the site, a large number of professionals across the world simply use the Careers Advice articles to improve their knowledge or skills throughout the year.
Careers in Audit has received a number of awards and distinctions since its foundation. What is the most significant to you? How did these awards impact your image, visits and audience ratings?
We are very proud to have won 12 awards and commendations over the years and this demonstrates the passion and dedication of the whole team, and confirms that our approach to online recruitment is in fact still working! Whilst all award wins are extremely special, the most significant award must be the 'Best Job Board' award at the 2013 Recruiter Awards for Excellence, held in London. For a niche job board to win the award after being up against some of the largest and most successful generalist job boards in the world, we were honoured to have received the title. It's not just recruitment industry accolades that we have received over the years; we have also received a few from outside the industry for our social media communities (Social Buzz Awards 2013) and general success as a small global company (Best in Biz 2015). Award wins in any form are a great way to demonstrate how effective CareersinAudit can be for new users and they show the industry as a whole which job boards are performing well. I would say, for us, it's more about the reflection on the site as a whole, and professional recommendation, rather than benefits from web traffic increases, but these certainly go hand in hand. We hope to continue the success of the site and receive awards in further aspects of our business over the coming years as we expand and adapt within the market.
More generally, how is the Audit and GRC recruitment market doing today? Have you noticed any trends in the global market?
The Audit and GRC markets have certainly been through the wringer over the past few years since the start of the global financial crisis. In the past few years however, as the Western world has started to get back on track, Audit and GRC has been high on the agenda of governments and corporations across the world, to ensure there are more regulations in place to avoid any further financial crises. Auditors, Risk and Compliance professionals are increasingly in high demand as companies tighten up their security and move to adhere to ever-increasing industry regulations. Cyber Security and Financial Crime jobs have increased dramatically over the past 12 months as online security becomes a major issue around the world. Launched in 2005, CareersinAudit was lucky to have been firmly established as the go-to job board prior to the GFC in 2008/09 and has been on hand to assist with the recruitment needs of companies around the world ever since. In 2015 the Audit and GRC recruitment market continues to increase at a rapid rate and we are pleased to have a loyal established candidate base, for whom we can provide job vacancies from around the world.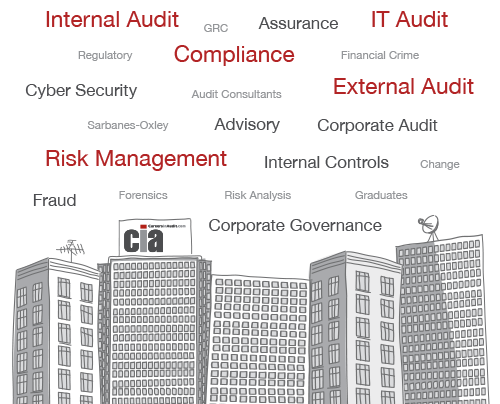 What are some of the major challenges your company will have to face in the coming years? How do you see the future of the market and your company?
While the market sectors we cover are seeing an increase in job vacancies and candidate requirements, we need to ensure that we remain competitive and as effective as ever within the ever-changing market. Online recruitment is a fast changing industry so we constantly ensure that our technical team maintains this leading edge through constant technical innovation and marketing expertise. We have an excellent team of marketing experts at CareersinAudit who ensure that the sites remain the first choice of job boards for the industry and that candidates and recruiters visit CareersinAudit first when looking for a job or a new member of staff. Many say LinkedIn is the biggest single threat currently and will be the downfall of job boards – we don't agree. LinkedIn is a great professional networking tool and has worked hand in hand with job boards since day one. We work closely with LinkedIn who host our nine active online professional communities and we use the LinkedIn marketing services to ensure we provide the very best candidates for our own advertisers. There will always be a place for niche job boards as no other websites can provide a constant stream of readily available employees looking for their next job roles.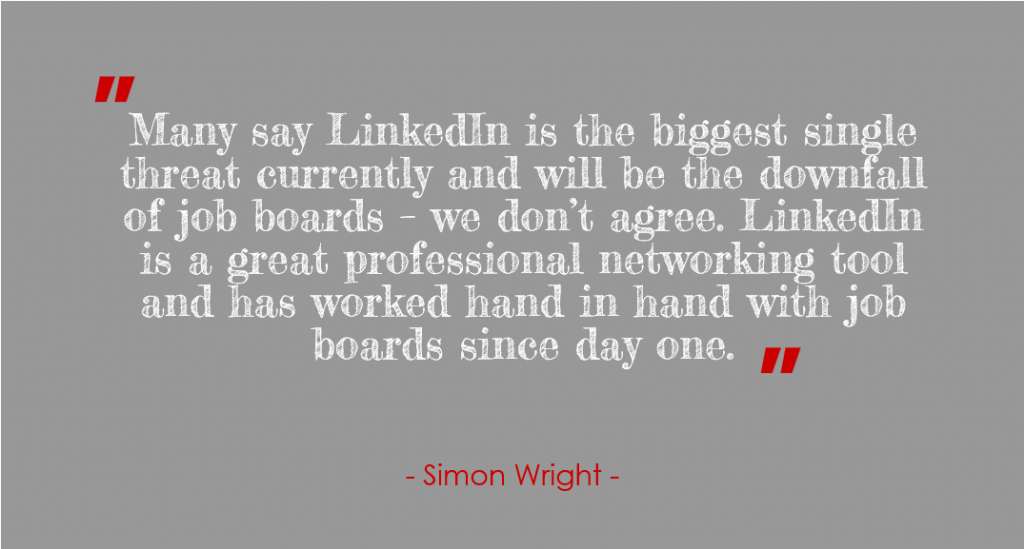 What are the next steps and projects for Careers in Audit?
We have some big plans for 2016 with new offices to be opened in the US and Middle East. Having doubled the team since the start of 2015 we are growing very fast to keep up with market demand and ensure that our service levels remain excellent. Opening a couple of new offices in two of our main regions will allow us to again offer localised support and grow, while maintaining our market share and servicing the Audit, Risk and Compliance recruitment industries better than ever.