This week, we interviewed Clara Naïdji, who is the Business developer of Interim Management projects. They are one of our partner job boards. With over 16.000 professionals, Interim Management Projects helps find qualified professionals thanks to their open database and helps companies looking at to hiring qualified managers.

About Interim Management Project
Interim Management Projects is born in Belgium. The Belgian Interim Management market is not well developed but is expanding throughout the years. Therefore, we have an extensive supply of Interim Managers with few companies used to hire Interim managers. We needed to expand our operations: Interim Managers are highly mobile and most of Belgians Interim Managers are Dutch speaking. Netherlands came as an evidence since it's the birthplace of Interim Management.  It became our biggest audience, nearly equal to our Belgian audience.
What are the specific features of your job search engine that make it so different from your national competitors and why?
Specialized: Interim Management is a niche that is expanding. The crisis turned the job security into a luxury. Nowadays, the workforce wants more independence, wants to choose its missions and to develop a wide range of skills.
Many locations: Interim Management Projects has missions in UK, Netherlands, Belgium, Luxembourg, Germany and France. Our Interim managers can come from all over the world and are willing to work in the locations that we cover.
Up-to-date newsfeed: Interim Managers are aware of the latest vacancies and trends in the Interim Management market.
A privileged relation with companies and Interim Managers: we follow up the recruitment process of companies and have frequent contact with them. We also have frequent contact with Interim Managers.
New trends in e-recruitment market in the Netherlands
The global trend is an increase in freelance workers. The baby boom generation is seeking more and more flexibility and independence and the current Y generation has a developed entrepreneurial mindset. These trends are congruent with the expansion of the Interim Management sector.
Significant numbers of recruitment agencies: Companies externalize the recruitment process. These recruitment agencies frequently use job board for company branding and to expand their database.
Workforce mobility: Interim managers are highly mobile and have missions with a global impact.
Challenges
Our main challenge is to become the reference website for Interim Managers in Europe and develop a brand image.
We can reach this goal by following the trends in the market, creating strategic partnerships and by expanding our network.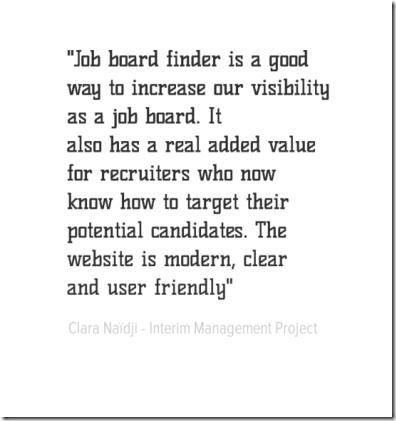 About Clara Naïdji
Clara Naïdji is the Business developer of Interim Management projects. After graduating from a Bachelor of Politics, She started a Msc in International Business Economics and Management at KU Leuven. Clara is given the responsibility of supervising the day to day activities of the platform, of expanding the network and of implementing the digital marketing strategy.