Done correctly, team building games offer a fun way for team members to bond and get to know one another. However, there are some challenges in making that magic happen for remote teams. Is it possible to use games to improve team cohesion, even improve employee retention, when workers can no longer meet in a central location?
The answer is definitely! In fact, playing games is one of the best ways to engage in virtual team building activities. Even better, it's easy to do! Here are some great examples of games to incorporate, and information on how they help your team.
What Are The Benefits of Team Building Games?
Before you dive into this list, you may wonder if all of this is just children. But games have some many benefits and here are just a few:
These exercises allow you to identify natural leaders and other talents.

Managers who participate often seem more approachable.

Games are a natural icebreaker.

Managers can easily identify points of weakness in team interactions.

It creates a great work environment to

attract top professionals

.
You will see the benefits of these exercises long after the games have ended. Employees who can work collaboratively were able to stick to a task 64% longer than those who tended to be more solitary. They were also more engaged and reported higher success rates.
Now, check out some awesome games that are sure to keep your team engaged, and help them learn to work together.
Break Out of a Virtual Escape Room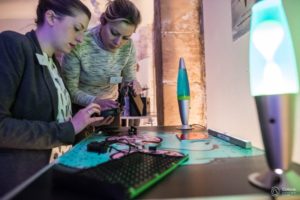 In the past few years, escape rooms have really emerged as a top choice for team building activities. It's easy to see why. Team members must collaborate on various puzzles in order to 'escape' the room within a certain period of time.
Of course, escape could mean breaking out of a dungeon, escaping a natural disaster, or completing a bank heist. In any case, the idea is to solve a variety of problems ranging from tricky logic questions to physical puzzles.
Unfortunately, it's now quite difficult to get people together in a small room. That's why escape rooms have moved online. In a virtual escape room, These sessions are just as enjoyable and can be done over Skype or Zoom. The exact method of gameplay can vary, but it often involves players feeding information to a 'field agent' who then puts their answers to the test.
What are the team building benefits?
Your team will learn to collaborate with one another. Watch as the games unfold. You will see players begin to recognize their own talents, as well as their teammates.
Collaborate on Desert Island Survival
This is an excellent game for larger teams that can be divided into smaller groups. Imagine being stuck on a deserted island. You have seven items to help your team survive, but you may only choose three of them. Divide your team into groups with the following instructions:
Work together to select three items out of seven.

Choose someone to explain what was selected and why.

Give an example of how each item would be useful.
In this case, the winner is the team that comes to an agreement, figures out how to use each item, and selects their representative.
What are the team building benefits?
This is a great exercise for boosting cooperation and compromise.
Get to Know Each Other With Two Truths And a Lie
Two truths and a lie is a great icebreaker game to help team members get to know one another. It's also perfect for working with remote teams where individuals may not know each other.
The premise is quite simple. Each person comes up with three statements about themselves. Two of the statements must be true. One must be a lie. Encourage players to be strategic. Remind them that the winner is the one with the fewest people identifying their 'lie'. A good player will find a slightly unbelievable truth, and perhaps a mundane lie to get an edge.
As the game unfolds, you will probably notice that it generates quite a bit of conversation. This is an amazing way for team members to learn unique things about one another. Some may even find similar interests or personal attributes.
What are the team building benefits?
According to research from Drexel University, icebreakers can improve interaction, empathy, and community.
Socialize Over Social Games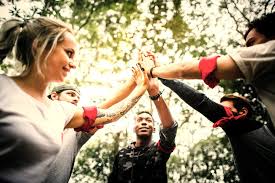 Not every team building game needs to be designed for that purpose. The truth is that many of the same games you enjoy for socializing are ideal for helping teams connect with one another. Start with something as simple as a virtual trivia game. You can then move onto online board and card games, RPG games, or word games.
What are the team building benefits?
Madeline Reid is the head of a team of writers for an academic dissertation writing service. She believes that content creators benefit from a creative and collaborative environment. She says, "These games have the same benefits as team happy hours or trivia nights. They break the tension, and remind everyone to enjoy the company of their coworkers."
Whose Refrigerator is it?
How well does your team know one another? Here's a great guessing game that can help your team members challenge their assumptions about one another. In this version of the popular game, have players take a picture of the inside of their refrigerator (this could also work with a cupboard or waredrobe). Then, share those pictures without identifying whose picture it is. Players then attempt to match the refrigerator with the right coworker. The winner is the team member with the most correct answers. 
You can also swap out refrigerator pics for baby photos or pictures of living rooms. The same rules apply.
What are the team building benefits?
This is another great icebreaker. Players will engage one another in interesting chats about their perceptions of one another, even shared tastes in food and wine. This is also a great way to introduce new team members and apprentices to the group.
Play a Video Game
Consider getting everyone together to play a multiplayer video game. There are so many options available. You are sure to find one that will be a hit with everybody. Choose a game like Mario Kart, and let everybody play head-to-head. You can also encourage team members to work together by suggesting a cooperative video game. There, all players work together as a team against a common challenge or enemy.
What are the team building benefits? 
This is a great way for teams to unwind and to enjoy a reward after a tough project. Teams can also improve cooperation and collaboration as they work through these games together. 
Final Thoughts
It's time to inspire your remote team, boost morale, and increase productivity. Use these games to help team members get to know each other, and learn to work together cooperatively. They'll appreciate the opportunity to relax and have fun with one another while relieving a bit of stress. Remember that keeping remote teams connected can help alleviate some of the cons of remote work.
---
We want to thank Helene Cue for this contribution. Helen is a talented freelance writer at Get Good Grade. She specializes in many topics including small business growth, and productivity. She enjoys writing content that contains actionable tips for professionals. When she has time off, she enjoys surfing and hanging out on the beach.
---
links for the photos:
https://fr.freepik.com/vecteurs-premium/travail-equipe-team-building-illustration-plate-collegues-assemblant-personnages-dessins-animes-concept-coworking-partenariat-commercial_7979597.htm
https://gyroevents.com/team-building-de-rentree-a-lyon-le-top-3-des-activites/
https://happypaint.fr/les-escape-games-et-la-creativite/
Author:
Ali Neill
As the job board tester and blog editor for the Jobboard Finder, Ali works on job boards from all around the world and keeps a close eye on the recruitment trends thanks to a number of sources, including the website's social media pages.