Renewable energies are gradually replacing fossil fuel, especially because the available ressources are running out (fossil fuel is the energy produced by the burning of coal, oil or gas). However, it remains a sector that still provides employment. In this article, we will give you an updated ranking of the best oil and gas job boards in 2017, specialized in the energy sector (all types of energies as well). Of course, remember that you can find offers for this sector on generalist job boards. But sometimes, you can have a much more efficient recruitment campaign or a more successful job search if you use a specialist job board that will connect you with the most adapted candidates or recruiters.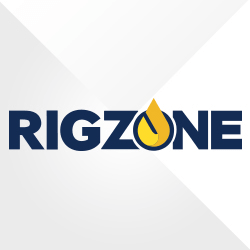 This is not a surprise: Rigzone is still the best job board specialized in oil and gas sector jobs in 2017. It is the leading website that covers the United States but also the UK, the United Arab Emirates, France, Singapore, Qatar, Brazil, Saudi Arabia, Australia, Vietnam or Mexico and it has around 1 million visitors per month. Rigzone is also a ressource for news of the sector, as well as data and events. The website is pretty simple to use and modern enough. You can do quick searches by country or category or advanced searches if you need to look for something in particular. There is also for recruiters very useful figures of their CV database, ranked by industry, years of experience, and number of resumes registered that can match. The prices can be seen as expensive but this not that shocking for a job board that popular and especially very efficient.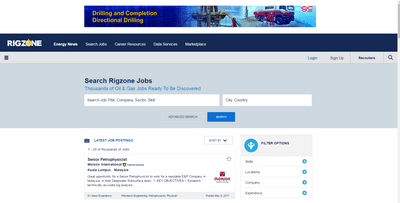 Check their profile on Jobboard Finder to get more information.
The second remains Oil and Gas job search. The British job board, which also allows to post in the USA, in the United Arab Emirates, Malaysia, Australia, Qatar and Saudi Arabia, has more than 800,000 visits per month. It is a very rapid and efficient job board for both recruiters and job seekers.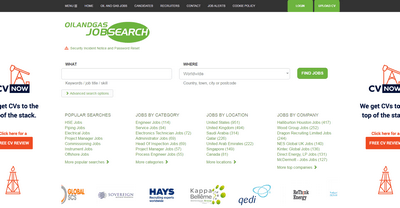 The website is modern and pretty easy to use. You can do a quick search according to keyword, job tittle or skill and according to location. You can also do an advanced search. job seekers can see which companies are recruiting and companies can promote their jobs. Candidates can find as well services and tips to help them in their researches. For recruiters, there is a page with very useful statistics to convince them to use their job board, which you can find right here.

And to convince both recruiters and job seekers, there is their profile on Jobboard Finder!
In third position we have the German job board Chemie.de, which is not only a job board but a ressource for information about the chemistry sector.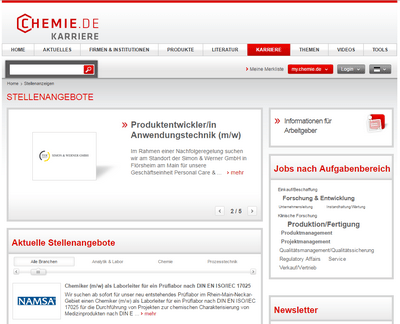 This national job board is not specialist for the oil and gas industry, however, you can definitely find offers for the sector, in the "Chemie" section. Note that as it is a national job board, the website is only available in German, so this might not be very helpful for international users. However, we don't doubt that with more than 1 million visitors per month, Chemie.de is a very efficient job board in Germany, for both recruiters and job seekers.

You can have a look at their profile on Jobboard Finder.

Since its creation in 2002, Emploi-Environnement.com is the leading job board in the field of environment (air, water, waste, energy…) in France. This job board offers the possibility to post at a reasonable price, and offers an access to a CV database. There are also very useful tips on careers and advice for job seekers. The job board is modern and it is easy to navigate on it. The biggest French companies like Suez Environnement often post on this job board, which has more than 150,000 visitors per month. Please note that this is a national job board, covering only France, and it is therefore only available in French.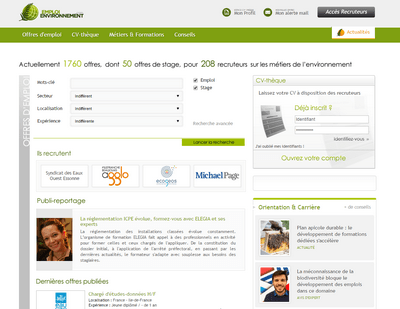 To learn more about Emploi-Environnement.com, look at their profile on Jobboard Finder.

In fifth position, the Swedish job board Nyteknik Jobb brings up the rear of our ranking. This job board is first and foremost specialized in engineering recruitment. That does not prevent it to post jobs for the energy sector as it posts for all kind of engineering. The website is only available in Swedish but it might not be a problem for its users as it is a national job board. The website also provides news and advice about the different engineering sectors and every two weeks a magazine is also published, where recruiters can publish print job offers. Concerning the job board, it is modern and simple to use. You can do a quick search directly on the homepage according to position and location, and there are promoted offers.
Look at the Swedish job board's profile on Jobboard Finder right here.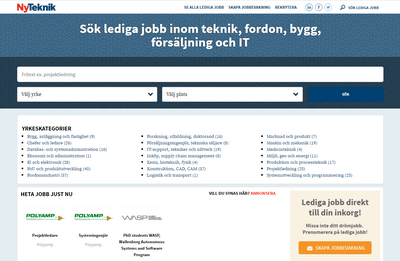 For both employers and job seekers, Jobboard Finder is the first decision-making tool for recruitment campaigns and job searches. By gathering tools and services that recruiters can use to search and compare employment websites from all over the world to find the best job search sites, it really is the best solution for recruitment needs. Today recruiters can also purchase job advertisements for the media they have selected and manage their postings directly from our unique platform. Then they can rate and review the job boards they have used in the past for our community of professionals to see.
Keep up to date with our news articles and receive them directly in your mailbox by subscribing to our newsletter. If there is a particular topic that you would like to see featured on our blog please let us know.