JobStreet.com, a leading job board in Southeast Asia, has taken job searching to the next level by allowing candidates to receive "reviewed" and "job interview invite" notifications on their smartphones. JobStreet.com is the very first online job site in Southeast Asia to introduce these features on its mobile app, in order to cater its 15 million users in Southeast Asia who are becoming increasingly mobile savvy. These new features have definitely improved job seekers' user experience.
Candidates will receive push notifications anytime, anywhere when their applications are reviewed by employers. They will feel motivated knowing that they are getting closer to their dream job.
Candidates will receive interview notifications when employers use JobStreet.com to schedule interviews. They will be able to respond immediately to the request via the JobStreet.com mobile app. These features help employers become the responsive employers that candidates prefer. With this new feature provided by JobStreet.com, candidates won't lose any opportunities to achieve their career goal.
JobStreet.com mobile app notifications are currently available on iOS devices and will soon be available for Android devices.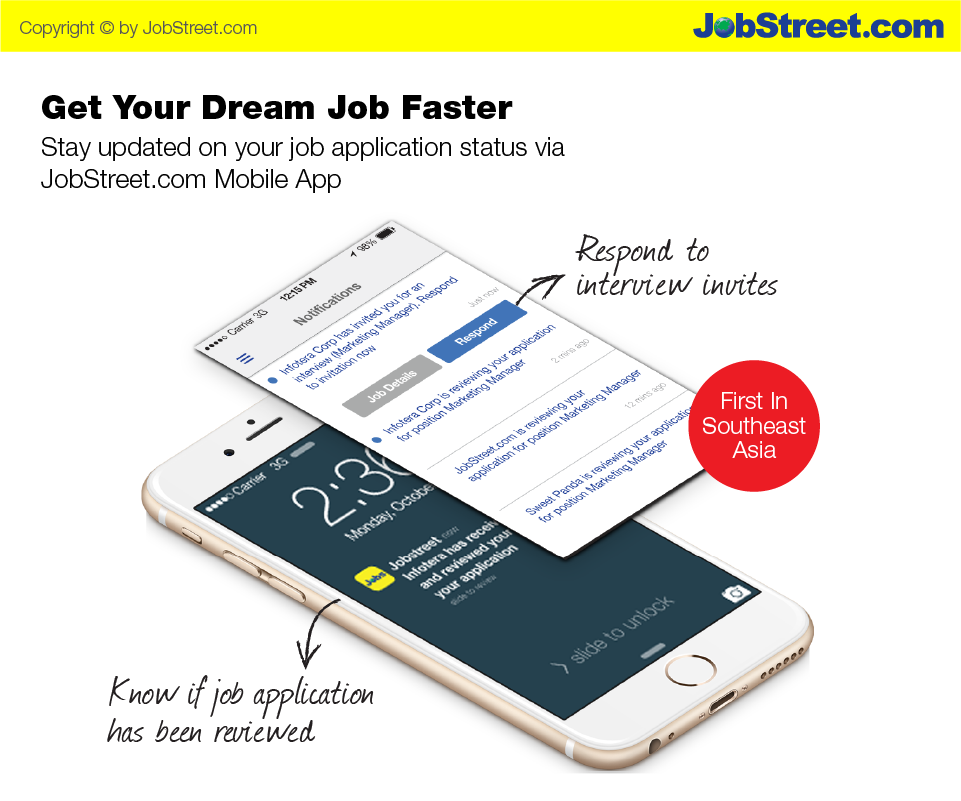 About JobStreet.com
JobStreet.com (www.jobstreet.com) is a leading online recruitment company presently covering the employment markets in Singapore, Malaysia, Philippines, Indonesia and Vietnam. The Group currently services over 230,000 corporate customers and over 15 million jobseekers in its database.