UK's digital & online marketing niche job board, Bubble Jobs has recently launched an innovative new product that aims to revolutionise CV searching in recruitment.
SmartList is an intuitive shortlisting tool that searches in Bubble Jobs' database of registered candidates and delivers a shortlist of the best matching CVs for the user's vacancy. Bubble Jobs' new feature takes CV searching to the next level, and eliminates the need for manual database searching and sifting by allowing users to create their role, view the shortlist and choose which CVs to download.
SmartList is objective to every CV, and a licence offers 14 days access and up to 25 CV downloads. The tool only interrogates UK-based CVs which have been uploaded to Bubble Jobs in the last 12 months.
Amy Edwards, Bubble Jobs' Digital Marketing Manager, said: "We're thrilled to announce the launch of our latest product, SmartList, as we continue to position our site as one of the leading niche job boards in the UK. SmartList is a fantastic tool for recruiters and employers alike, as it can help to increase placement rates by delivering the best matching candidate CVs registered on our database to our clients."
Lauren Riley, Bubble Jobs' Social Media Marketing Manager, said: "Following conversations with our clients, we found that CV database was a big draw after recruitment advertising. However, we knew there had to be a better option than the existing technology which was out there. In the current market, employers have to trawl through thousands of CVs before finding a candidate who's even slightly relevant. SmartList takes that pain away and ensures employers will only ever get access to candidates who are the right fit for their digital role. But it's not just the quality of CVs that sets SmartList apart from its competitors. The tool gives employers their time back by working in the background to complete its tasks. So once an employer has added their vacancy and their shortlist is being compiled, they can log off and get on with their day – and they will receive an email once their shortlist is complete."
The launch of SmartList comes just a week after Bubble Jobs were shortlisted for Best Job/Careers Board at the Recruiter Awards for Excellence 2015 and just a few weeks after they were shortlisted for three additional accolades at the OnRec Awards 2015.
Amy Edwards added: "It's definitely an exciting time for Bubble Jobs right now. The launch of SmartList and the fact we've been shortlisted for four awards in the last month proves that we're always looking to push ahead and adopt new technology to provide the best possible service for our clients."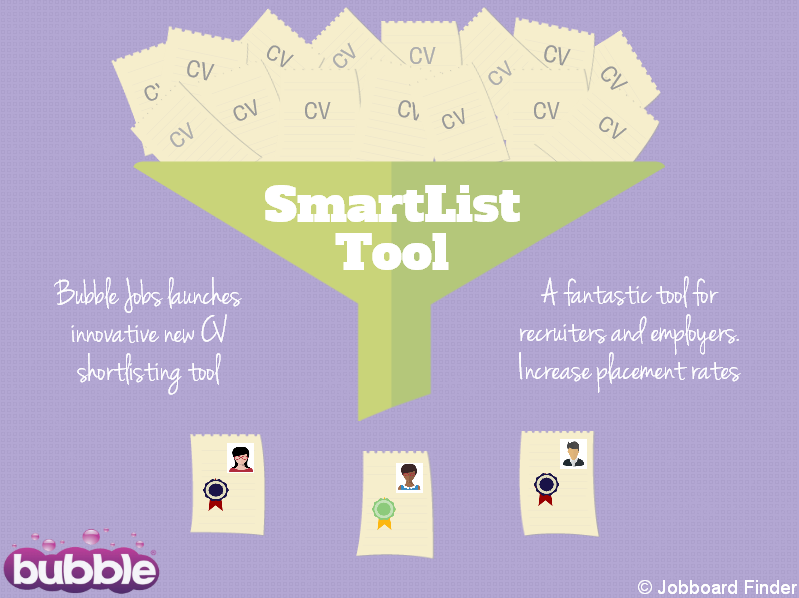 SmartList is powered by CiiV, the CV filtering and ranking engine developed by CiiVSoft Ltd, a leading recruitment technology innovator.