Jobboard Finder: an international job board database
We all know how hard it is to find the right job board overseas when dealing with international recruitment. For that reason we launched Jobboard Finder, a project created to help recruiters identify the job sites that best fit their needs.
A job board comparison Tool brought to you by Aktor Interactive
Launched in 2014 by Aktor Interactive, Jobboard Finder provides HR professionals a centralized source of information about job sites worldwide. Founded in 1999, Aktor Interactive is an international HR & communications agency advertising for more than 250 customers on 900 job boards across the globe.
A more and more complex recruiting process
Nowadays recruiting online is a very common practice for hirers, but when it comes to choosing the right job site for their needs, the task becomes difficult.
There are thousands of employment job sites worldwide but every country has its own specialist and generalist employment job boards.
How can recruiters find the best job board in a different country ?
The purpose of Jobboard Finder
Jobboard Finder was designed to make the recruiters' work easier with advanced search and comparison tools for recruitment media all over the world.
Jobboard Finder is a goldmine for recruiters: it gathers convenient tools and quality data on a single website that makes online recruiting as simple as online shopping.
It doesn't matter how specific the targeted profile is or how far the targeted country is located, Jobboard Finder is the solution for recruiters who want to identify the job sites that meet their demands.
If you need more information, please email us at contact@jobboardfinder.com
or call us at +33 (0) 437 60 25 59
What are our values at Jobboard Finder?

Diversity
As a multicultural team within a multinational HR communication agency, we know what working in an international environment is like which helps us provide recruiters from all around the world with effective tools.
Jobboard Finder helps you find the best generalist and niche job boards for your national and international recruitments.

Customer value
We are committed to understanding and addressing recruiters' needs and consistently delivering on our promises.
Jobboard Finder's highly effective search engine helps recruiters save time on the recruitment process. With Jobboard Finder, employers can access an exclusive and updated database that will help them identify the most relevant job sites for their recruitment needs.


Expertise in online recruitment
At Jobboard Finder, we believe that every recruiter should be able to reach the best candidates which is why we help them find the most relevant employment sites for their job ads.
Jobboard Finder presents extensive and up-to-date data, provided after an internal validation process that guarantees information accuracy. Developed by an experienced and reliable team, our tool is a reference for recruiters and staff involved in the recruiting process.

Impartiality
Our high quality database and tools include validated and verified information only.
Audience figures are provided by SimilarWeb which allows a fair and equal comparison between job boards.
An A to Z validation procedure has been followed during the development of Jobboard Finder. We want to remain a neutral job board directory in any situation and do not benefit from any monetary benefit to promote our job board partners' profiles.
An internationally recognized media recruitment agency
Founded in 1999, Aktor Interactive is an international HR & communications agency offering online recruitment expertise to recruiters all over the world. At Aktor Interactive, our goal is to help our clients optimize their recruitment campaigns and employer brand. The agency has received a number of awards such as the Classe Export Trophy. With the acquisition of the recruitment software KioskEmploi, Aktor became a reference in online recruiting solutions and gained international recognition.
A report on European job boards
Every year between 2005 and 2013, Aktor Interactive released a report about the best job boards in Europe which provided key information to employers interested in international recruitments. Due to the success of this study and the growing demand from international recruiters, Aktor Interactive CEO decided to launch an online version which would later become Jobboard Finder.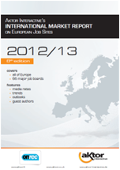 An online version of the job board database
In May 2014, the job board database gathered by Aktor Interactive over the years became a website: Jobboard Finder, the world's largest job website directory and search engine designed for recruiters. At the time of the launch, the website gathered over 300 job boards from Europe, Africa and the Middle East.
In March 2015, the job board directory became available to job seekers as well. With almost 1000 job portals registered all around the world, JobboardFinder is a reference for both recruiters and job seekers. As the only job board directory in the world, Jobboard Finder is the first decision-making tool for recruiters that helps them set up online recruitment campaigns, and for job seekers that helps them identify where to find the most relevant job offers, for their ambitions and needs.